Rep. Hakeem Sekou Jeffries, who represents the 8th Congressional District that includes Central and South Brooklyn, on Sunday gave his first State of the District Address since his election as House Minority Leader.
And although his new role will have national resonance for all Americans, he had a resounding message for the residents of Kings County: "Brooklyn, I've got your back!"
Jeffries, the first African-American to lead any party in the House or Senate, addressed a crowd of about 2,000 people at Brooklyn Technical High School in Fort Greene-- right across the street from Brooklyn Hospital, where the congressman was born.
The crowd of largely Brooklyn residents and Jeffries' family spared little in the way of enthusiasm for Jeffries in his newly minted role, as he now joins New York City Mayor Eric Adams, Senate Majority Leader Chuck Schumer and New York District Attorney Letitia James in a club of high-ranking elected leaders who were born and raised in Brooklyn and who were present at the event.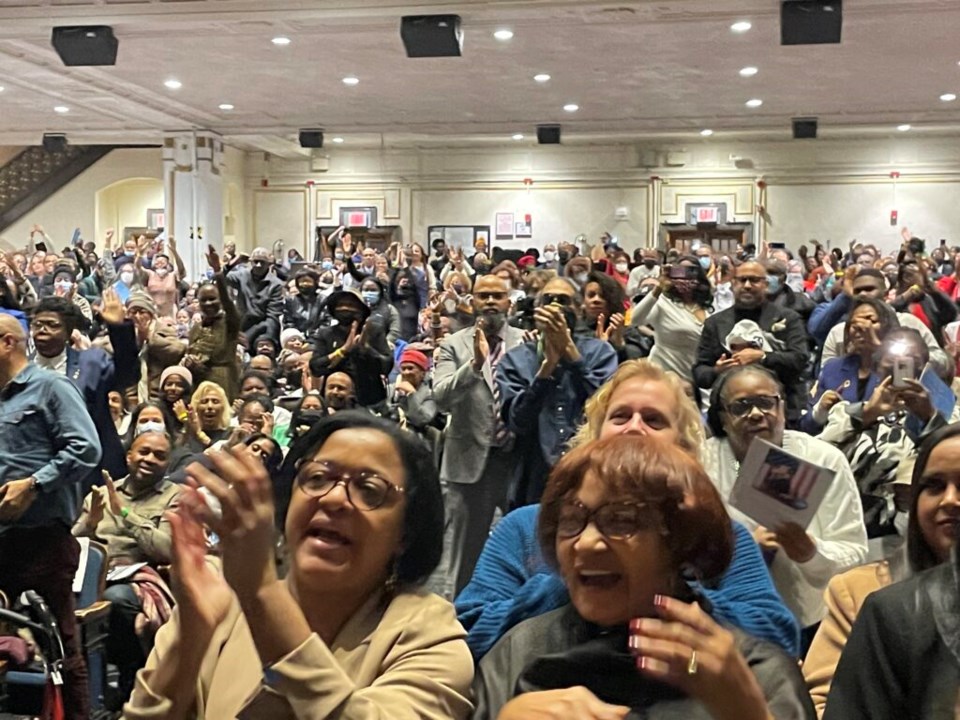 "Jeffries represents one of the most diverse districts-- not only in New York, but America," Schumer reminded the audience. "He's been fighting for justice long before he was in this position. And we have put in office one of our very, very best."
During what is only his 6th term in the U.S. Congress, Jeffries has quickly risen in the ranks to succeed Nancy Pelosi as the the highest-ranking Democrat in the House of Representatives and now the first African-American to ever lead any party in the House or Senate.
"That boy fight! He know how to fight!" yelped an excited crowd member when Rep. Jeffries first walked onto the stage at Brooklyn Tech.
Jeffries was accompanied on stage by Rep. Yvette Clarke (D-9) and Rep. Nydia Velazquez (D-7), Brooklyn's other two congressional members in the House. Also in attendance was a long list of local elected leaders, including NYC Mayor Eric Adams; Assemblymembers Rodneyse Bichotte and Stefani Zinerman; Brooklyn Borough President Antonio Reynoso; State Senators Scarcella-Spanton, Roxanne Persaud, Zellnor Myrie; NYC Comptroller Brad Lander; and City Councilmembers Sandy Nurse, Darlene Mealy, Brian Cunningham and Crystal Hudson, to name just a few.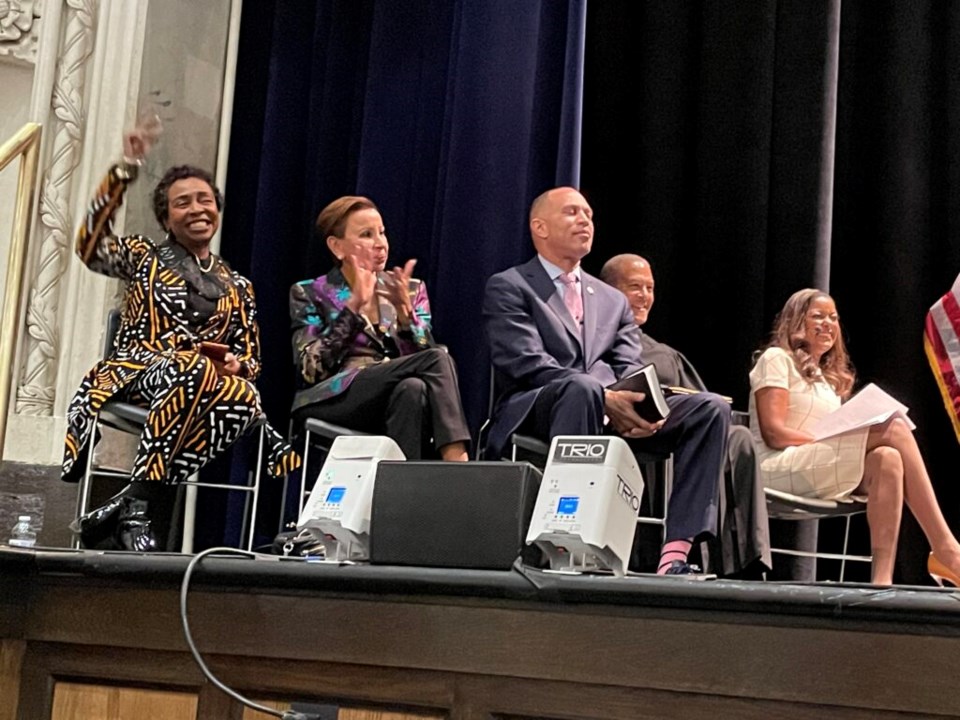 The program was hosted by award-winning broadcast journalist Lori Stokes and opened with prayers from Rabbi Efraim Zaltzman of the Chabad of Kingsborough; Imam and Khatib Dalouer Hossain of the Baitul Mamur Masjid and Community Center; and Dr. Reverend Lawrence Aker III of Cornerstone Baptist Church, where Jeffries is a member.
Adams, Schumer, Velazquez, Clarke, James and NY Governor Kathy Hochul were invited on stage to share some words about Jeffries. Each wasted no time sharing the minority leader's greatest legislative wins over his 12 years in office, including: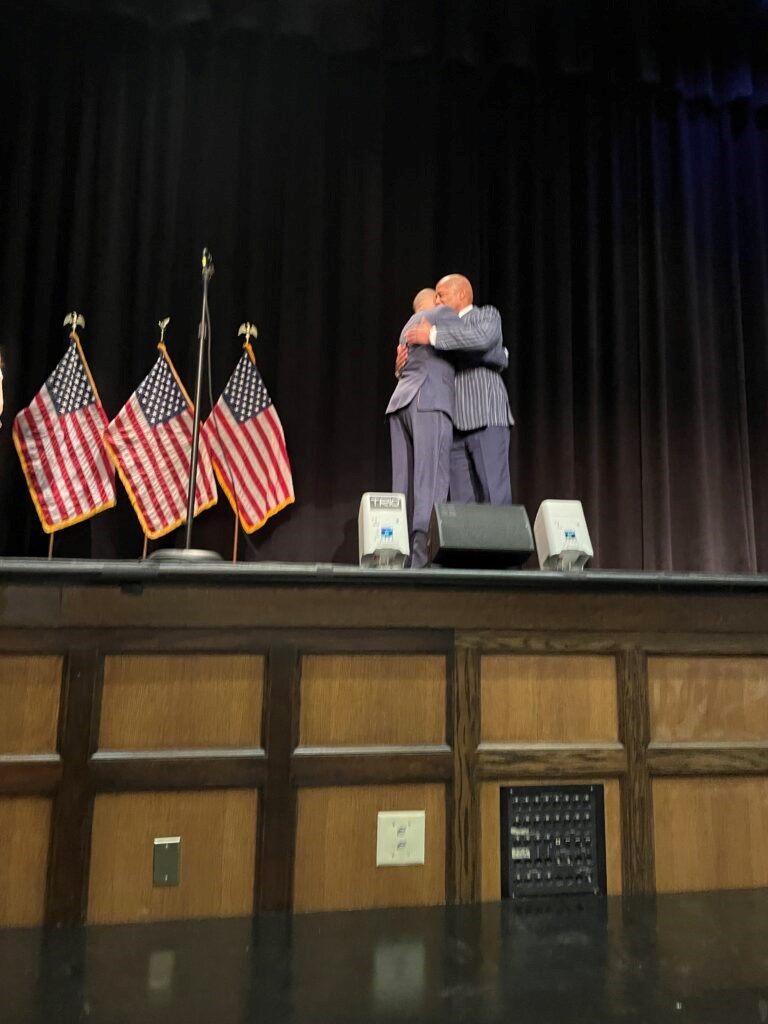 "Before people were even engaged in the conversation on criminal justice reform, Hakeem Jeffries had already put it forward," said Mayor Adams at the event.
Most recently, in Brooklyn, Jeffries with Schumer secured federal money that will lead to ADA upgrades at the Broadway Junction Train station. This will include an elevator that will provide relief for the tens of thousands of commuters that have to climb the long and steep stairway in order to catch their trains, said Schumer at the event.
Notwithstanding the inexhaustible list of legislative accomplishments, the district address was mostly a pep rally-- including rousing performances by Ballet Hispanico and STEM from Dance-- leading up to his swearing-in ceremony, presided over by Judge Raymond J. Lohier Jr. of the Second Circuit Court of Appeals.
"It has been a long road, and we have been waiting a long time," said Rep. Velazquez of Jeffries' new appointment. "But we have made a great step in dismantling systemic barriers to justice!"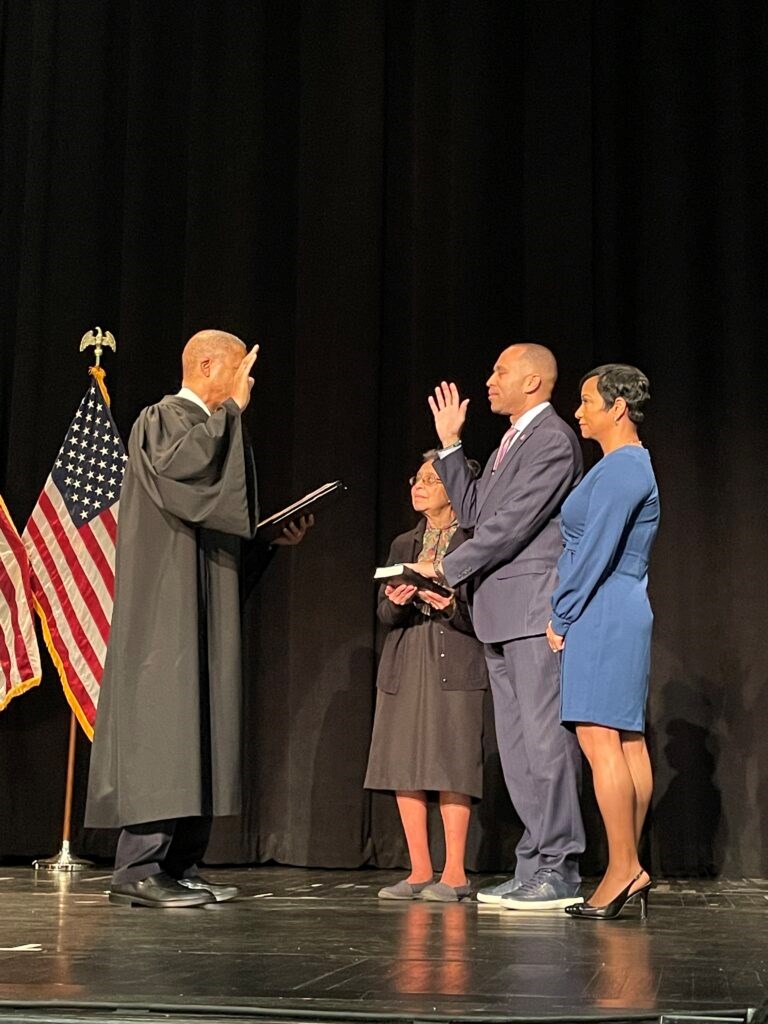 Gov. Hochul, who poked light-hearted fun at herself for being the only one to speak who was not from Brooklyn but Buffalo, NY, also chided Jeffries in his new presiding role, saying, "Remember when you used to call me and ask for money [for your campaign]? ... Well, guess what? I'm about to return the favor!"
Jeffries joked about the House voting for him as leader 15 times, when McCarthy continually failed to secure the majority vote from House Republicans: "Now, I never thought I'd actually hear my name called 3,179 times," he said, laughing.
"Praise God!" yelled someone in the back.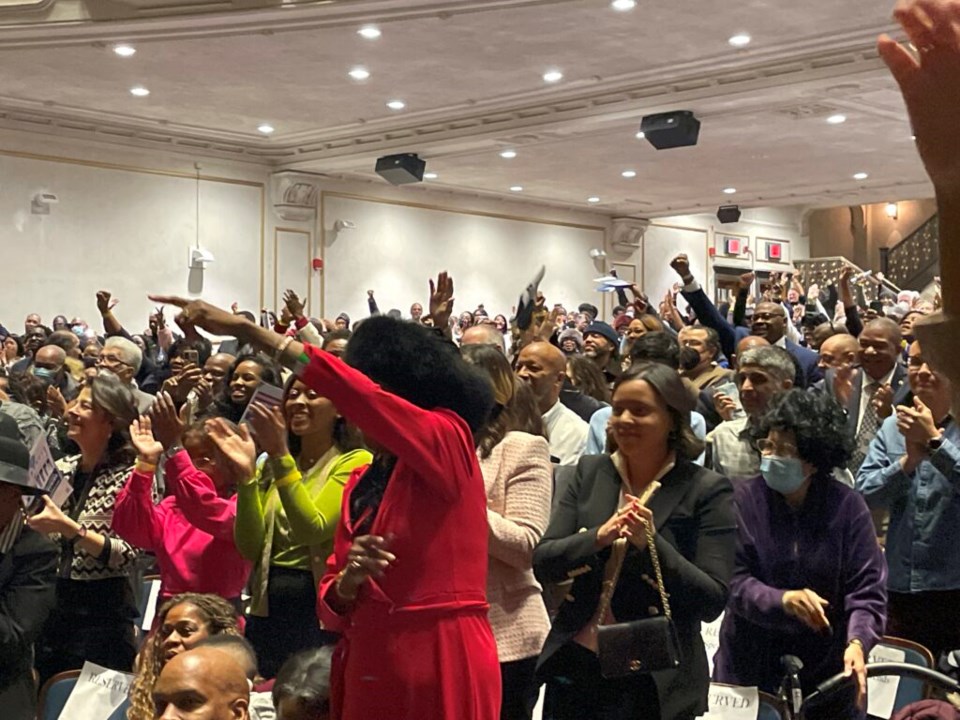 Still, for all of the cheers, laughter, "Amens!" and fist-pumping for Brooklyn's own, Jeffries was deliberate in also speaking broadly about his role as a representative of the American people. Following his swearing-in ceremony, he used the last 15 minutes on stage to address both those inside and outside New York City's borders:
"Over the last two years, all of us, partnering with our colleagues in the Senate and the House, led by President Biden, we worked hard to deliver big results for you, the American people to save the economy from a deep depression," said Jeffries, pointing to The American Rescue Plan, the Infrastructure Investment and Jobs Act, and the Gun Bill Violence Prevention Bill that has made gun trafficking a federal crime for the first time in American History.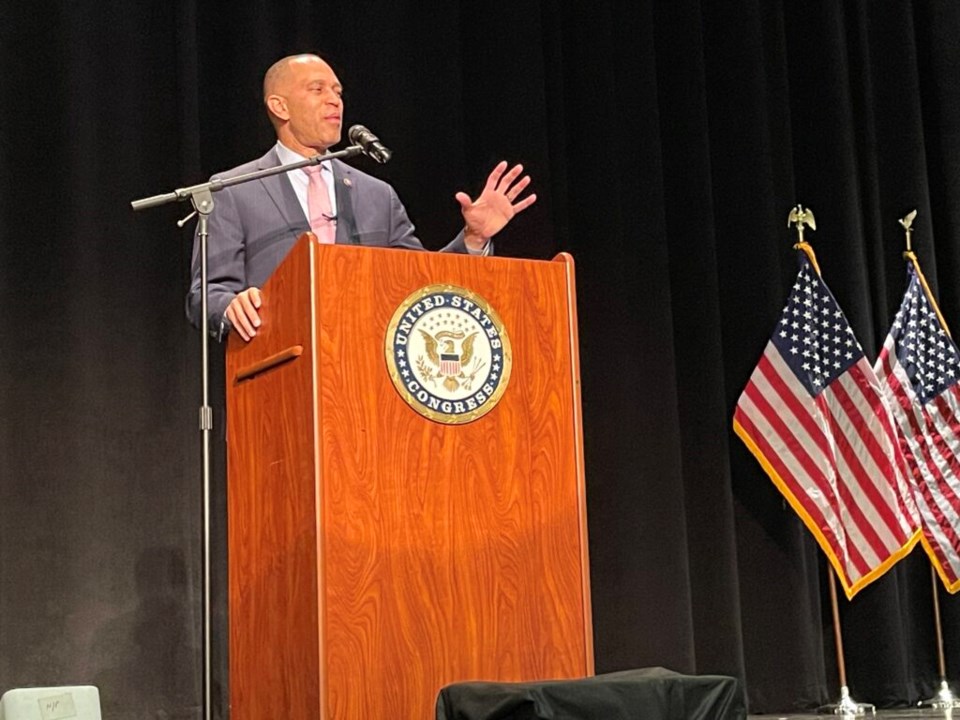 "The American people are watching. But what are they seeing?" he said, turning on a preacher's cadence and revving up the crowd he knows so well.
"We want to move the country forward; some other folks want to turn back the clock. We're working hard to bring people together; some other folks want to tear us apart. We fight for the people; some other folks fight for the privileged few!
"We've got to be wary of folks who go to church and pray on Sunday, then come to Washington on Monday to prey on the American people... Prey on the poor, the sick and afflicted; prey on senior citizens, prey on your social security, prey on your Medicare, prey on your veterans benefits..."
"We're not going to let them take your Medicare; we're not going to let them take your social security; we're not going to let them take your veterans benefits or anything you've worked hard and paid into!"
"Not now. Not ever!"
The crowd jumped to its feet. "Hallelujah!" was heard from across every corner of the stadium.
A master communicator, Jeffries "tuned up," the crowd. They "co-signed." Then after it was over, there was food waiting for them in the lobby.
Those who know, know: Hakeem Sekou Jeffries carried the entire crowd last night from synagogue to temple and then straight to church!