Hey You! Yes, you!
Don't act like you don't know what time it is...
It is time to begin your holiday shopping, and if you're a true Brooklynite, that means keeping your dollars local.
We know there are markets popping up everywhere, and you certainly have your pick of the lot. But BK Reader has curated four markets you definitely do not want to miss. Why? Because they will all have the food, the beats, the products and the people to get you in the spirit and make your one-stop-shopping experience a whole Brooklyn vibe. Check it out!
For two weekends in December, the husband-and-wife team behind Black-Owned Brooklyn is taking over a 30,000 square-foot Atlantic Center storefront to host a holiday pop-up featuring 50 local Black-owned brands.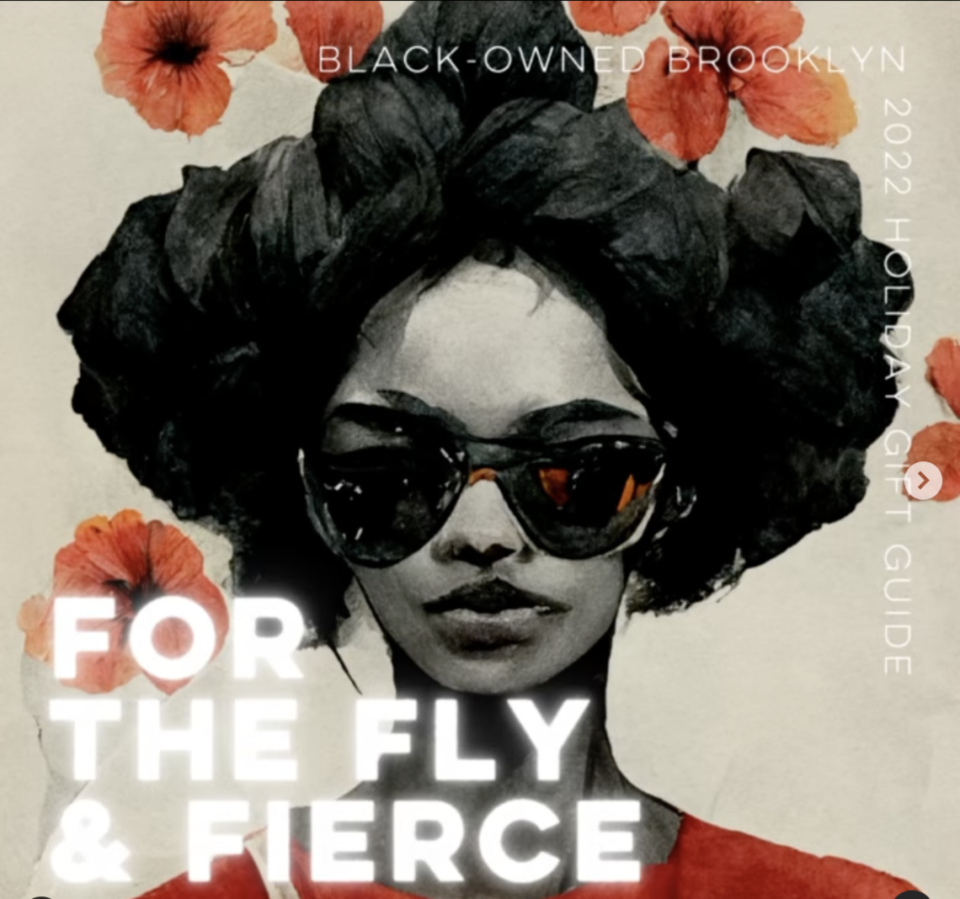 The holiday pop-up comes on the heels of B.O.B.'s coveted annual gift guide, and it's the latest initiative under their "Jummy's Picks" brand, in which they curate collections of NYC-based businesses for immersive large-scale events — taking Black-Owned Brooklyn from the digital page to bespoke shopping experiences. (Previous Jummy's Picks installations have included a three-week pop-up at the Nordstrom NYC Flagship and a two-day Juneteenth Food Festival at Weeksville Heritage Center.)
You can look forward to:
A curated selection of businesses across seven categories
A live DJ sets from Donwill, DJ Tara, Run P. and DJ Blue Monday;
Family-friendly appearances by "Papa and Mama Soul Santa"; 
Lounge areas for eating and just relaxing
WHO: Black-Owned Brooklyn
WHAT: Jummy's Picks Holiday Pop-Up Market
WHEN: Dec. 10-11 and Dec. 17-18, from 11:00am - 6:00pm
WHERE: Atlantic Center, 625 Atlantic Avenue (previously occupied by Spirit Halloween, across from Barclays)
---
The Greenpointers Market
After a 3-year hiatus due to COVID, the beloved Greenpointers Holiday Market is BACK and merrier than ever!
Join the team behind the daily news site Greenpointers.com this Sunday under the wooden beams of the Greenpoint Loft and celebrate alongside 60+ local makers, artisans and creators as they share with you their original handmade treasures.
This year the even will offer a bevy of Brooklyn's best eco-conscious brands paving the way in sustainability.
Shop your heart out, sip on local craft beer and smoky cider margaritas; and nibble on tasty treats at this intimate and unforgettable unforgettable affair. Let the kiddies run wild with FREE activities. Swing by, spend the day and explore what Greenpointers Market has in store!
WHO: Greenpointers.com
WHAT: The Greenpointers Market
WHEN: Sunday, Dec 11, from 1:00pm - 7:00pm
WHERE: Greenpoint Loft (67 West St 5th fl)
---
3rd Annual Red Hook Holiday Market
Red Hook Business Alliance, a non-profit organization dedicated to supporting and uplifting Red Hook's small businesses. Founded in 2019, our mission is to ensure the economic vitality of the Red Hook community and the preservation of one of NYC's most dynamic & working waterfront neighborhoods.
Every weekend in December through Christmas, the Red Hook Business Alliance is hosting its 3rd Annual Red Hook Holiday Market, featuring 30+ Brooklyn-based vendors (70% of which are all based in Red Hook!) , showcasing its unique storefronts, restaurants, and all that Red Hook has to offer. The goal is to increase visibility for these Red Hook businesses, and to promote shopping locally in our communities - especially during the holiday season.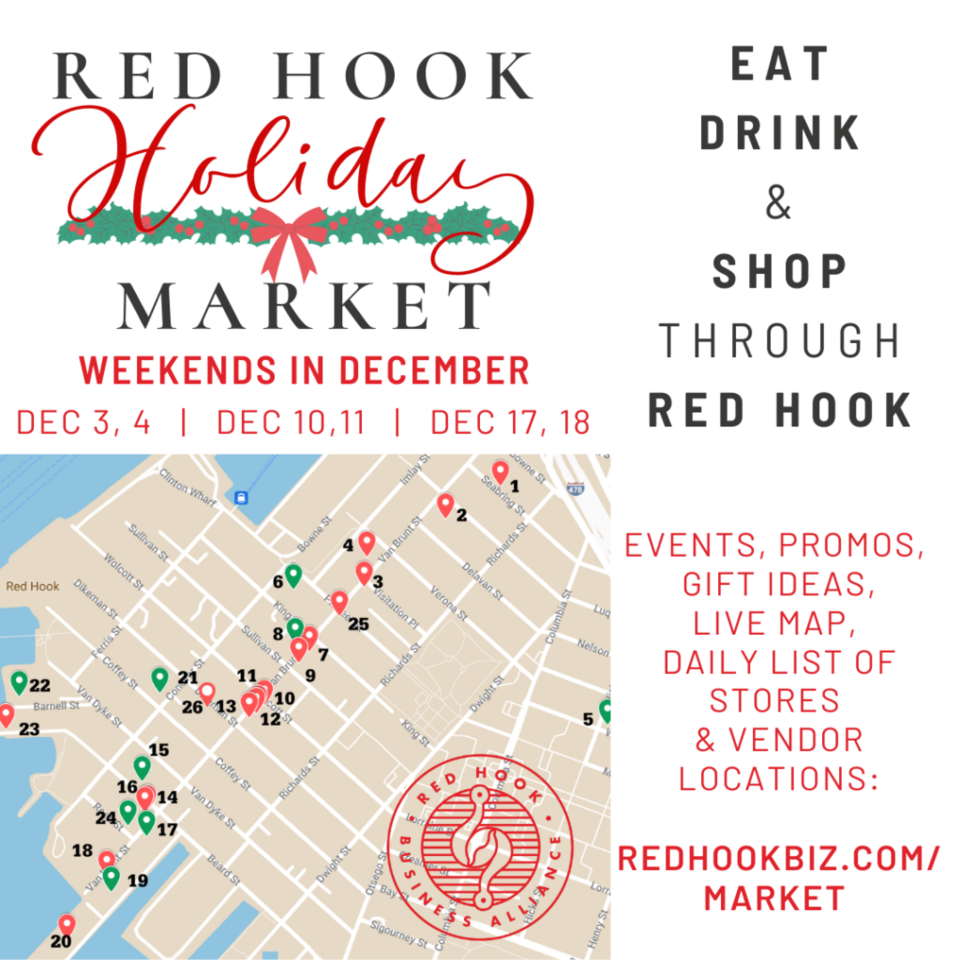 BK Reader loves the unique neighborhood of Red Hook. If you've never been, now is the perfect reason to check it out. Consider it a unique blend of rustic old-school Brooklyn meets a very novou-contemporary, laid-back flavor. It's quite nice!
WHO: Red Hook Business Alliance
WHAT: Red Hook Holiday Market
WHEN: Dec 3-4 , Dec 10-11 , and Dec 17-18
WHERE: 25+ venues, including Pearl Street Caviar, Raaka Chocolate, Apotheke, Red Hook Lobster Pound, Widow Jane, Strong Rope Brewery, and so many more! View the full list of venues here + vendors, gift ideas, and map.
---
The Shwick Holiday Market
You're officially invited to one of the fanciest, most festive and most talked-about Holiday Market (PARTY!) in years!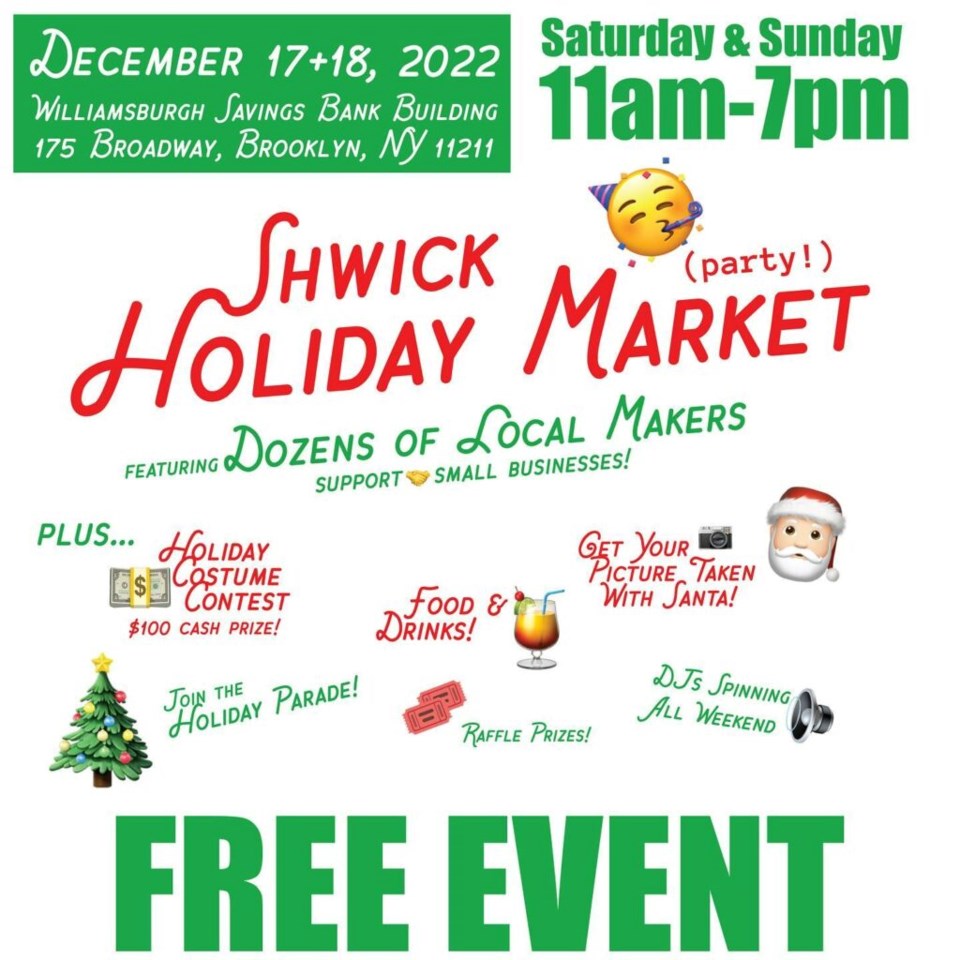 Don't let the basic flyer fool you... It's about to go down at the prestigious Williamsburgh Savings Bank Building, where he holidays become the setting (and excuse ) for old friends to make new friends around the smell of Christmas cookies, a lot of red and green decorations more than 100 local vendors and the sounds of great music.
Wear your best holiday outfit for a chance to win the $100 cash prize, and bring the kids to take pictures with Santa!! This is an all-ages par-tay!
Get some drinks during happy hour, then join the holiday parade throughout two floors of this historic landmark.
WHO: Shwick
WHAT: Shwick Holiday Market
WHEN: Sat, Dec 17, 11:00am – Sun, Dec 18, 2022, 7:00pm
WHERE: Weylin, 175 Broadway Brooklyn, NY 11211