On June 19 this year, we will celebrate Juneteenth as a federal holiday, as signed into law last year by President Biden. It was first celebrated in 1865 in Galveston, Texas.
Celebrated nationally ever since, the day acknowledges the end of slavery. It also recognizes and honors African-American culture.
There will be numerous events happening in Brooklyn and around the city throughout the month to celebrate the holiday. Check out some of them below for more details!
Black Mixcellence: A Comprehensive Guide to Black Mixology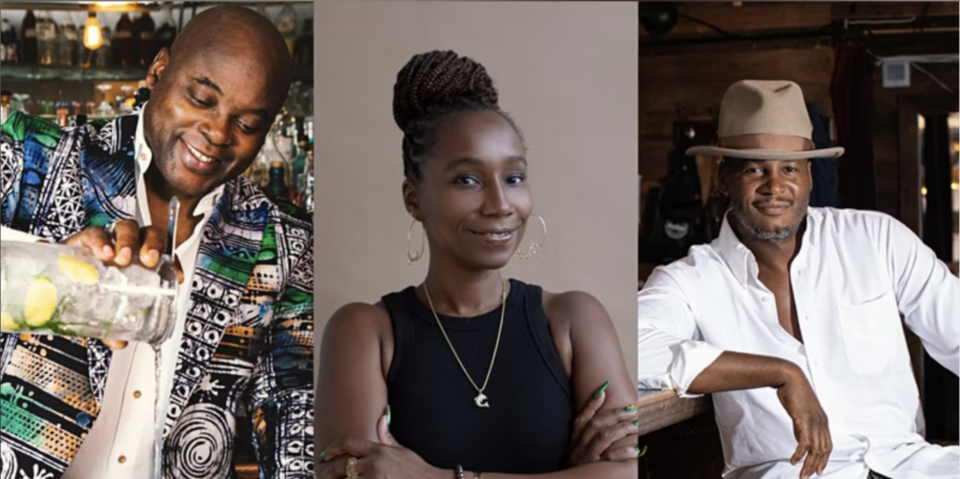 When: June 13, 7:00 pm
Where: 55 Water Street, Brooklyn, NY 11201
Time Out Market New York presents an intimate fireside chat with mixologists Karl Franz Williams, Colin Asare-Appiah and author Tamika Hall of Black Mixcellence: A Comprehensive Guide to Black Mixology.
The conversation will include a brief interview with the mixologist and a tie-in to Black History and Juneteenth with mixology as a service job that many slaves used to earn their freedom.
Guests will also be treated to a cocktail demonstration and tasting of "Tings Are Just Peachy" by Williams, along with a signed copy of the book and recipe card to make the drink at home.
Tickets are $35, and those who plan on attending can purchase them here.
2nd Annual Juneteenth Freedom Fest: For The Culture, hosted by Juneteenth Freedom Fest NYC, Inc.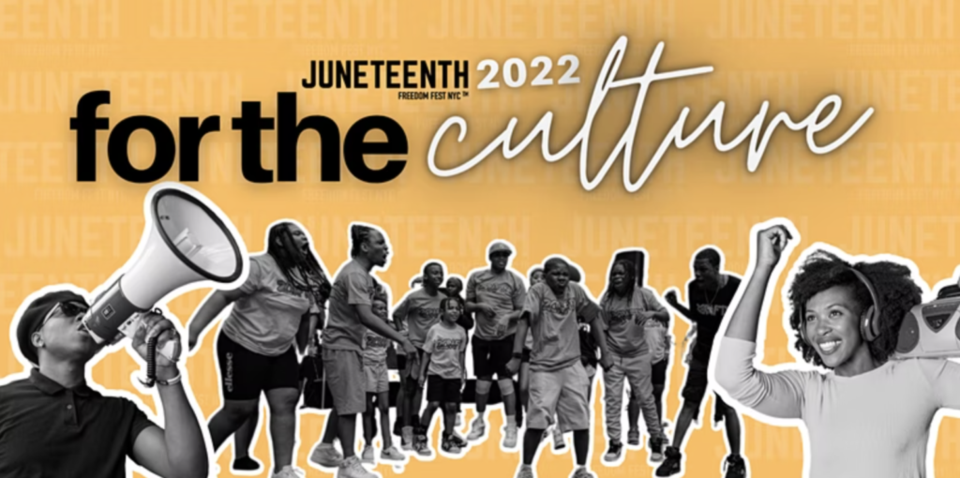 When: Tuesday, June 14, 6:00 PM - Saturday, June 18, 6:00 PM
Where: Virtual June 14 -16. In-person June 18, West 131st Street and Frederick Douglass Blvd.
June 14: First, there will be a business basics workshop, where participants will learn the first steps to building their own empires. It will be led by Stewart and LaToya Fonville, who are entrepreneurs based in New York.
June 15: Next, there will be a panel discussion for aspiring business owners where they will learn what it really takes and means to be a thriving business owner. Also, speakers include Kells Barnett-owner of Harlem Haberdashery, Laquana McNeil-author & owner of McNeil Group Brokerage & LaTashia Martin-business growth strategist.
June 16: Then, there will be an educational panel discussion on cryptocurrency and foreign exchange investments. It will be led by DEFI Domination, a Black owned educational platform that teaches about these topics.
On June 18, there will be a block party to close out the event. We are shutting down the block (again) to bring Live Entertainment, Food, Games, Raffles, Giveaways & So Much More! There will be several black owned businesses to support, so bring your big purse/wallet! Tickets can be purchased here.
The 13th Annual Juneteenth NY Festival 2022
When: June 17 - June 19
Where: Linden Park, Linden Blvd. &, Vermont St, Brooklyn, NY
The 13th Annual Juneteenth NY Festival - one of New York's biggest and longest-running annual events commemorating America's newest federal holiday – returns for a three-day celebration, kicking off virtually on Friday, June 17th and then for in-person gatherings in Brooklyn on Saturday, June 18th and Sunday, June 19th. The Juneteenth NY Festival was created in an effort to advance the economic and cultural arts in underserved communities and in support of small, Black-owned businesses. With this year's theme spotlighting "Unity in the Black Family Unit," the weekend will feature the best in Black culture and will include an array of live performances, exhibitions, authentic local cuisine, wellness and other family fun activities.
On Friday (June 17), the Festival launches with a day of virtual offerings including a series of panel discussions centered around building up health and wealth within the Black family and in the Black community. Panels will be led by Sun River Health, LiveOn New York, NY State of Health, the Lupus Research Alliance and other advocates, organizations and agencies in the field. Those attending virtually will also have access to a virtual photobooth, online vendors and special giveaways throughout the weekend. Attendees can register for the virtual portion of the festival at Juneteenthny.com.
The celebration continues live and in-person on Saturday (June 18) at Linden Park/Gershwin Park with Community Day featuring performances from local talent, a wide range of vendors and a Festival Food Market hosting a diverse selection of local, Black-owned restaurants. The Brooklyn Nets and the New York Liberty will also be on hand to host a basketball clinic including a throw contest and drills for children aged 6-17. The weekend will culminate on Sunday (June 19) with a fashion exhibition highlighting today's hottest emerging Black designers and special guest musical performances from award-winning hit singer-songwriter and founding member of R&B duo Zhane, Renée Neufville and more.
Juneteenth in Seneca Village, hosted by the Central Park Conservancy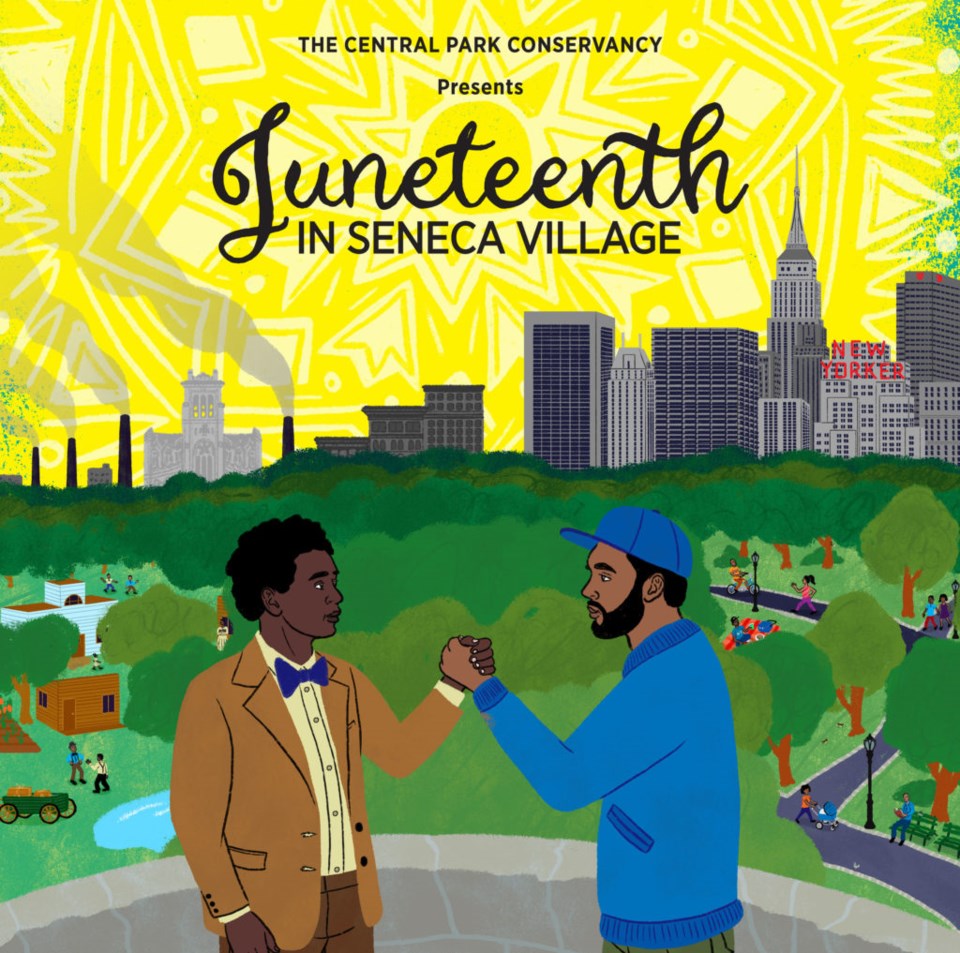 When: Sunday, June 19, 10:00 am - 2:00 pm
Where: Central Park, West 85th Street, New York, NY
Guests will be invited to explore six historically significant Seneca Village sites through dance, music, spoken word, storytelling sculpture, and activities. Themes of education, community, enfranchisement and empowerment will be told through award-winning Black artists and musicians.
This includes: Senegalese percussionist Abdou M'Boup, performing on the kora and various African percussion instruments; 5-string banjo player Ayodele Maakheru and Grammy award nominee Gha'il Rhodes Benjamin, telling stories near the site of Seneca Village's schoolhouse; and many more!
This free event is a continuation of the Conservancy's ongoing efforts to conduct new research on Seneca Village and share its history within the physical landscape of the Park.
Black In Action: A Juneteenth Celebration, hosted by Pop of Culture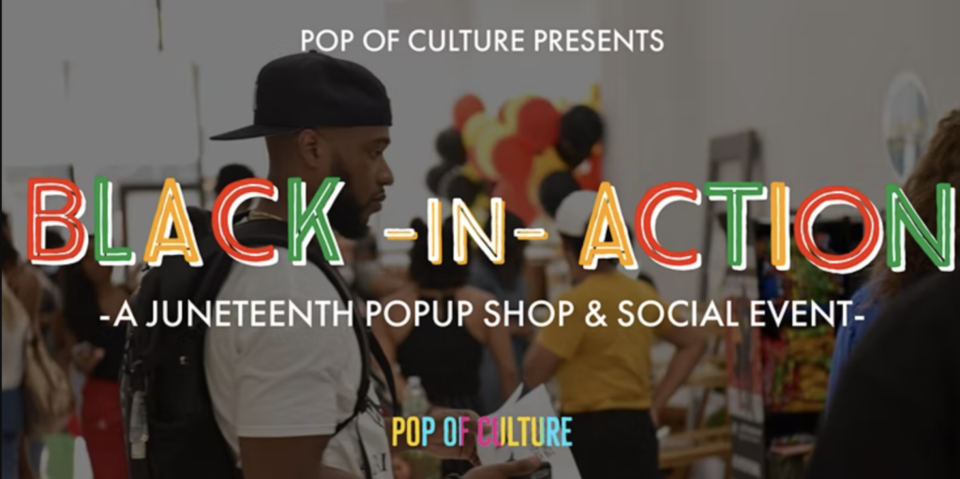 When: June 18-19, 1:00 - 6:00 pm
Where: 49 Wyckoff Avenue, Brooklyn, NY 11237
What better way to celebrate than by having fun, supporting Black-owned, and giving back to the community? Attendees can shop 40+ local Black-owned brands, enjoy food and drinks by local companies, experience live painting, and so much more!
They can also check out some of the participating brands including: Nakid Clean Soap, Coquito Rico, Metanoia Melanin, Ase Terra, Morning People, Sweet Pea Beauty, Purple Fizz Sweets, Framed by Tee Tee, Jayli's Runway, Ill Cultured, and Scented Sayings By Rudee. They can get free tickets here.
Celebrate Juneteenth 2022 with KowTeff!!!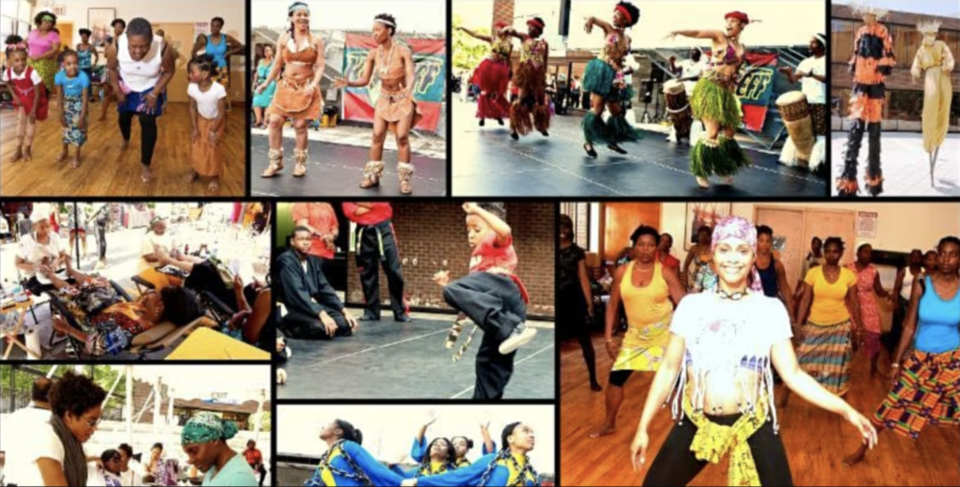 When: June 18, 12:00 - 8:00 pm
Where: Restoration Plaza, 1368 Fulton Street, Brooklyn, NY 11216
Community members will enjoy free Dance Classes in a variety of African Diaspora genres taught by renowned dancers and teaching artists. The Juneteenth Performance will feature an exciting line-up of dynamic artists from the African Diaspora.
The African Marketplace features an assortment of vendors selling hand-crafted and internationally traded goods and cultural products. Also, the Health and Wellness Expo will include well-being resources and activities with a cultural flair, including a special (non-alcoholic) Sip-n-Paint for seniors.
Furthermore, the Children's Zone will offer kid-friendly entertainment and activities, including arts and crafts and a children's West African dance class, face painting, and balloon art. The celebration will close out with the event's signature House Music and Dance Celebration, featuring DJ Juwandi and an amazing outdoor block party vibe.
2nd Annual Juneteenth Jamboree "The Cookout Edition"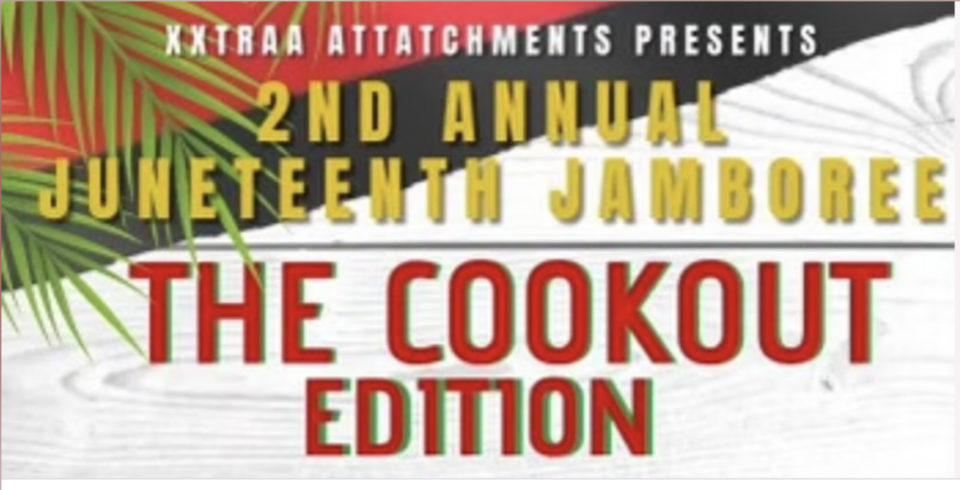 When: June 19, 12:00pm - 7:00pm
Where: 155 Tompkins Ave, Brooklyn, NY
2nd annual Juneteenth Celebration: The Cookout Edition We will have 14+ Vendors, Live performances, raffles, giveaways and door prizes!
Two floor venue (Lounge and Bar downstairs)
Back yard is open for 420/hookah friendly crowd!
Free Admission!
Free Grilled food (while supplies last)
Free Rum Punch-21+
Live DJ and Performers!
JUNETEENTH: Celebrating FREEDOM & FATHERHOOD Poetry Slam and Open Mic, presented by Harriet Returned
When: June 17, 4:00 - 8:00 pm
Where: Osborn Plaza, Osborn Street, Brooklyn NY 11212
We are looking for all poets, spoken word performers, and artists to come and rock the mic to honor fathers and promote Black Pride. There will be cash prizes in the slam as well as giveaways and a special treat for the fathers in the building! Please Note: You will NOT be able to perform without registering.
Those who wish to compete in the slam make sure to select SLAM tickets at check out. We have 10 slots, so sign up QUICKLY! Those who wish to perform in the open mic make sure to select OPEN MIC tickets at check out. We have 15 slots, so sign up QUICKLY! If you just want to enjoy a night of poetry make sure to select GENERAL tickets at check out.
2nd Annual Juneteenth Black Family Reunion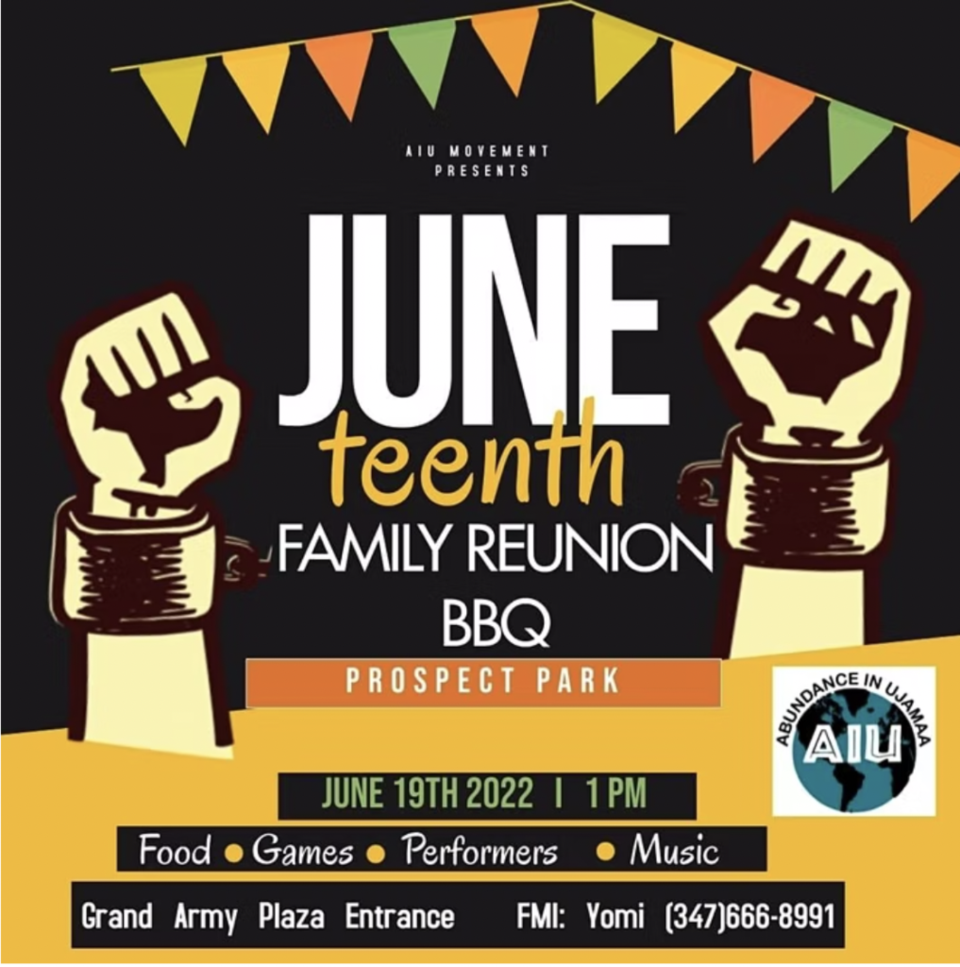 When: June 19, 1:00pm - 7:00pm
Where: Prospect Park, Lincoln Road, Brooklyn, NY
Abundance in Ujamma (AIU) is a cooperative organization creating events and programs that encourages our community to practice ujamaa (cooperative economics).
Juneteenth is meant to be a day to celebrate the abolishment of slavery, but also a day of recognition that there is still more work to be done.
Come out and enjoy the food, games, performances, music, and speakers. We always take donations to help toward our future events.
This is event is sponsored by:
Global Ubuntu Foundation, Inc. , Livewire Wealth, Shrine of Mer, and Healing Culture and Things.
For tickets ($20), go here.
Juneteenth Night Market in Queens, NY, hosted by BlaQue Resource Network!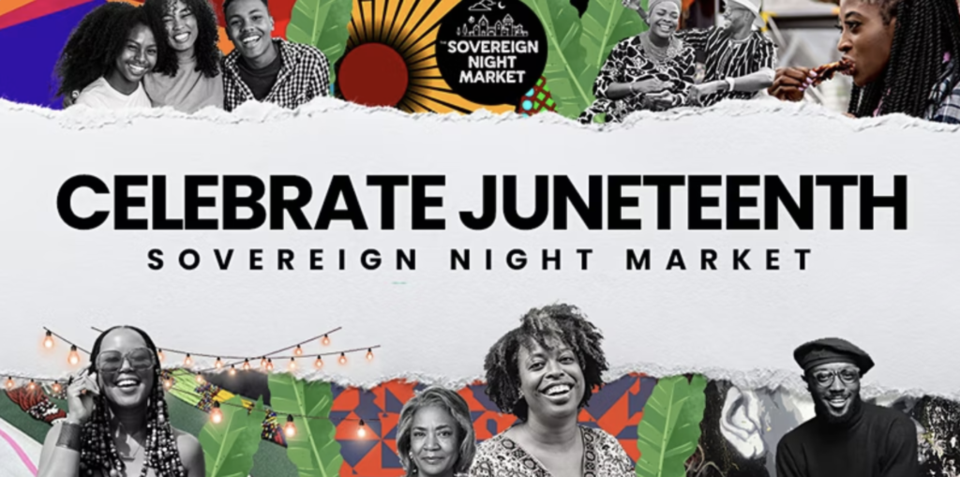 When: June 19, 5:00 - 10:00 pm
Where: Laurelton LIRR Station, 225th St & 141st Rd., Laurelton, NY 11413
This event will feature live drumming, fashion, a glow dance party, food trucks, farm-fresh produce, handmade crafts, a kid's corner with games, and activities for ALL! Additionally, it will include a special performance by the Springfield Rifles Cheer Team. Those who plan on attending can register here.
Reel Vibes Networking Night, hosted by The Reel Effect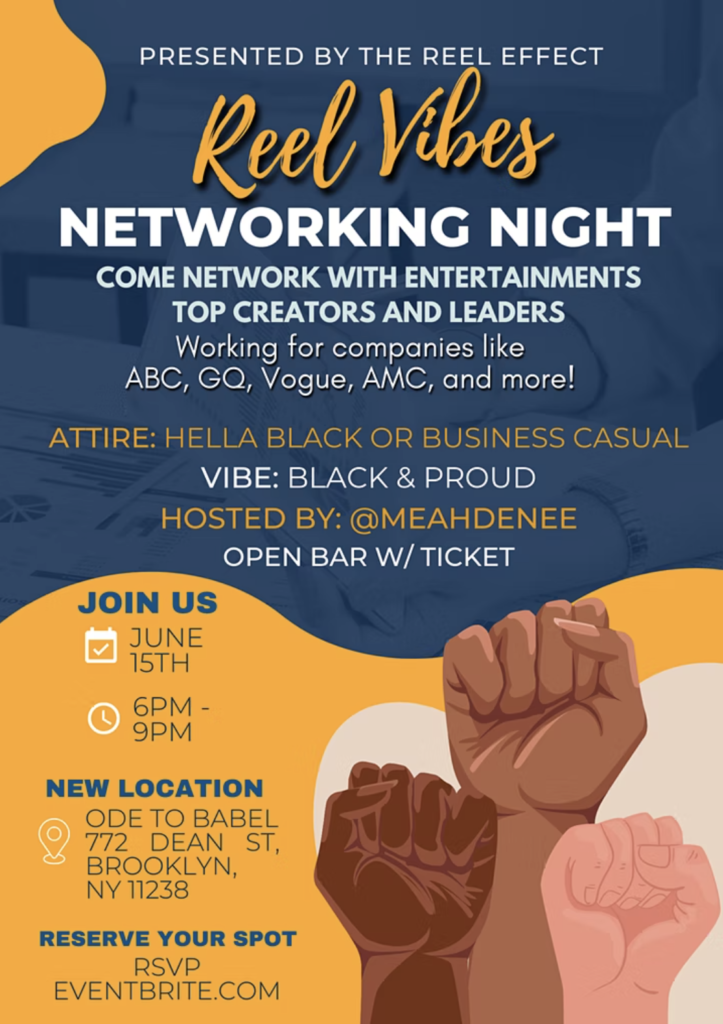 When: June 15, 6:00 - 9:00 pm
Where: 772 Dean Street, Brooklyn, NY 11238
Come enjoy a relaxed night of Black excellence in preparation for Juneteenth! Open Bar (wine, beer, house liquor, and our signature cocktail) is included with a ticket purchase for the first 1.5hrs, and light food is available for purchase.
Attendees include individuals that work within film, television, theater, digital media, marketing, and more! Working for countless companies like ABC, GQ, Vogue, AMC, Tik Tok, etc! Tickets are $10 - $20, and those who plan on attending can purchase them here.
Juneteenth Food Festival: A Celebration of Black Food and Culture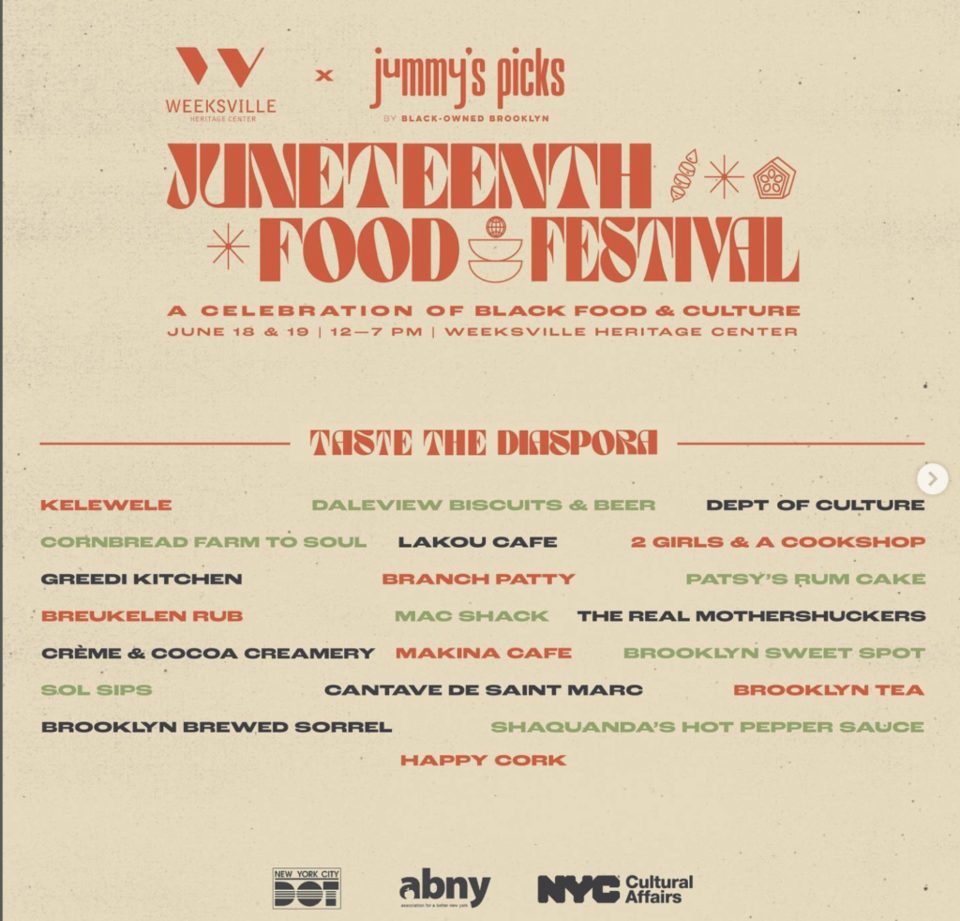 When: June 18 - June 19, 12:00-7:00pm
Where: Weeksville Heritage Center, 158 Buffalo Ave, Brooklyn, NY 11213
The free event reflects the diversity of Black Brooklyn with more than 20 vendors offering cuisine from across the African Diaspora, including Kelewele NYC, DaleView Biscuits and Beer, Lakou Cafe, 2 Girls and a Cookshop, Greedi Kitchen, and many more!
Also, we'll have sets from a lineup of all-Black queer and trans DJs curated by @papijuicebk (6/18) and the legendary @soulsummitmusic collective spinning house and club classics (6/19)!
Those who plan on attending must RSVP, and they can do so here.
The Layout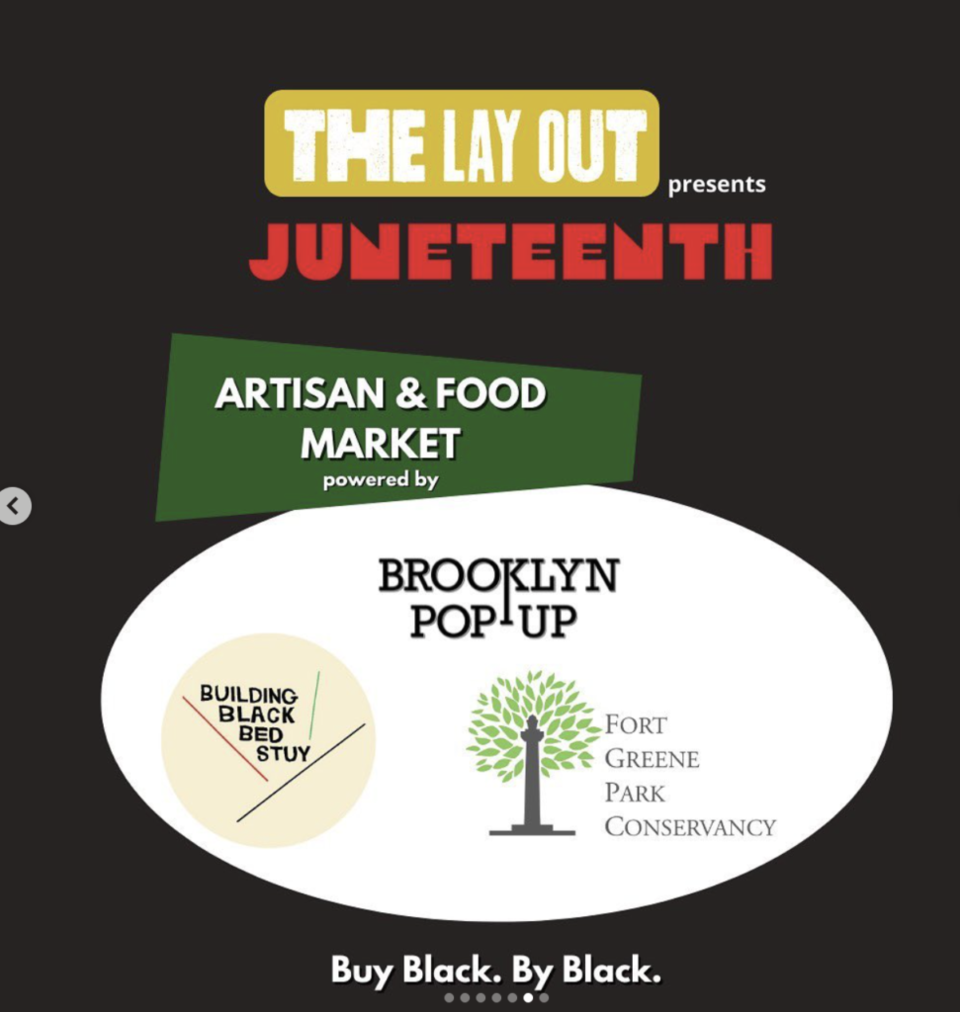 When: Sunday, June 19, 11:00am - 8:00pm
Where: Fort Greene Park
It may be ghosting season, but we gotchu and we're baaaackkk!!!
Fam, it's the most magical time of the year...summer in BK.
Please join us for the 3rd annual installment of The Lay Out's Juneteenth Celebration - 2022 edition.
We're setting off the weekend right - ALL BLACK, NO CHASER.
Come for the vibes. Stay for the reunion.
As we prepare to let the melanin melanate for Juneteenth and Father's Day, you don't really want to miss out on all the mixxy activities we've got planned - make sure to hit that RSVP first [LINK IN BIO]
All our high value fraannnsss are coming and we hope you are too!
Specialty collectibles & giveaways courtesy of @praytellagency x @recessart youth artists *(while supplies last. obvi 👀 )
Tunes and high vibrations via @quianaparks@blkidtwins@djmissmilan powered by @amazonmusic.
We're making sure you (re)connect with Mama Nature w/grounding meditation via @healhaus practitioner @elisa_sol_
Let the dollar circulate and BUY BLACK, BY BLACK. Make sure to support our talented makers & small biz owners at the market brought to you by @buildingblackbedstuy@brooklyn.pop.up@fortgreenepark
Don't forget it's always a beautiful day to be Black & Proud - take a stroll through Ft Greene for a Black historical walking tour presented by @fortgreenepark@cmcrystalhudson to see Lil Kim's crib, Richard Wright's home, Spike's joint...& plenty of other gems to peep! RSVP required [LINK IN BIO]
Games, food, gorgeous people AND we're even blessing you with an after party - y'all ready or naw?! LET'S. GO.
Caribbean-American Heritage Month: Juneteenth+One Love Little Caribbean Day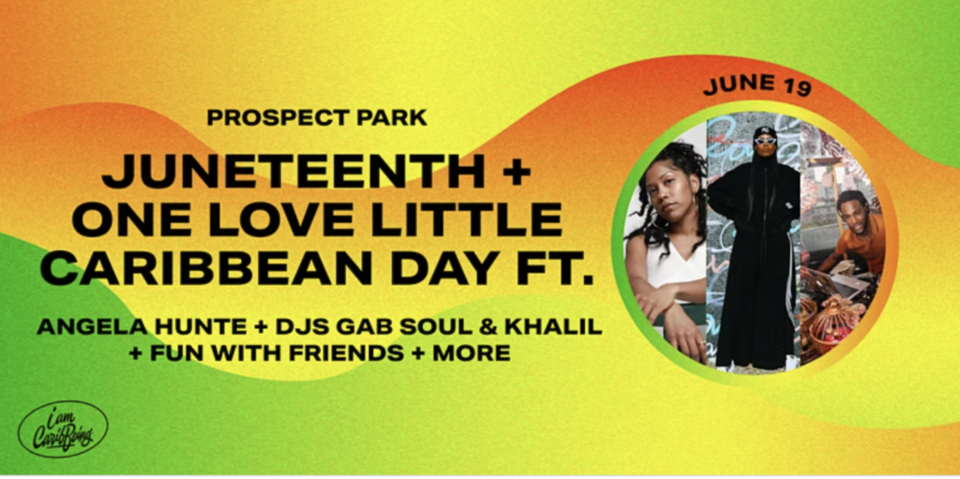 When: June 19, 4:00pm - 9:00pm
Where: Prospect Park Boathouse + Audubon Center, 101 East Drive, Brooklyn, NY
Pull up to Juneteenth, I AM CaribBeing style, with live performance by Grammy-Award winning Angela Hunte backed by Da Jerry Wonda Band, peer-to-peer gaming powered by Fun With Friends DJ sets by Gab Soul + Khalil and Little Caribbean artisan vendors.
Rooftop Oasis, a curated self-care space in the heart I AM CaribBeing + Little Caribbean + Fun With Friends' Juneteenth Celebration at Prospect Park Boathouse.
Escape the excitement and enter our calming Rooftop Oasis. Curated by I DON'T DO CLUBS and TAKE CARE WELLNESS founder, Genese Jamilah, Oasis will showcase local Black-owned self-care brands on the Boathouse Rooftop. Upon entering this haven, guests can choose their wellness adventure. From refreshing natural elixirs to essential oil blends for whatever ails you, Oasis will take you there and bring you back to life.
The event is free, but go here to register.
Juneteenth Community Block Party, presented by Grow Brownsville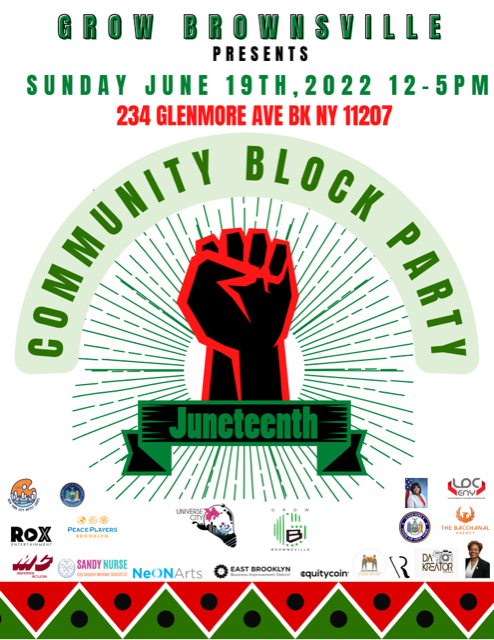 When: June 19, 12:00 - 5:00 pm
Where: 234 Glenmore Avenue, Brooklyn NY 11207
Universe City NYC & Grow Brownsville feel the need to ensure our community
has a place where they can come together to celebrate this momentous occasion by hosting a block party on Glenmore Ave. between Van Sideren Ave. and Snediker Ave. side of the IBZ. We look forward to celebrating alongside community members and have invited local elected officials, CBO's, entertainers, creatives, artists, community leaders and local businesses to join us. We have started scouting for local live performers and local artists to feature at the event.
After being awarded the Neon Arts Beautify NYC grant for the 2nd year in a row, Grow Brownsville will allocate funds toward this celebration as one of our cultivating events for the program. This event will be a Grow Brownsville event in collaboration with Universe City, Carnegie Hall Neon Arts, Council Member's Office of District 37, Assembly Member's Office of District 60. Event Production is led by The Vanderbilt Republic, Play with Rox & Bacchanal Agency. Live Broadcasting will be provided by MIDHEAVEN Network.