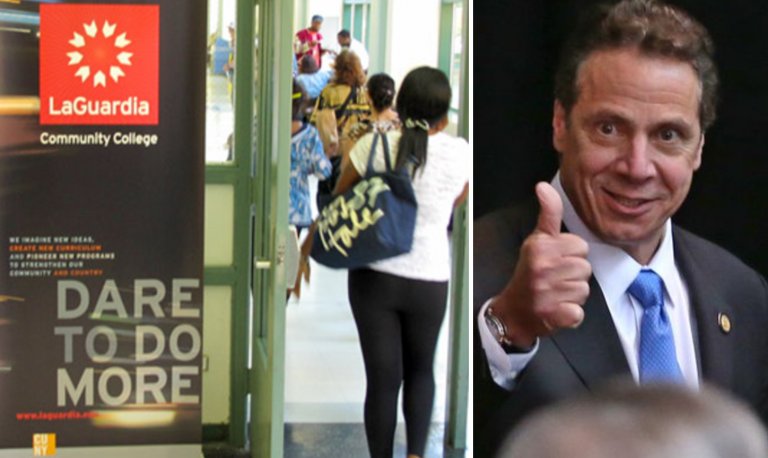 Gov. Andrew Cuomo announced on Tuesday a proposal that would make New York State public colleges tuition-free for families that earn less than $125,000 a year.
The governor made the announcement on Tuesday at LaGuardia Community College, alongside Vermont Sen. Bernie Sanders first who popularized the idea of tuition-free public college during his campaign for U.S. presidency. However, the details of the plan are actually closer to Hillary Clinton's plan for eliminating tuition for families earning less than $125,000.
"It is going to be the first program like it in the United States of America," touted Cuomo. "It's once again New York leading the way."
He's dubbing the proposal the "excelsior scholarship," and it would benefit students at both two- and four-year schools. However, undergraduate students would still have to pay for their own room and board.
Cuomo estimates the plan will cost $163 million. However, according to the New York Times, "The administration acknowledges that estimate could be too low—or too high—depending on participation." So it may be a while before anyone knows the real costs.
Nevertheless, New York City Comptroller Scott Stringer called the proposal a major step forward for all of New York:
"College is a necessity in the 21st century, and if we are to compete as a city, we need to give everyone a fair shot to succeed," Stringer said. "Access to higher education should be a right for all, not just a privilege for a few. This proposal is both the smart approach and the right thing to do."