The Dr. Ronald E. McNair School Aviation Center kicked off Black History month in an interactive event commemorating the 131st birthday of Elizabeth "Bessie" Coleman, the first Black and Indigenous woman to earn her pilot license and become an aviator.
Coleman's success, despite the many gender and racial obstacles she encountered, was a focal point for the program and its presenters. Speakers at the program included Dr. Sheila Chamberlain, the first Black woman combat intelligence pilot for the U.S. Army; and Karyn Parsons, a Tuskegee Airman inductee, actor and author.
Krista Berger, Mattel's VP of Global Brand Marketing and Partnerships — the brand that created Barbie dolls — and Coleman's very own grand-niece, Gigi Coleman, also spoke at the event, along with American Airlines aviators.
Gigi led students through an immersive time travel experience while re-enacting historical moments from her great-aunt's life. Parsons' picture-book biography, "Flying Free: How Bessie Coleman's Dreams Took Flight," was inspired by these very same moments.
"Above the land, above the sea where they all said she shouldn't be, Bessie said, 'Watch, you'll see,' and followed her dream flying free," Parsons read, during a storytime session.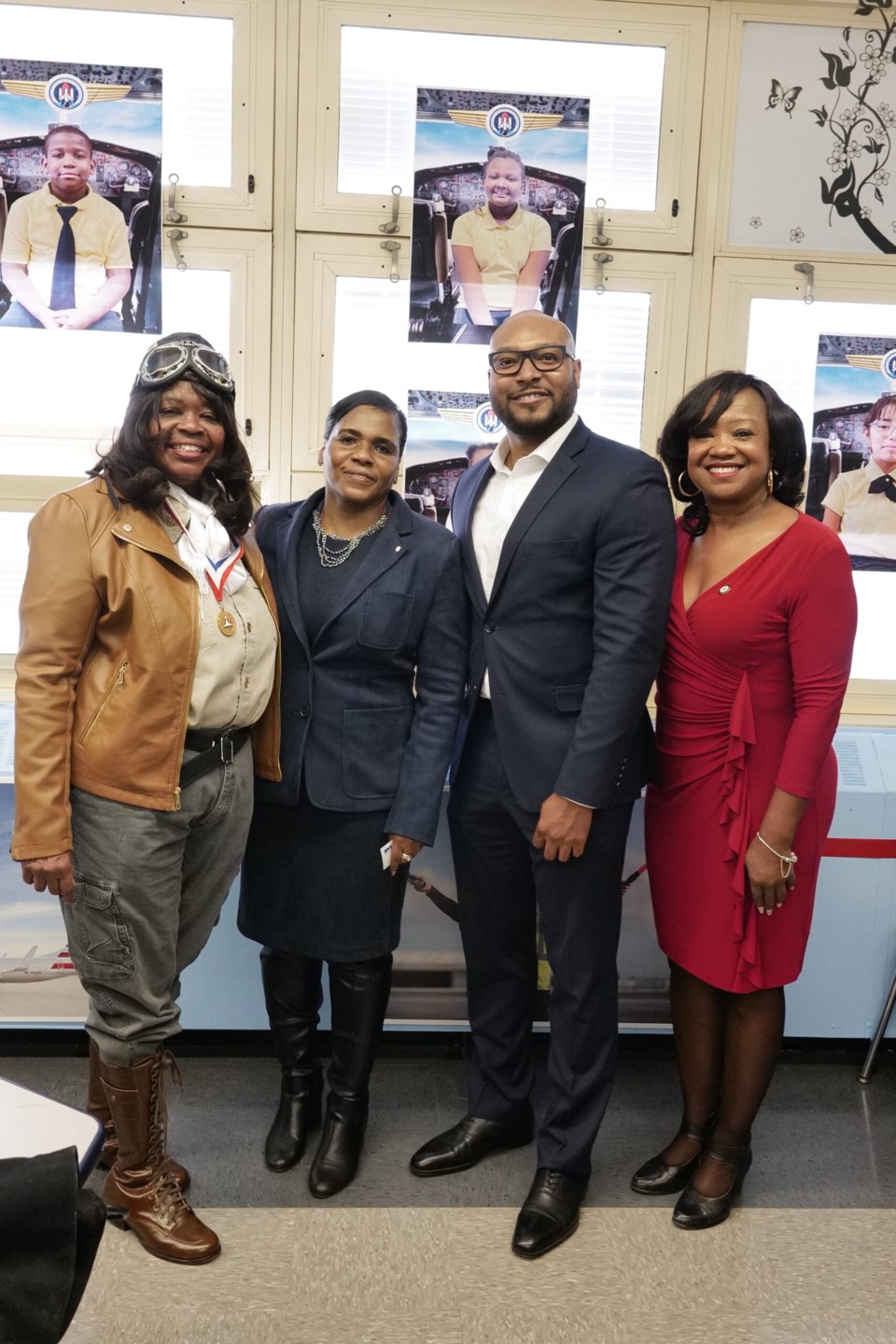 "It's great to see how Bessie's story is an inspiration to children," said Parsons, "Representation is important."
Representation in aviation continues to be a challenge today: Black women make up less than 1% of pilots in the commercial airline industry, according to American Airlines.
A diverse team of American Airlines pilots shared its love of the skies with the McNair Aviation Center students-- a group of fourth and fifth-grade girls known as the "Lady Flyers."  
"I was actually excited when I saw them," a fourth grader said, about witnessing her classroom filled with pilots that looked like her.
"When I grow up, I might be a pilot and become one of them," she said while demonstrating a basic takeoff from LaGuardia Airport on the simulator.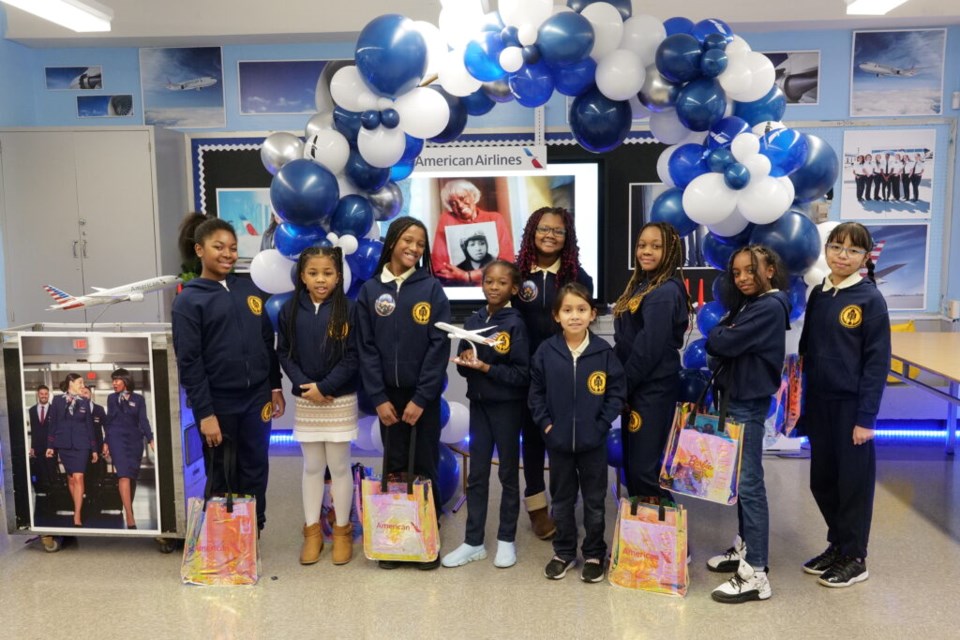 Captain Beth Powell, of Boeing 737, started flying at age 15. Powell said she immediately "connected to the airplane like a bird flying in the sky."
Powell, the captain of an American Airlines all-Black female flight crew honoring the 100th anniversary of Bessie Coleman's first public flight, encouraged students at the event to hone their passion, find subjects that interest them, and set goals.
"How you choose to face your challenges will determine your end goal. Your attitude determines your altitude," Powell said.
P.S. 5's Principal Lena Scarborough-Gates fosters a similar mindset for the school, which was named in remembrance of Dr. Ronald E. McNair, an African-American astronaut who died in the Space Shuttle Challenger explosion.
"Our students understand from now who they can be; what they can be and know that there's no limits for them," Gates said.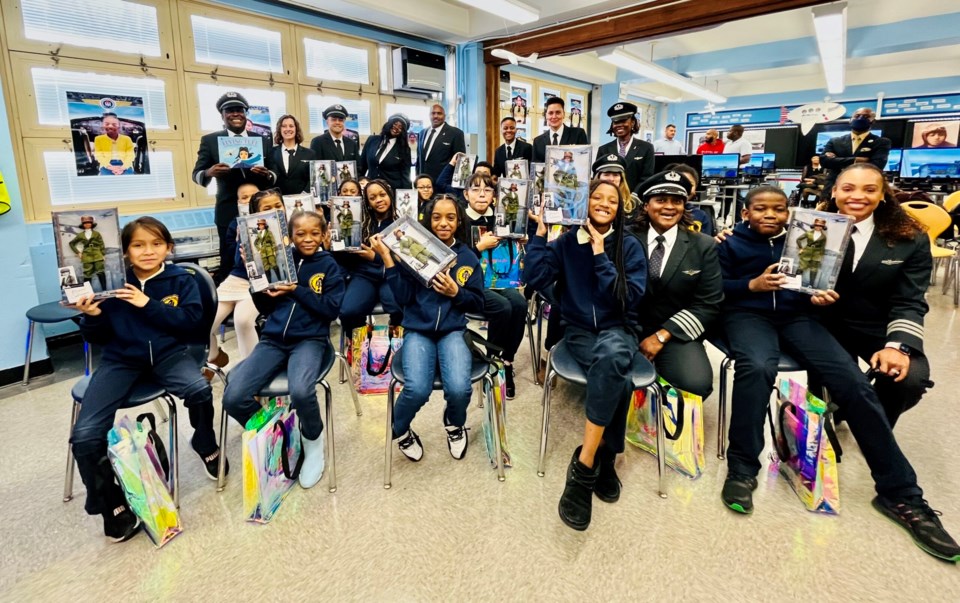 The school's aviation program, which is sponsored by American Airlines and coordinated by Level Up and Take Off, features simulators for children to learn basic flying skills.
The school also has a real plane in the courtyard, which was a donation to encourage hands-on technical and mechanical skill building.
At the event, a Bessie Coleman doll was gifted to each of the students from Mattel. The Barbie doll marks Mattel's first time honoring the aviation pioneer and is part of its "Inspiring Women" series, highlighting courageous women throughout history.
"Imagining you can be anything is just the beginning," said Berger. "But seeing that you can be anything matters."