'Signs of Hope: Messages from Subway Therapy' includes sketches, notes and photos of the interactive art installation inside a NYC subway station in the days after the 2016 presidential election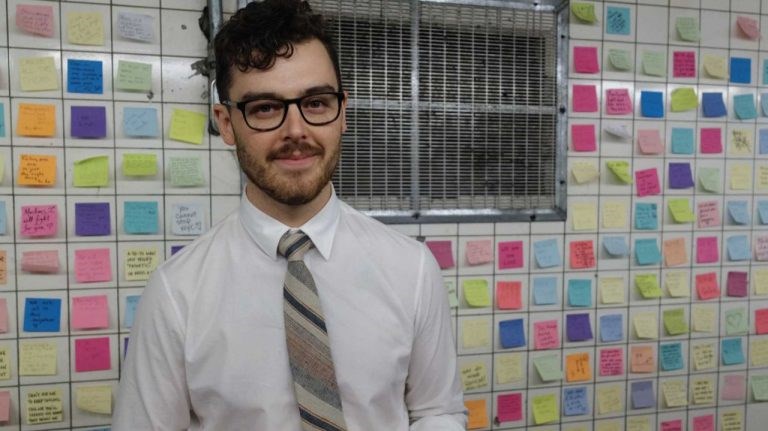 Almost a year after Fort Greene resident Matthew "Levee" Chavez initiated 'Subway Therapy,' the project that gave people a chance to express their post-presidential election anxieties on Post-its, he now releases his book "Signs of Hope: Messages from Subway Therapy," featuring some of the most moving notes, reports amny.com.
"Each note sort of has its own story," said Chavez. "You can read the notes and imagine a little part of someone's life. They were not just writing about the election but about the human experience."
On November 9, 2016 — the day after Donald Trump was elected president — Chavez sensed the tension in the city and felt compelled to act. Inspired by his mother, a school teacher who used notes in her classroom "to get her students to open up," he arrived, equipped with sticky notes, pens and supplies, at the subway passageway at 14th Street.
A simple "Express Yourself" in notes on the tiled subway wall sufficed as invitation for passers-by to join in. In the coming days, people flocked to the site, transforming the walls into multi-colored murals of notes. The initiative inspired similar installations in Boston, San Francisco, Seattle and other cities.
"There were so many people writing, it made them feel like part of a larger community interested in supporting each other and being there for each other," Chavez said. "The project really was a way to reestablish the trust people had lost."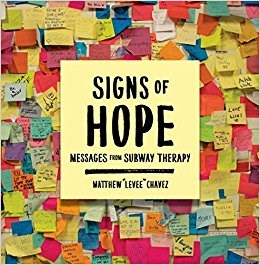 His book, "Signs of Hope: Messages from Subway Therapy," includes sketches, notes and photos of folks of all walks of life who took the time to stop, read and add to what morphed into an interactive art installation inside the 14th Street subway station. The book features thematic chapters such as "My Heart is Heavy," "It's Hard not to Fear the Future," "I Refuse to Give Up on My Country."
Many of the notes carry solemn messages: "I hate my job but have no other options," "I'm so tired of being homeless sad alone God hear my cry," "Decided today that I am not having children." But there are also cheery and inspiring ones: "I've got your back!," "You are stopping to read this. Your heart is hopeful. So is mine."
Chavez will present "Signs of Hope: Messages from Subway Therapy," on November, 9 at Brooklyn's WORD Bookstore at 7:00 pm. A portion of the book's proceeds will go to the American Civil Liberties Union and Women in Need (WIN), which NYC's largest provider of services to homeless families.