The Flatbush Nostrand Junction Business Improvement District  launched its Urban Hyperlocal Tourism Initiative on September 21 with the first-ever  historical walking tour of the Flatbush Avenue and Nostrand Avenue intersection locally known as "The Junction."
The "Triangle Junction Tour" explored the unique history of the busy transportation hub, which boasts the most triangular- shaped buildings on any commercial corridor within a half-mile radius in New York City. Today, the Junction is known for being the last stop on the 2 and 5 subway lines and a bustling center of both small and large businesses.
But, what is now home to towering complexes, was once farmland owned by influential settlers who laid the foundation for the streets Brooklynites are familiar with today.
The goal of "Triangle Junction Tours" is to educate Brooklynites on the history of The Junction and its buildings, while also promoting its wide array of small, largely immigrant-owned restaurants and shops. First established in 2007, the Flatbush Nostrand BID works to support businesses in the rapidly changing area.
The launch was hosted by Junction BID President and Executive Director Kenneth Mbonu and attended by Councilmember Farah Louis, Former Councilmember and Deputy Borough President Diana Reyna, and members of the NYC Council Economic Development Committee, the Brooklyn Chamber of Commerce and the Office of the Brooklyn Borough President.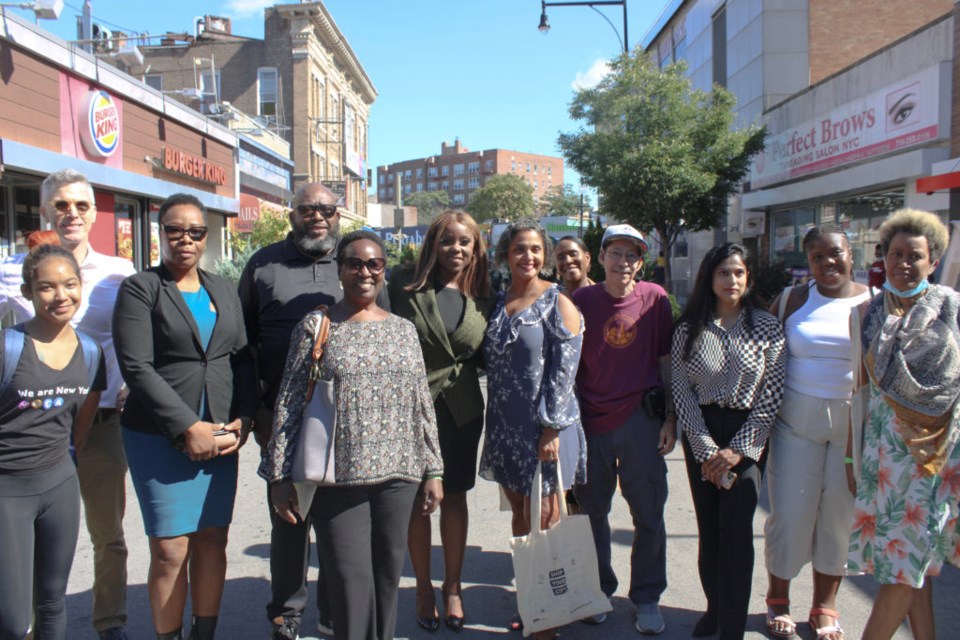 "We work very hard to maintain this balance of large and small businesses because that's what keeps this area active and vibrant," Mbonu said. "And so, we're working hard on the small businesses so they can remain sustainable and stay in the area."
The tour was led by Brooklyn Historian and President of the Society of Old Brooklynites Ron Schweiger and Junction BID Director Cuthbert Onikute, both of whom have researched the Junction's history extensively. Schweiger has served as the official borough historian for Brooklyn since 2002.
The tour began at the Hillel Place open street and moved upward on Flatbush Avenue, extending to Farragut Road. Tour participants were encouraged to shop in the area's many businesses. During the tour, Schweiger shared the history of the area beginning with New York as a Dutch colony.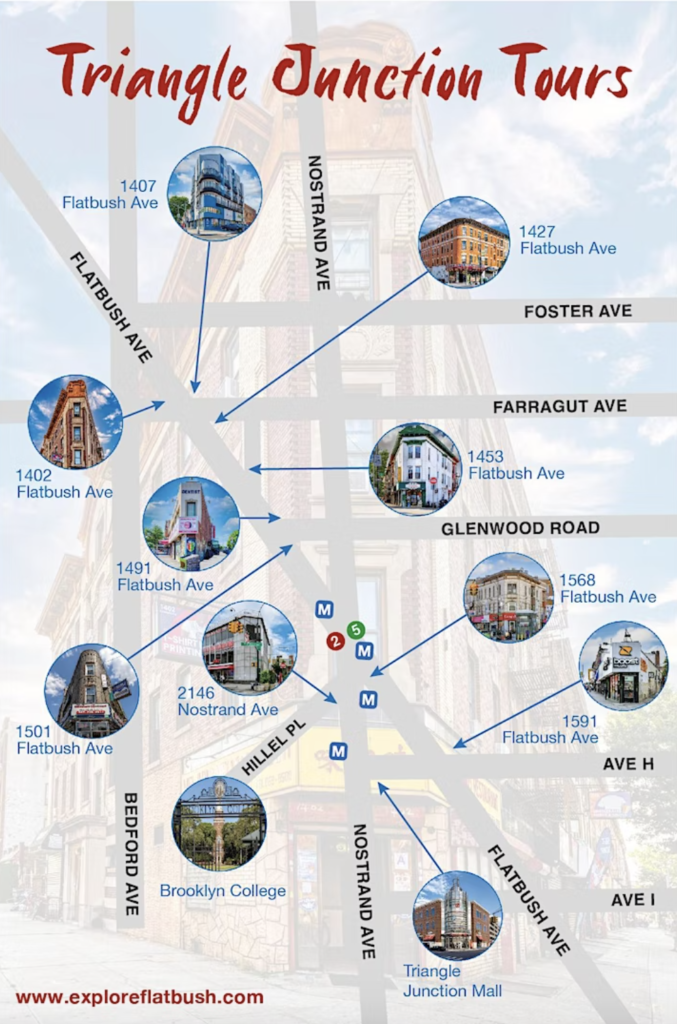 Schweiger said the area of the Junction was once the meeting point of the Dutch villages of Flatbush and New Amersfoort, making it a transportation center dating back to the 1600s. By the late 1800s, what is now Flatbush Avenue and Nostrand Avenue was established as trolley roads.
Throughout the tour, Schweiger displayed photographs of the area from the late 19th and early 20th centuries he uncovered through research.The BID plans to create a virtual version of the tour using artificial intelligence and three-dimensional technology to bring the experience to more people. For now, the tour will be a self-guided experience you can follow on the BID's website.