In a truly 2021 way to celebrate, Flatbush resident Jestina Harper received her second COVID-19 vaccination on her 99th birthday on Thursday.
Harper got her second vaccine dose at Medgar Evers College in the morning, before heading to a celebration where Councilmember Mathieu Eugene commemorated her birthday with a congratulatory letter.
Harper emigrated from Jamaica in the early-1970s and has lived in her Flatbush home for more than 45 years.
Harper spent most of her life as a caregiver and retired from her work as a home health aide well into her 80s, her granddaughter Tangier Harper said. She has continued to be the matriarch of the family, which currently consists of five of her children, 29 grandchildren, 47 great-grandchildren, and 13 great-great-grandchildren, her granddaughter added.
"She remains an avid storyteller and still enjoys keeping busy," Tangier Harper said. "She's shy, but a fierce advocate for those she loves and what she cares about."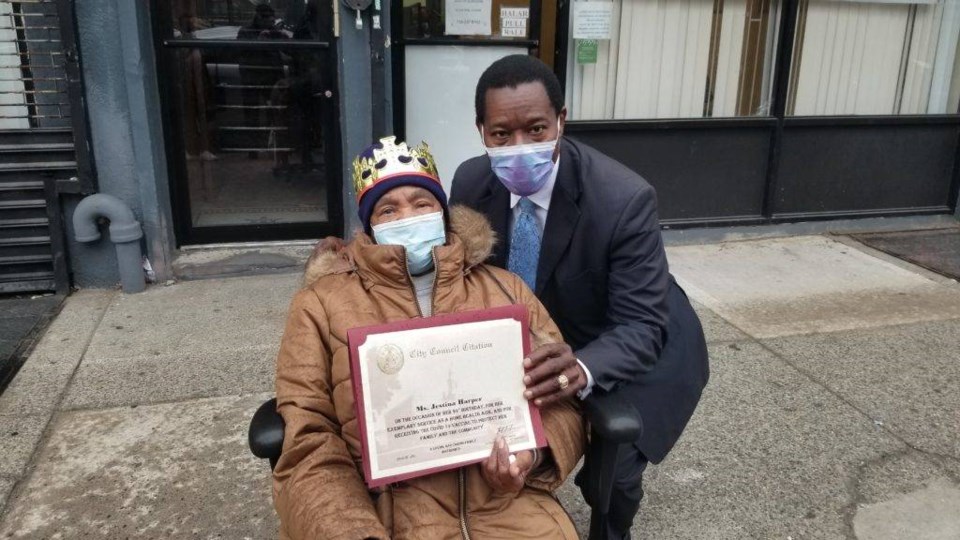 Eugene said the day was a wonderful one for Harper and her family, and was a valuable reminder of why it was important for New Yorkers to receive the COVID-19 vaccine. He added the virus remained a serious public health threat, and the perseverance of the city's most at-risk residents who had received the vaccine had to be celebrated.
"Ms. Harper is a retired caregiver and home health aide, and we all know how important that profession is in this community, especially during a public health crisis," he said.
"I want to commend and thank her for her many years of service in the healthcare field, and for being an incredible role model for the community. May God bless her and her family with continued health and happiness."