"It's time. Let's go," said New York City Councilmember Jumaane D. Williams as he declared his candidacy for the office of Lieutenant Governor of New York State. Williams made his announcement on Friday on the steps of City Hall, surrounded by supporters including elected officials State Senator Kevin Parker, Assemblywoman Rodneyse Bichotte, and Councilmembers Antonio Reynoso and Brad Lander, as well as activists and community members including Antoine Pierre, Kirsten Foy and Eddie Kay, among others.
"The lieutenant governor position needs to be more than ribbon cutting and rubber stamping," said Williams. "I want to be the people's advocate in Albany, pushing the governor and the legislature to enact the progressive policies that are the promise of our state. I want to represent the diverse needs of the people of our state - and by the way, our state government could use some diversity."
Williams, a progressive Democrat who is currently serving his third term in the New York City Council, represents the 45th District including Flatbush, East Flatbush, Flatlands, Midwood and Canarsie. Since beating incumbent Kendall Stewart in 2009, he has focused on community policing and housing. In an effort to combat gun violence, Williams has sponsored the Community Safety Act, which created the Office of Inspector General for the New York Police Department, the Fair Chance Act and is co-chairing the taskforce, which created New York's Crisis Management System and Cure Violence Groups to combat gun violence.
"There are few people in government that are as fearless, or as effective, in working on behalf of the people of New York than Jumaane Williams," said State Senator Parker. "I've seen that passion in his time as a councilmember, and I'm excited to continue to work with him on issues of public safety, fighting discrimination, protecting our environment and more."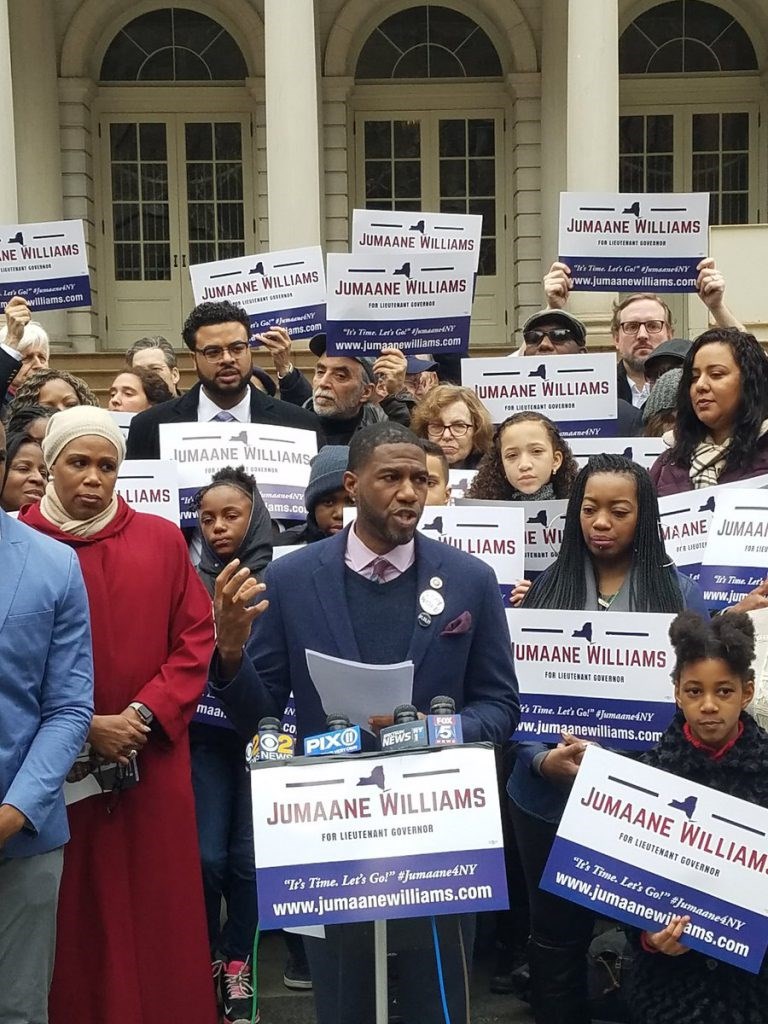 The councilman announced last month that he would explore a run for the position. Since then, he has visited a number of cities around the state, meeting with local activists and progressive organizations. Williams cited the energy and response that he has seen around the state as one of the reasons for his decision to formally enter the race.
Williams has long been a critic of Governor Cuomo and other officials who he says "put on a progressive cloak" when it is politically expedient and "test the political winds" rather than acting on their core beliefs. Willams sees himself as a challenge to the present administration from the left and argues that the Capitol needs people who will help to "create those political winds." He will be most likely running against incumbent Lieutenant Governor Kathy Hochul, who has yet to make a formal announcement.
"I believe that no matter who the governor is, we're going to need a person who will be the people's lieutenant governor, always pushing forward," said Williams. "And I believe that I am that person."
In New York State, candidates for governor and lieutenant governor run separately in the primary, with the winners of each party's nomination forming a joint ticket for the general election. The primary will take place on September 11, 2018, followed by the general election on November 6, 2018.