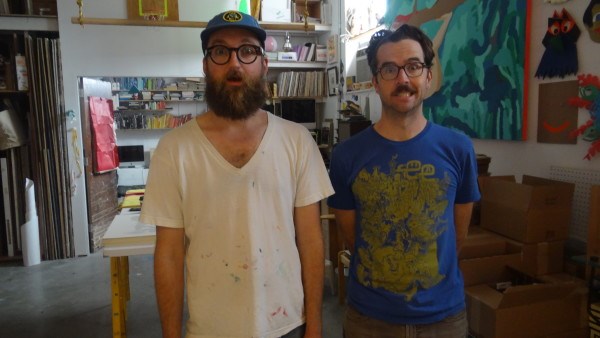 The love affair between real estate developers and street art shows no signs of abating, but this Saturday, August 15th, the relationship gets bigger in a very Brooklyn way. Pacific Park Arts will shut down Dean Street, between Vanderbilt and Carlton, in Prospect Heights, for a full fledged, all ages block party, featuring live painting of enormous murals. It's underwritten by Greenland Forest City Partner who thought the walls lining the construction site of Pacific Park (formerly Atlantic Yards) could be put to better use and brought on the hyper-talented Mike Perry to produce and curate his vision for those walls. It's full of all the things that make sense. Everyone is getting paid. The neighborhood businesses are involved. The whole neighborhood having fun is written into the block party. The walls have a long shelf life and all the artists are from Brooklyn!
I visited Mike Perry in his studio in Crown Heights to learn some more about the August 15th event, but also for a talk about his work with Broad City. In 2015, when talking about Mike Perry, the first thing that may come to mind is his illustration work with the show Broad City on Comedy Central, so below is a video portfolio of season one illustrations and tittles, for you viewing pleasure.
Broad City, a show that started as a web series, has completed season 2 and has been renewed for season three on Comedy Central.
RB: How did you hook up with Broad City?
MP: I went to Art Basel a bunch of years ago for an AOL project and Abbi Jacobson (co-creator and co-stor of Broad City) was there. She had done some work for the project as well. We met, hung out and had fun, then a couple of years later, maybe three years ago, CC reached out and said there's this project, Broad City; here's the pilot do you want to check it out. Comedy Central said that Abbi knows me, and I though I didn't remember initially, I quickly pieced it together. I was actually really busy at the time, so I turned down the project. But then a month later they came back and said they still hadn't started and asked if I was available. Luckily I was available at that time. It was great that they came back to me, because they could have done so many other things, besides reaching back out to me.
So I said yes and I jumped in. The brief was brilliant and the pilot was amazing. They commissioned one title and a logo and i did them both, and as I was sketching and concepting things, I had so many different ideas, that when i walked into the pitch meeting, they said "why don't we do all of these" and it was just the best thing to happen, because I just created job security for myself. They could have just done the same title, every episode, for the next ten years and instead they keep coming back.
Comedy Central was great as it was my first real animation project, and though I know how to draw, I never did it on a television scale. They were brilliant in how they worked with me. Comedy Central told me how my visual skills, language and energy were on point , and the technical part they would help me work out.
Which was awesome, because that's not how it usually works. Normally, if you come without the exact technical skills, then a network won't say yes and hire you. It was refreshing to partner with somebody who loves your work, trusts and wants you to do your thing. During the brief call for season three, CC said they love me and my work and they just want me to just continue doing my thing
RB: As your first experience with television, has it spurred you to want to do more TV?
MP: Animation is so amazing, yet obviously it's very hard. I've been so used to doing one drawing, but with animation, it's more intense. I would have to do seven hundred more in addition to the first. The process is drawing frame by frame and it's a real headspace because for three days it's just doing it. It's getting into minutiae, because you have to draw 36 frames for each movement. The experience has been really enriching, because it's forced me to think about story telling and movement. I just catch myself sitting outside and watching people walk in a way that I never did before, because walk cycles are so different from each person.
Like, what do you do with your arms when you walk. What's been really exciting is that after season one, I went to the premiere of the show in midtown, and one of the content developers said to me, in passing, that i should pitch them a TV show. It was so passively said, that I woke up in the middle of the night thinking if he really said to pitch a show. I said screw it and called my friend Jim Stoten, whose an illustrator similar to myself, and my best art friend.
I called him, he was excited and we both got super into it, and have spent the last year and a half developing this TV show concept. It's really wild. Nobody's committed to it, i don't konw how to pitch it, we still don't know what we're doing, but it's been amazing just working on it! It was an opportunity to fantasize about a universe that doesn't exist. It was the ultimate escapism.
RB: What bands would you see your art making a visual match for music videos?
MP: The music that i would really love to do illustrations for, in a music video capacity, is maybe not as poppie as my work, but I think that would be a good challenge. I really like the artist Father John Misty, whose music is really complicated. The lyrics are really complicated and layered. It's really poetic and incredibly abstract.
RB: Have you ever thought about working with a team, so that you could take on more work?
MP: It's always these conversations: do you grow your business or stay small. The commercial world that we live in says that you need to grow, that if you want to be successful, you need to grow. That's always fun in the beginning, but I just wanna do whatever I want. The agility that I have, by not growing, is amazing. If I want to work paintings for a month, my overhead is manageable because I'm not trying to feed thirty people.The fact that I can just roll in and have a nice quite morning and not have to deal with lots of people coming in is good. Staying small has value to it.
RB: Talking about the Pacific Park Arts mural project on Saturday, August 15th, how was the process of putting it together?
MP: When I first spoke to Greenland Forest City Partner about that project, they asked what I would need to do it, so I approached it asking myself what I would need to do it, if I was an artist in the show. They've been so good and receptive to everything I asked for. Everybody is getting paid, all the artists are getting paid, the artists assistants are getting paid and it was just so awesome and chill. They've been so supportive. I went around to the neighborhood businesses and got them involved and GFCP was very supportive of that as well. It's a block party with something for everybody. I mad Pacific Park maps, and the kids will have them to color in, at the block party, and they'll also have ice cream.
RB: Do you enjoy the curator experience outside of being an artist?
MP: I do in the sense that it's really important for artists to support other artists. If artists don't have empathy for other artists, then artists are screwed, because that's all we got. If artists don't support other artists, how do you expect other people to get it. It feels really brilliant to be able to call people and say "I have this really great project, I got some money, let's do this
RB: What's the lifespan of the project?
MP: It's going to stay up for a few years and it's going to evolve over time but I think it will evolve in a cool way. I don't know what's gonna happen when the walls come down, but i think it would be great to just rent a truck and throw all the walls in there, bring back here and maybe build houses out of them or something cool. A cool art house, since each piece is 10 feet hight by 40 feet wide, which is really big!
RB: How did you go about selecting artists for the Pacific Park Arts project?
MP: It's a complicated job because you have to be able to paint the mural in the allotted amount of time (5am-4pm). So some of the artists that I wanted to work with, their style is detailed, so I didn't want to ask them to convert their work to fit the time limitation. So it was really about finding people that whose work is abstract, bold, has shape, energy and color and that are capable of pulling it off. One of the artists, Morgan Blair, she's so interesting because her and her boyfriend do murals all the time and she's not even stressed because she works so fast. She's always like "no problem", while everyone else is pulling their hair out. My joke with her is that she'll be finished her piece by noon.
MURAL ARTISTS FOR SATURDAY
Hisham Akira, Morgan Blair, Josh Cochran, Thomas Colligan, Archie Lee Coat, Jennifer Maravillas, Eddie Perrote, Mike Perry, Naomi Reis, Edward Ubiera
So there you have it. Saturday, August 15th, it's a full on block party in Prospect Heights, with everything that you love about Brooklyn. See you there.