Depending on who and where you ask, the $100 million plant-based empire Slutty Vegan could be described as anything, from a cheeky popular food experience to a wildly successful vegan fast-food restaurant.
Either way, the franchise is changing the way we think about-- or rather don't think about-- meat.
Slutty Vegan now offers a trending mix of merchandise, live events and an NAACP award-nominated cookbook aptly titled "Eat Plants B*tch."
In her own words, CEO and founder Pinky Cole compares her brand to a person who is "artsy, free-thinking, a good vibe that can run with the best of them-- pretty much like Brooklyn."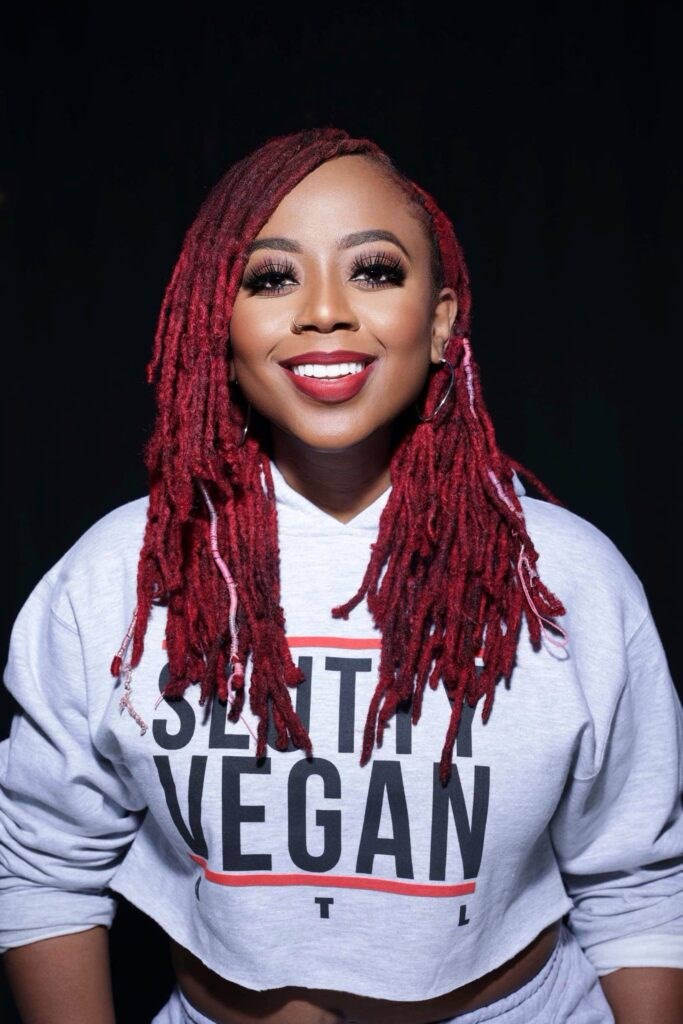 Slutty Vegan might not be a real person, but to investors, fans and customers at its BK and ATL locations, its cult following is as real as it gets. 
The Baltimore native and self-described "pseudo-New Yorker" consistently makes headlines, from raising $25 million in series A funding, to gifting LLCs to her alma mater's graduating class.
"I'm not the average CEO," the TV producer-turned-restauranteur said.
"I'm really in the trenches, showing people the transparent side of the business."
When her first food venture, a Harlem-based Caribbean restaurant (an ode to Cole's Jamaican roots) was destroyed in a grease fire in 2016, she thought her business journey was over.
The Clark Atlanta University alum returned to the southern city hopeful for a fresh start and a desire to be a larger-than-life brand like Atlanta's global beverage giant, Coca-Cola. Cole, a vegan for the past nine years, sought a new way to introduce people to plant-based comfort food that was pressure and guilt-free.
"I believe that the vegan movement doesn't have to be all or nothing, but rather gradual steps into a plant-based direction."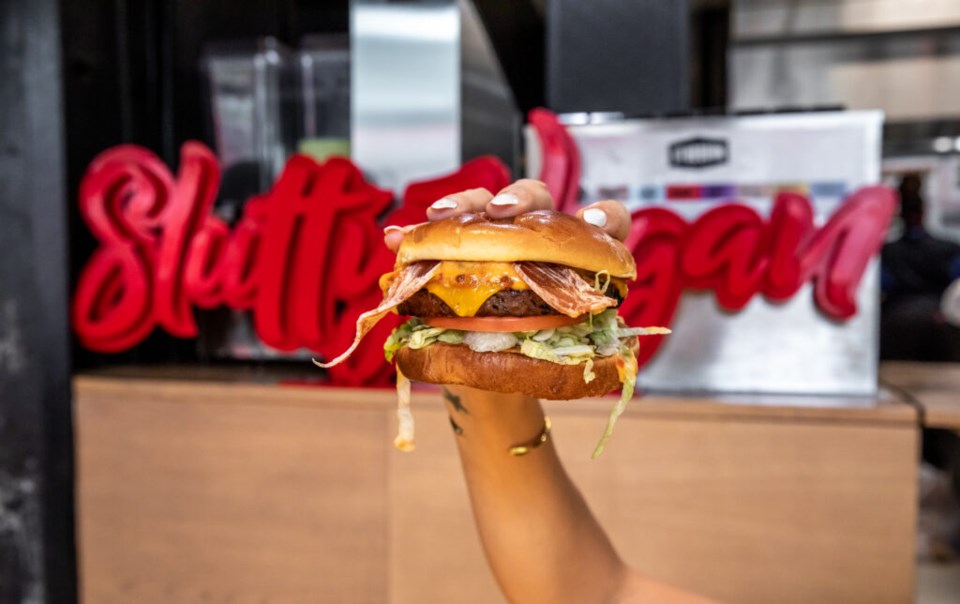 "It's allowed other people an organic and authentic opportunity to have a safe space where they can try new things without being forced to commit to a vegan lifestyle."
Since its 2018 inception, Slutty Vegan has expanded from a mobile food delivery service and food truck to seven restaurant locations across Georgia and Alabama.
Menu items like the Hollywood Hooker, a vegan Philly cheesesteak, and the Fussy Hussy, a plant-based burger topped with caramelized onions and signature "slut sauce" are just some of the restaurant's options.
The Fulton Street location's grand opening in September was met with a personal welcome from New York City Mayor Eric Adams and a line that wrapped around the building for hours.
Unsurprisingly, Slutty Vegan's brazen approach and racy language, right down to welcoming guests as sluts, has hit a sore point with some Brooklyn residents. Cole, however, remains unapologetic about her provocative business style.
"My brand is a reflection of me, raw, authentic and unfiltered."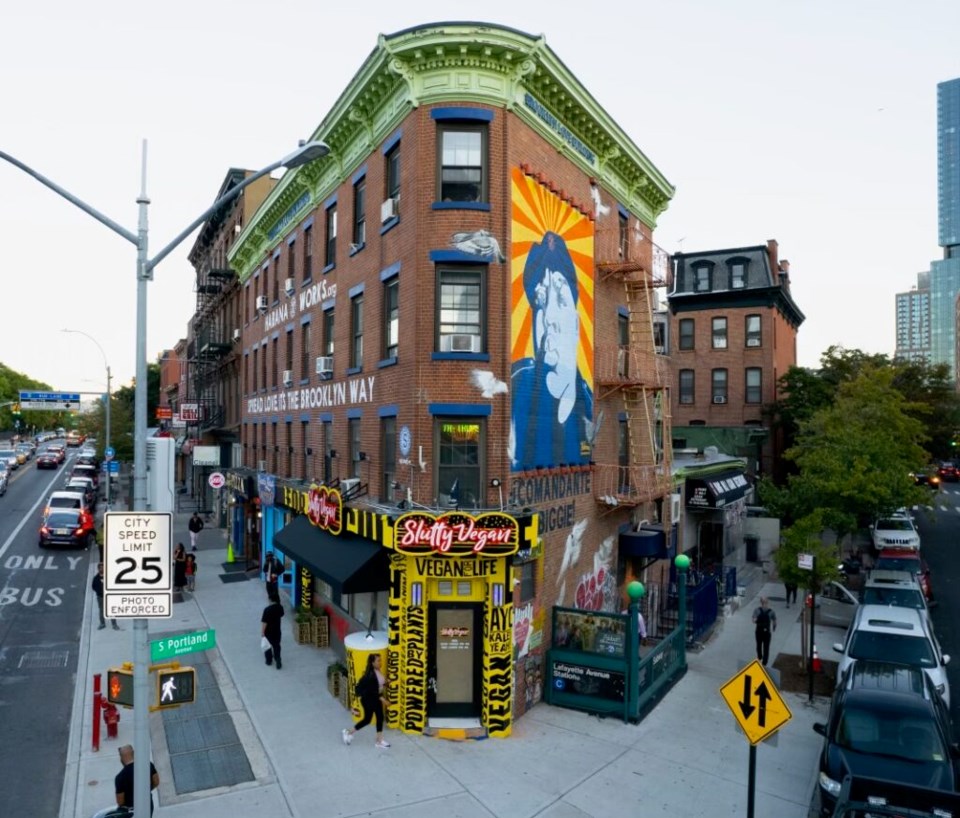 Expansion seems to be the name of the game for the mother of two who is engaged to fellow business partner Derrick Hayes, CEO of Big Dave's Cheesesteaks.
Brand new Slutty Vegan locations are slated to open in the Washington, DC, and Harlem. The latter opening within blocks of that fateful restaurant fire is what she said is a "true full circle moment."
Her latest concept, American Sesh, has nothing to do with food, yet is already gaining traction across social media.
American Sesh is a digital think tank pairs budding entrepreneurs with high-profile moguls, innovators and influencers in different rounds of what she describes as a virtual space where "ideas become currency." 
"It's not about likes, followers or how much money you have, it's about building together, creating a relationship and helping each other because we're all students of the game."
Thousands of budding entrepreneurs have taken to Cole's inbox and social media posts filled with baby pictures and the blue couch emoji's in hopes of landing a spot at the next invite-only event.
"The blue couch is symbolic of a real-life space where my fiance and I came up with most of the business ideas that have really made a lot of money through these five years," Cole said.
"It represents the opportunity to unlock the American Dream, whatever that dream is for you, it's yours to do on your own terms."
Cole aspires to transcend beyond her early mogul status and be embraced as a way of thinking, a lifestyle.
"When people feel defeated I want them to tap into that Pinky Cole energy, to never give up on themselves."
"It's bigger than me, it's about changing the narrative of what achieving success looks like."
From now until March 31, Slutty Vegan's newly launched Hawt Toddy Chili Bowl and Sneaky Link Vegan Hot Dog will be available across all locations.