While at home a stray bullet struck a 9-year-old child who attended the afterschool program started by Eric Waterman and his wife, Monique Chandler-Waterman.
It was a near miss, hitting the child in the leg. But the trauma of that experience prompted the couple to launch East Flatbush Village (EFV) in 2008.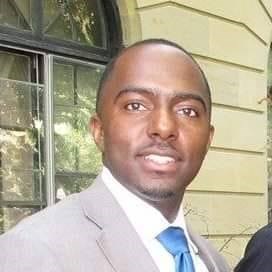 Waterman told BK Reader that he and his wife worked with local elected officials after the shooting to develop various approaches to help reduce gun violence in the community.
Today, the nonprofit organization provides a range of services in Brooklyn, from education and mentorship to sports and cultural enrichment activities. EFV also remains committed to reducing gun violence in the borough â€" especially at a time when shootings have increased since the pandemic began.
Their anti-gun violence efforts recently received a boost from three state lawmakers: Sen. Roxanne J. Persaud (SD 19), Assembly Member Jaime Williams (59th A.D.) and Assembly Member N. Nick Perry (58th A.D.).
On Oct. 7, the Brooklyn elected officials announced that they jointly awarded EFV crucial grants totaling more than $200,000 to help combat gun violence in their respective districts.
"This grant for East Flatbush Village, Inc., will fund increased credible messenger and outreach worker presence in ZIP codes with the highest levels of gun violence in Central & South Brooklyn, including Canarsie, East New York and Brownsville," Persaud stated.
In a worrisome trend, NYPD data shows that the number of youth shooting victims has nearly doubled this year compared to the same time period two years ago, WPIX reported recently.
Between Jan. 1 and Sept. 26, 89 shooting victims were under age 18, compared to 84 last year and 45 in 2019.
"Too many families have been torn apart by the scourge of gun violence in our neighborhoods. Lives lost, lives ruined, young minds scarred forever," Perry said. "It has therefore been a priority of mine to work to stem the tide of gun violence by supporting community groups like East Flatbush Village, Inc., that are on the ground."
Waterman said he and his wife have worked for years alongside their violence interrupter team members at hotspots in the neighborhood, building relationships and trust among at-risk youth.
"This funding enables us to expand our violence interrupter program in the community, conduct more outreach and more youth mentoring," he told BK Reader.
EFV has learned over the years that one of the best ways to reduce gun violence is to teach life skills to young people while also equipping families with the specific resources they need.
To that end, EFV developed "a block-to-block" approach to serving its community.
"The idea is that we identify an actual need or challenge that families have on each block and flood it with resources," Waterman explained. "Our approach is more preventative than reactive in nature. We go out and do the outreach to get ahead of things."
This block-by-block approach has compelled EFV to create multiple services and to develop the ability to adapt quickly to the changing needs of its diverse community. Those factors enabled the organization to address the unprecedented needs that COVID-19 created.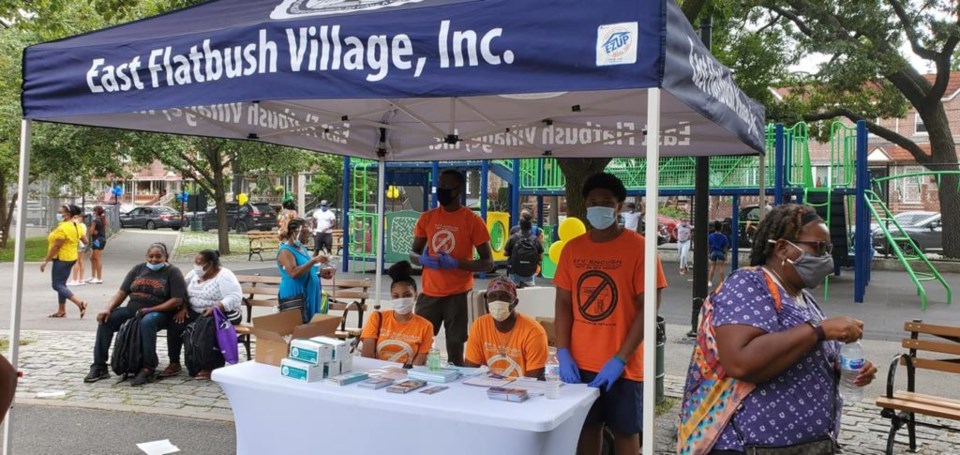 At the height of the crisis, EFV turned its attention to distributing PPE and creating its first-ever food pantry. 
When vaccines became available, EFV, as a trusted community stakeholder, signed up about 500 people for vaccinations under the city's Vaccine Referral Bonus program.
The program paid organizations a $100 incentive for every person they refer to a city-run site and $100 to eligible individuals who received vaccines. At the program's 200 person cap, EFV earned $20,000.
The focus was not on how much money EFV would earn under the program, Waterman said. Their goal was to sign up as many community members as possible.
The $20,000 would go a long way toward funding initiatives and freeing up dollars that otherwise would have gone towards wages, rent, utilities, or other administrative expenses, Waterman said.
"It means we can get more resources for back-to-school giveaways," he said.
"Maybe turkey giveaways, or a Halloween harvest where we do activities for the kids, holiday giveaways things of that nature."