On a recent Saturday morning, several families — many of which were women with young children — gathered in the basement of Next Step Community Church in Downtown Brooklyn.
But they weren't there for bible study — everyone was there for the church's Parents' Ministry, a charity event that takes place on the first Saturday of each month and provides families with free food, toys, children's clothes and baby items.
"Diapers are expensive, wipes are expensive and this cost of living," Zac Martin, Next Step's pastor of justice and outreach, said about the level of need in his community. "We're seeing a pretty massive increase in migrants also, Spanish-speaking families coming here with nothing, so they are looking for help to get up and running with their kids."
Martin has been with the church for three years, and Next Step's Parents' Ministry has been active for nearly 10 years. But, last year, it stopped after its organizer moved. Four months ago, to the relief of countless Brooklyn families, the Ministry picked back up where it left off with new organizer Elizabeth Cintron at the helm.
Word of the program's rebirth spread to hospitals, family shelters, domestic violence shelters and nonprofits such as Little Essentials and agencies like CAMBA, which connect clients to local resources.
Since the relaunch, Martin said the basement is often busy. On Sept. 2, one pregnant woman arrived with three children. Another woman attended the event with her 18-day-old infant in a baby wrap. Two mothers came to the church basement with their teenage daughters. Most attendees said they were there for the first time.
Alejandra Martell and her partner, Cody Santiago, were among the first-timers at the Sept. 2 event. Martell said she recently got an apartment after five years in a shelter and hopes Next Step can help her find a daycare for her daughter so she can return to work.
"We've come a long way," said Martell. "We take care of our baby the best we can. The next phase is to get a daycare. My parents raised me to be independent. I want to work again."
A young woman from Jamaica, Queens, who declined to give her name, told BK Reader she was new to Next Step. She has two young children and lives with anxiety and depression.
"I haven't heard of anything like this in Queens," she said. "Even the church I go to, it didn't help with anything."
Next Step gets its resources from donations and partnerships with local organizations. The Ministry also aims to help clients become self-sufficient. Three days a week, the Ministry hosts a volunteer social worker to speak to parents during free breakfasts and helps parents apply for Supplemental Nutrition Assistance Program Benefits and Special Supplemental Nutrition Program for Women, Infants and Children.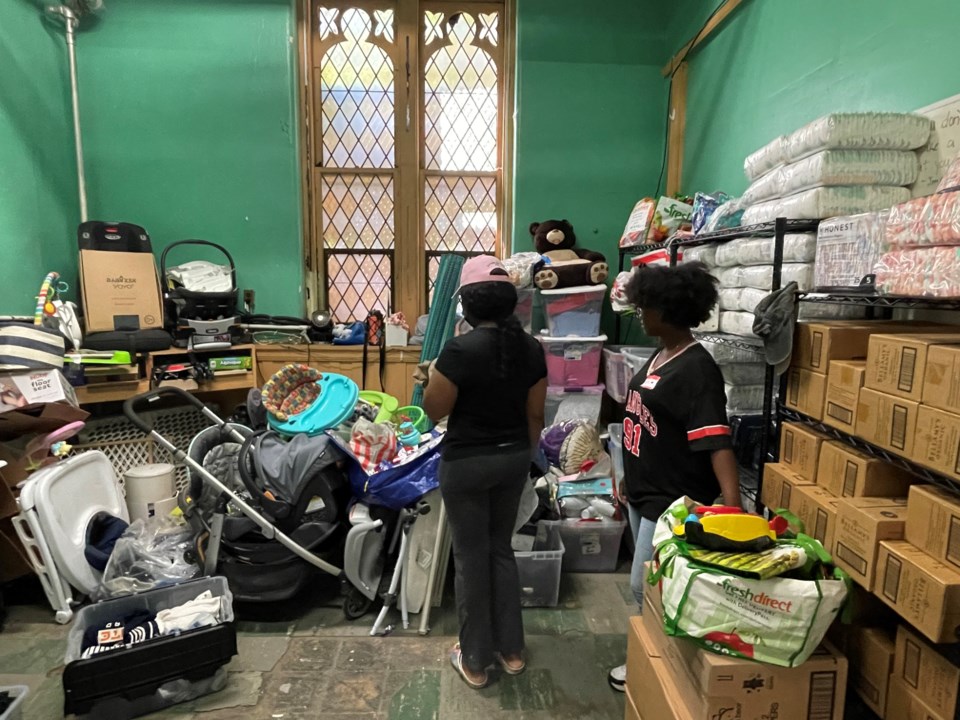 "The goal is not to have them dependent on us," said Martin. "So when we do an intake, we try to find out what other resources we can get them access to. If they come back multiple times, that's fine, but we're trying to connect them with these resources where they can get care long term."
Once a parent's name is called, they enter an adjacent hall with a large room filled with free diapers, wipes, toys, clothes and other items.
"It's a blessing knowing we can help," Martin said. "We really want people to feel welcome when they come in, that they're important and valuable. But it's also daunting. This is sort of a microcosm of how our city is functioning, with a lot of people living paycheck to paycheck. But they're definitely grateful, and I think there's a sense of gratitude that people do have because they feel that we're creating this hospitable environment."
The next Parents' Ministry will take place on Oct. 7.
To find out about other weekly events at the church, like community breakfast and food pantry hours, go here.