In the heart of Downtown Brooklyn comes a new hangout spot for ping pong lovers: PingPod, a fully app automated 24/7 ping-pong space, founded by David Silberman, Max Kogler and Ernesto Ebuen, celebrated the grand opening of its second Brooklyn location on Wednesday, Feb. 15.
PingPod members lined up waiting to be greeted with special perks, like early access into the new location, VIP gift bags and unlimited replays at ping pong tables.
"It's a vibrant, dense part of New York City," says Silberman. "We had a lot of people in our community from Downtown Brooklyn who were traveling to other pods, and they were telling us, 'Hey, please, open a local pod."
The new location features 3 new ping-pong tables in what is called an 'open pod,' as well as a 'closed pod,' a private room that houses another table, all of which can be reserved through PingPod's app. "We've made it as simple and easy as possible. Once you're on the website, it's almost difficult to not figure out," Silberman says.
Each table includes special technological features, like scorekeeping and replays of special moments in each player's match. These replays can be downloaded, shared with friends and even posted on social media. "There's a bunch of technology-enabled features to gamify the sport of ping pong to make it a little more fun and exciting for people," Silberman adds.
PingPod welcomed players of all skill levels into the space to play: beginners who started playing the sport in the basement of their home, to skilled NY State Champions are all joined together through the love of the game. Those who haven't played for a while have even been able to join the fun and reminisce on their passion for the sport.
"I used to play a lot when I was younger, and then after I graduated, I hadn't played in many years, because I just didn't have time and there wasn't a place to play like this," says Saje, a local PingPod player. "So, then when I found out about this, I wanted to get back into it."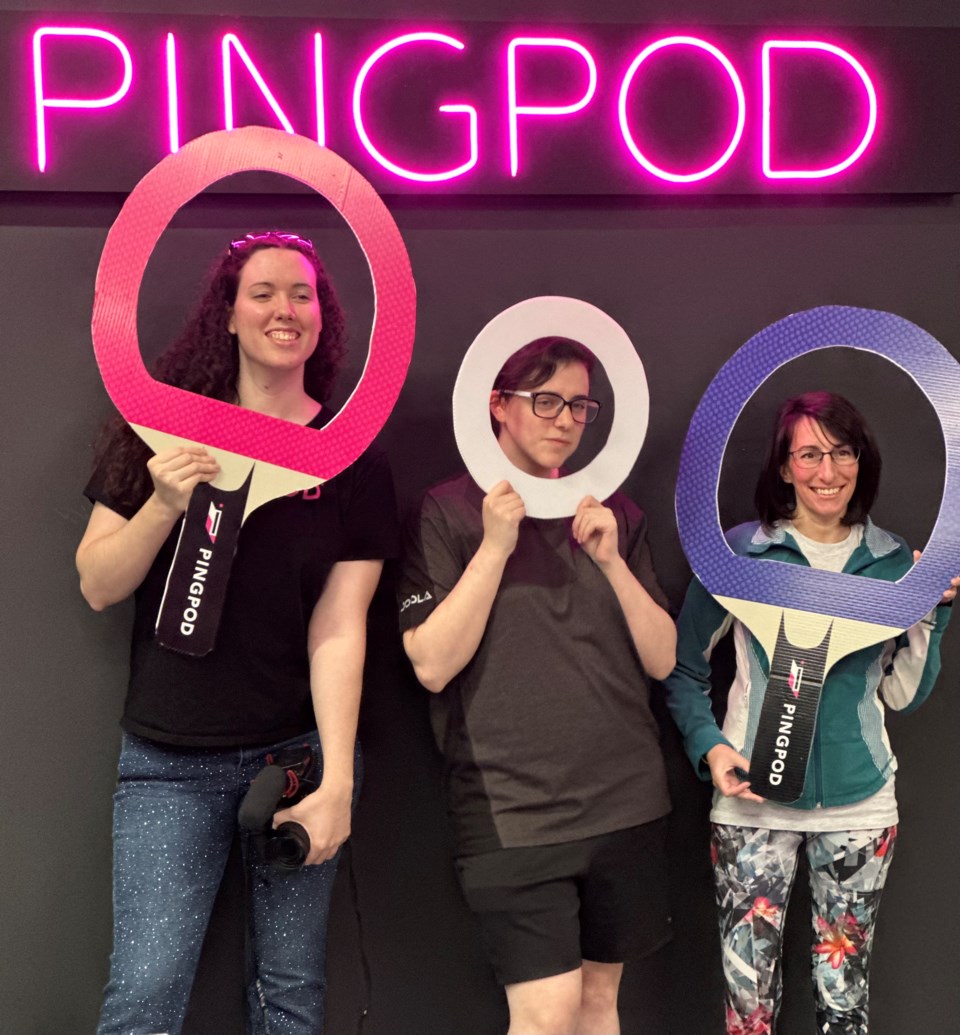 PingPod also offers members looking to hone their skills the convenience of booking a lesson with some of the finest trainers: "I've come here to take lessons with my coach, but he's also introduced me to people," says Laura, a regular patron of PingPod "It's been great and interesting to interact with all different ages, backgrounds and experiences."
Those looking to connect with others outside of this Brooklyn location are joined together virtually through a Slack messaging group. Players are able to build relationships with others interested in the game and form meetups or tournaments at the different locations.
"Brooklyn is one of the more diverse places in the world, and even in New York. I think we're gonna have a great, huge community for this location," adds Sean Reddy, Brooklyn's PingPod manager. "It's a very premium location. I'm really excited to activate this community and just make ping pong available to everybody here."
This is not the last of PingPod in the NYC area. Silberman mentions that they are looking to continuously expand its reach throughout the boroughs and in surrounding cities like Boston and Miami.
Anyone can become a member of PingPod by signing up on the website, here.