By Richard Estime, a senior at Medgar Evers College and intern at Bedford Stuyvesant Restoration Corporation.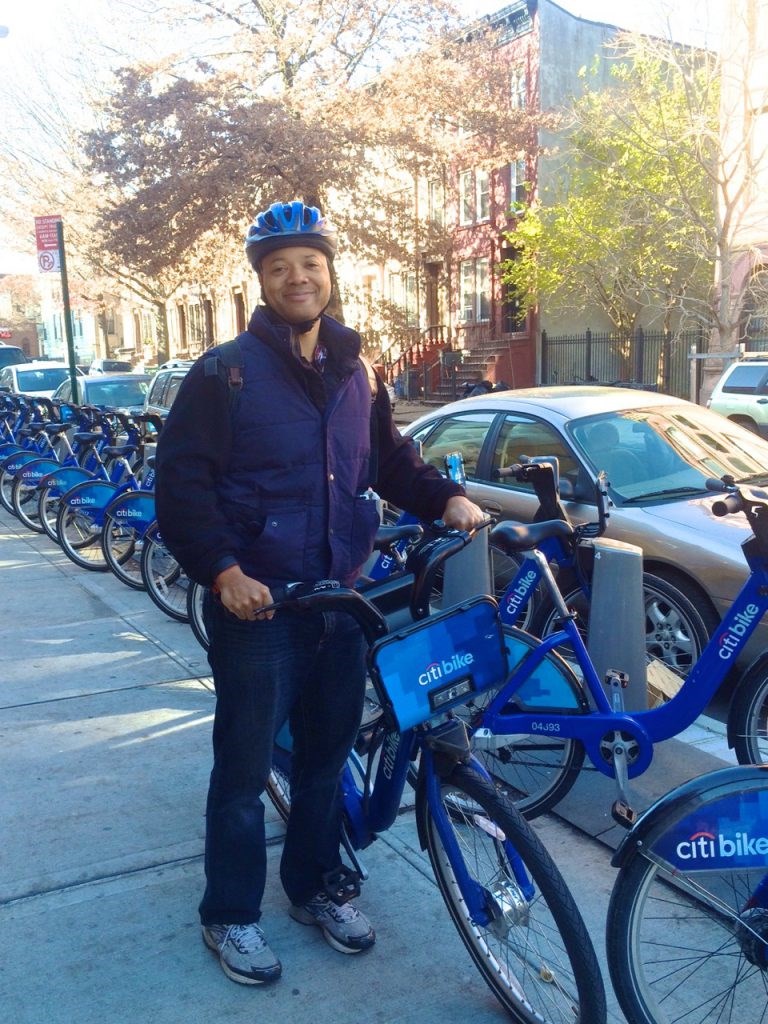 In August, Citi Bike expanded their service in Bed Stuy from 10 to 36 stations. The bike share system is a unique and convenient transportation option that is quickly expanding across Brooklyn.
Bedford Stuyvesant Restoration Corporation is among a half dozen organizations across the country working to increase membership and utilization of bike share especially among people of color in low-income communities around the country.
Meet 45-year-old Daryl Huggins. Daryl has been a cyclist since the age of 7 and a member of New York's bike share program, Citi Bike, for two years. Check out his reasons for becoming a member and the advantages of riding the two-wheeler.
Occupation: Entrepreneur in direct marketing
Grew up in: Bed Stuy, Brooklyn
You're a life-long Bed Stuy resident. Where did you first learn to ride?
My father took me to Prospect Park to learn to ride when I was a child.
How often do you ride today?
Today, I ride the bike once a day between 20-30 minutes depending on how far I decide to go. Occasionally, I ride to work but most of the time it's for leisure from Bed Stuy to Downtown Brooklyn.
What do you most like about the program?
Having a bike available at any time without having to use your own! Most of the time, I leave my bike at home because too often I find myself worried about my bike parts being stolen or the lock being broken. Ultimately, your Citi Bike is always safe. The best part about it is having a port available where you can pick one up and drop it off at any time.
How does Citi Bike benefit you personally?
Before Citi Bike I would use the subway mostly, or my own bicycle to get around the City. Now I use Citi BIke when I want to get around areas where there's an available Citi Bike station. I believe Citi Bike complements using mass transit. Most of the times I go to Manhattan, I still use the subway but I also use Citi Bike once I get there. I also use Citi Bike to keep myself active. It's also a great stress reliever after a hard day's work.
What makes Citi Bike different from other forms of transportation?
It's convenient and affordable. I've found that riding the bike makes it so much easier to get around the city in a shorter time. Also, you don't have to deal with large crowds and delays that you get from using public transportation.
When riding your bike, do you feel as though you have the ability of seeing places you couldn't see on the bus or train? Where?
Yes. The best part is that you can take routes you otherwise would never take using transit. I remember riding to Commodore Barry Park to check out Afro Punk and also the African Arts Festival. A station is located across the street.
How do you feel about the expansion of Citi Bike into Bed Stuy?
I was skeptical at first, but was happy when it came near my home. I'm glad the expansion covers more of the area now.
How do you think bike riding benefits your community?
Bike riding helps promote exercise especially in black communities such as Bed Stuy where many health issues exist due to a lack of exercise and health awareness. It also helps people see parts of their neighborhoods that trains and buses would bypass.
Are you or someone you know a Bed Stuy resident who would be interested in sharing their Citi Bike story? Restoration wants to hear it and celebrate you! Feel free to reach out to: citibike@restorationplaza.org.