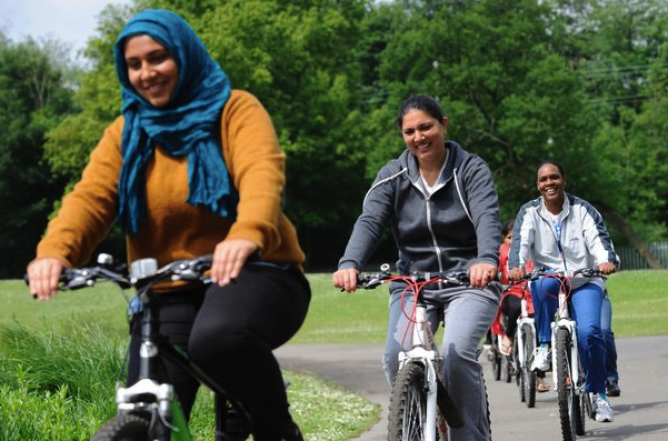 November 15 - 22 is BK Fit: Health & Fitness Week!
In celebration of these seven days devoted to fitness, the Brooklyn Chamber of Commerce, Get Women Cycling (GWC), Citi Bike, Bedford Stuyvesant Restoration Corporation, Ride Brooklyn and Mr. C's Cycles are collaborating for a series of events that will focus on encourage women to ride their bikes more.
GWC and its co-sponsors are hosting a four-part series of workshops on bicycle safety, street skills and cold weather cycling, aimed at bringing women bike riders a shared experiences of riding their bikes with confidence and as a means of improving their health.
The series will begin with hands-on workshops on bike fit, prep, safety, handling, and maintenance. An indoor bicycle session will follow the workshops where inexperienced riders can experience a simulated 2- to 3-minute urban bicycle course. The series will conclude with a comfortably paced 12-mile group ride visiting GWC's bike friendly business supporters and stopping at the "Respect Is The Strongest Compliment" mural.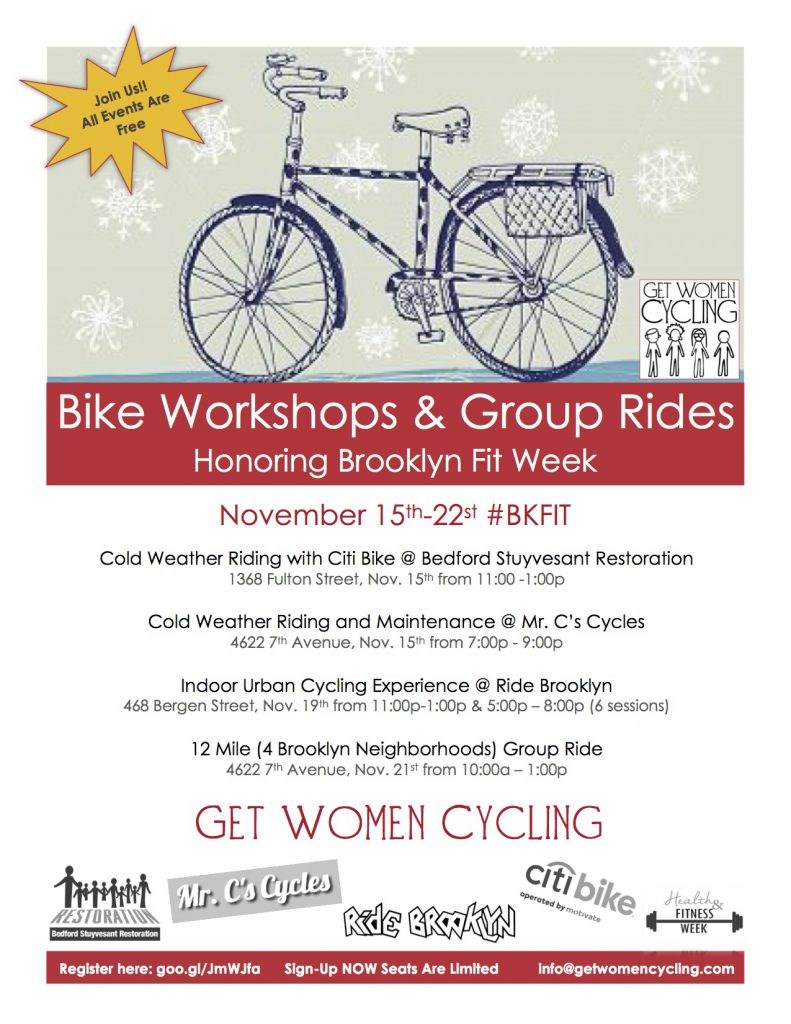 GWC Event Series:
Sunday, November 15: Cold Weather Riding with Citi Bike - focuses on the NYC bike share program, demonstrates proper Citi Bike fit and cold weather prep for commuter cycling. Location: Bedford Stuyvesant Restoration Corporation, 1368 Fulton Street. Time: 11-1p
Tuesday November 17: Cold Weather Riding and Bike Maintenance - focuses bicycle prep, maintenance, and gear/apparel. Location: Mr. C's Cycles, 4622 7th Avenue. Time: 7-9p
Thursday, Nov 19: Ride Brooklyn will conduct an indoor bicycle training session that will mimic a comfortably paced 2-3mi urban bike ride for new and infrequent cyclists. We'll have four Citi Bikes and four hybrid bikes ready for you to ride. We will review general bicycle adjustments, how and when to shift gears, and proper posture. Location: Ride Brooklyn, 468 Bergen Street. Time: (hourly)11-1p & 5-8p
Saturday, November 21: Group bike ride through Sunset Park, Park Slope, Bedford Stuyvesant, Williamsburg with designated hop on/ hop off stops. Each stops along the route is to introduce rider participants to GWC's bike-friendly community & business partners. Citi Bike will provide a limited number of bikes for GWC participants to ride. If you would like to join us are if you are in need of a bicycle we got you covered! Location: Mr. C's Cycles, 4622 7th Avenue. Time: 10a
All events are women-focused but are open to anyone seeking a non-competitive and supportive commuter cyclist community. Sign up now, as seats are limited. To register, email info@getwomencycling.com.