Weeks after BP Adams called on the state to formulate an "emergency declaration," and to pass legislation to fast-track repairs, Cuomo went on 'shocking' NYCHA tour, finding mold, vermin and potentially poisonous paint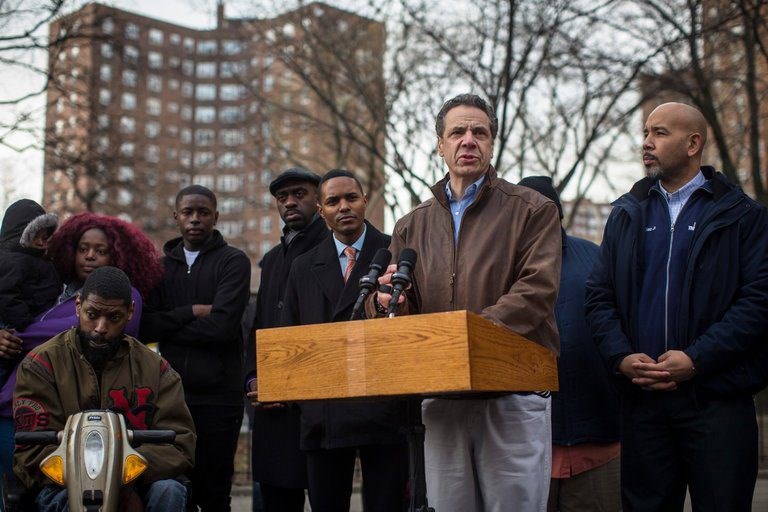 After visiting a NYCHA development in the Bronx yesterday, Governor Andrew M. Cuomo today directed the New York State Department of Health to investigate the hazardous conditions such as mold, vermin and decades-old, potentially hazardous paint peeling from the walls.
"The situation we've seen is as upsetting and as disturbing as anything I've seen anywhere," Governor Cuomo said. "It is just shocking that in New York State we would have people who are subjected to these conditions, and on behalf of the people of the state, I apologize to the NYCHA residents because they deserve better and they'll get better."
In addition to hazardous health conditions, many NYCHA tenants have been left without heat or hot water throughout the cold winter months. According to Cuomo, the state is currently reviewing options, including an emergency declaration, to expedite immediate repairs for tenants.
Brooklyn Councilmember Jumanne Williams applauded Cuomo's visit to the NYCHA development while also expressing some critical sentiments, emphasizing that the residents need more than just a photo op, and holding both the city and the state accountable for the situation.
"I am glad that the governor was finally able to see a NYCHA development. Still, what NYCHA tenants who are struggling everyday need is not a photo op, it is crucial funding from the state. It is clear that the city's performance has been substandard, with many questions unanswered," said Williams. "It is also clear that for years, the state could have been a better partner and provided much-needed support. NYCHA desperately needs the financial support of state government to provide relief for thousands of New Yorkers who are living in abhorrent and unsafe conditions. This is a course that must be corrected for the safety, well-being and dignity of New Yorkers."
After yesterday's visit, Cuomo also unveiled a plan to create a tenant-led oversight council to oversee how funding is spent and how repairs are being conducted at NYCHA. The tenant-led oversight council would be made up of resident leaders, who would work with advocacy organizations, elected officials and faith and union leaders.
Cuomo's plan comes weeks after Borough President Eric Adams called on the city to utilize resources more efficiently, expedite the bureaucratic processes, as well as increase real-time communication with residents on the progress of repairs of failing boilers and heating seating systems. Adams also called on the state to formulate an "emergency declaration," and to pass legislation to fast-track repairs and project implementations.
"We would not tolerate residents in private co-ops and luxury apartments going through what NYCHA residents are going through," said the borough president. "They are paying rent like every other tenant and they deserve the same protection. These are not strangers; these are our family members who have been the staples and mainstays of this entire city."