The funding will go toward the operation of supportive housing units which provides services to support housing stability and combat homelessness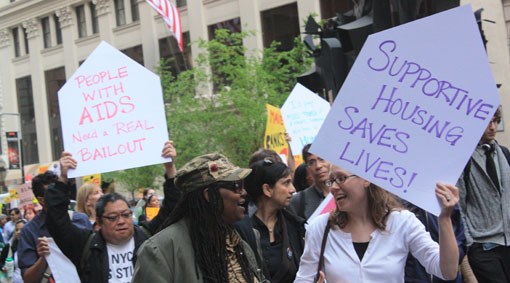 Governor Andrew M. Cuomo announced on Tuesday the third phase of a $20 billion five-year plan to combat homelessness. Launched in 2016, the Empire State Supportive Housing Initiative (ESSHI) aims to create or preserve over 100,000 affordable and 6,000 supportive housing units. The third phase will provide $30 million in service and operating funding for 1,200 units of supportive housing statewide.
"Each and every New Yorker deserves the stability of having a secure, affordable place to call home," said Governor Cuomo. "By continuing to improve access to affordable and supportive housing, we can combat homelessness and make communities across the state better and safer for all."
Supportive housing is affordable housing with on-site services to support housing stability for individuals and families experiencing or being at risk for homelessness. The target population for supportive housing includes homeless veterans and their families; victims of domestic violence; senior citizens; young adults with histories of incarceration, homelessness or foster care; chronically homeless individuals and families; individuals with intellectual or developmental disabilities; as well as persons living with HIV or AIDS, mental illness or substance use disorders.
The interagency workgroup under the the Empire State Supportive Housing Initiative includes various departments such as the Office of Mental Health, the Department of Health, New York State Homes and Community Renewal, Office of Alcoholism and Substance Abuse Services, Office of Children and Family Services, Office for the Prevention of Domestic Violence, Office of Temporary and Disability Assistance, and the Office for People with Developmental Disabilities.
The newly allocated $30 million funding will go toward the operation of permanent supportive housing units and includes primary and behavioral health services, employment/ vocational training and educational assistance, parenting skills support and child care assistance, counseling and crisis intervention, children's services as well as rental subsidies.
"Affordable supportive housing is paramount to a healthy, more independent lifestyle," said Department of Health Commissioner Dr. Howard A. Zucker. "By helping New Yorkers obtain a safe and affordable place to call home, we are ensuring that our most vulnerable residents have the opportunity to prosper."