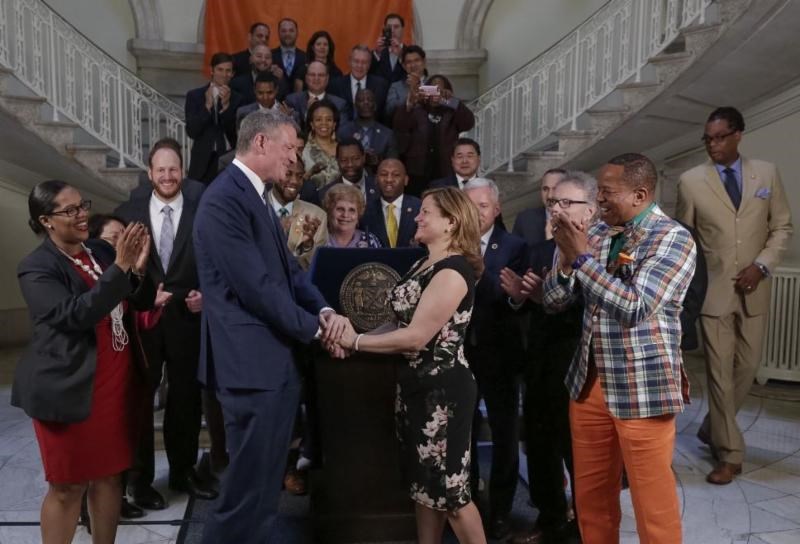 New York City council recently debuted their budget agreement with Mayor de Blasio that calls for $82.1 million in discretionary funding for city agencies and community-based organizations. This money will go directly to programs and services for millions of people, particularly New York City's youth, survivors of domestic violence, immigrants, library patrons and beachgoers. Council Member Cumbo excitedly released a statement shortly after City Council passed the 2017 fiscal budget, expressing a moment of satisfaction after months and months of hard work.
"After months of public testimony and hours of negotiations, the new budget will ensure that the City of New York is equipped with the fiscal capacity to meet any challenge and sustain City resources," said Council Member Cumbo.
Serving as the Chair of the Committee on Women's Issues and Co-Chair of the Women's Caucus, Council Member Cumbo knows first hand how important it was for women's issues to be included in this years allocation. The City Council was sure to allocate $5 million to fund 13 of the key Young Women's Initiative recommendations, which plan to broaden gender equity across city agencies and address a variety of issues that may otherwise go unresolved.
As part of a more modern approach to issues that have plagued women for decades, the Domestic Violence and Empowerment Initiative (DoVE) will be able to expand their capacity to help survivors of domestic violence through education, technical assistance, training, prevention and outreach efforts. By way of a budget allocation of $6.8 million, this domestic violence initiative is seeing a whopping 46.1% increase in fiscal support from City Council.
City Council also voted to continue support to three distinct library systems within Brooklyn, Manhattan, and Queens. These institutions will continue to provide six-day service to the communities they serve with helps from $43 million in baselined funding, which marks a $21 million boost from last year. Cultural institutions will also receive $10 million.
The budget announcement also included allocations for the Cultural After School Adventurers (CASA) initiative. As part of that agreement, each Council district will increase from eight to eleven programs for a total of 561 after school cultural programs throughout the city. These dynamic youth programs provide enrichment activities that educates young adults while providing safe opportunities for them to learn. Additionally, $5.9 million will support other cultural programming for immigrants, seniors and the programs that support their ability to function in New York City.
To view the entire budgetary plan, please click here.