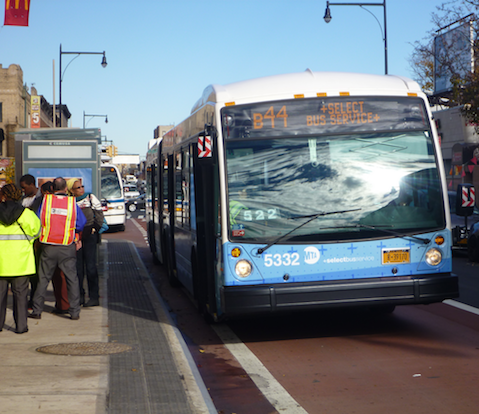 According to an audit by the office of Comptroller Scott Stringer, MTA express buses missed their scheduled departure times more than 30 percent of the time, with Brooklyn and Staten Island buses being the least reliable.
The audit also found that the MTA did not, until recently, even have the ability to track on-time performance of express buses on a regular, consistent basis and still has not set publically reported on-time performance targets.
"We live in the greatest City in the world and we need a mass transit system that reflects that," Comptroller Stringer said. "Millions of New Yorkers rely on express buses each year. When one out of every three buses is not on time, it impacts every borough and hits at our City's economic competitiveness. New York City already has the longest workday in the country — our express buses should be a part of the solution, not the problem."
Auditors observed 12 different express bus routes at the first and last stops of each line in the originating borough during the morning and/or afternoon rush hours from October 2013 through December 2013, and measured whether buses left before, on time, or later than scheduled.
The audit found that, overall, sampled express buses were not on time more than 30 percent of the time and commuters waited anywhere from 6 to 28 minutes after a scheduled departure time for the next available bus.
Staten Island's X1 and X17 buses displayed the worst performance, leaving either too late or too early an average of 35.9 percent of the time.
In Brooklyn, the BM1, X27 and X28 bus routes were not on time an average of 33.7 percent of the time.
On average, Queens and Bronx express bus routes were not on time 32.1 percent and 20.3 percent of the time, respectively.
The audit also found that the vast majority of late departures occurred during the afternoon rush, with Brooklyn routes ranking highest with 36 late departures from Manhattan. Queens had the highest number of late departures during the morning rush with 24.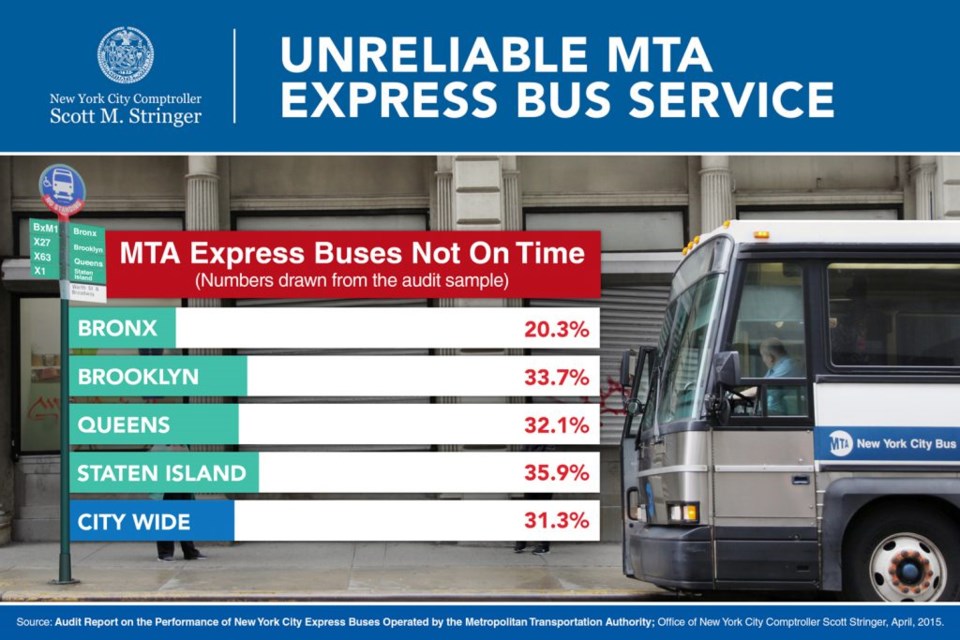 Brooklyn also had the highest number of early departures in the morning, with 19 of the 30 buses that we found left too early during our citywide observations.
"Express buses serve the people who need reliable public transit the most: residents of the boroughs, far from the city's core, who have few other options for how to get to work," said John Raskin, executive director of the Riders Alliance.
The Comptroller's office recommended that the MTA:
Continue to use Bus Trek to modify and improve express bus schedules so that they are more reliable;
Develop on-time performance and other performance targets for its express buses and publicly report progress toward meeting those targets;
Update its procedures for inspecting wheelchair lifts and ensure that information is communicated effectively; and
Continue to utilize CRM in tracking express bus complaints so it can more effectively determine trends and patterns that need to be addressed.
"Express bus riders pay a premium for their commutes, but management hasn't done enough to ensure these buses are worth the cost," said Stringer. "MTA management must take immediate steps to improve performance across the board and be more transparent about how they've met their own standards,"
To read the full audit, please click here.