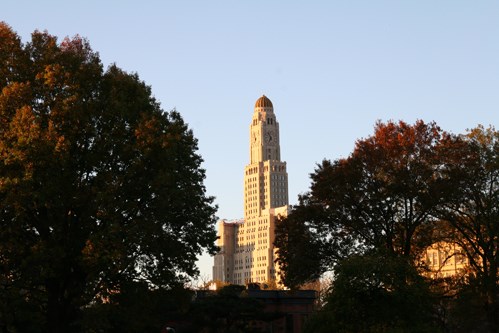 Several dozen community members braved a flash storm Wednesday night to gather inside Brooklyn Heights Montessori School for Community Board 2's kick-off meeting, its first following the summer recess.
Transportation, education and business development were among the top issues discussed.
A.J. Pires, the President of Alloy Development, a Brooklyn-based real estate company, announced the Fall Cultural Kickoff which will take place this Saturday from 10-5PM. The event will feature live dance, music, and free food. Perhaps more importantly, it will double as a safety test.
The Department of Transportation will close off parts of Schermerhorn Street and Flatbush Avenue. DOT representatives will be on hand to measure if these closures improve pedestrian safety and to collect feedback from locals pertaining to the possibility of a long-term closure.
Several Senators made an appearance at Wednesday's meeting: Senator Daniel Squadron publicized a letter from his office to Police Commissioner William Bratton urging for the NYPD to embrace body-worn cameras. The technology, he wrote, could improve transparency in police-civilian relations. Squadron also emphasized his efforts to oppose policies that allow landlords to us demolition permits to evict tenants. And in support of small businesses, Squadron announced that his bill to increase loan access for small businesses was passed into law.
When Senator Velmanette Montgomery spoke, several community members urged her to address the lack of school options for families who live in Downtown Brooklyn. Families who live in this neighborhood have reduced options for schooling and surrounding schools are already overcrowded. Montgomery said that even though there isn't a formal plan in place, several government agencies were "in discussion."
William Flounoy, Chair of Economic Development and Employment, announced that the committee had approved design plans for a new Brooklyn Brewery in the Navy Yard. It will open February of 2018 as part of the new Building 77 development, which will open in the Navy Yard next March. The new facility will span one million square feet and could mean thousands of jobs for the surrounding area.
Community Board 2 covers the neighborhoods of Brooklyn Heights, Fulton Mall, Boerum Hill, Fort Greene, Brooklyn Navy Yard, Fulton Ferry and Clinton Hill. CB 2 meets the second Wednesday of each month at 6:00pm.