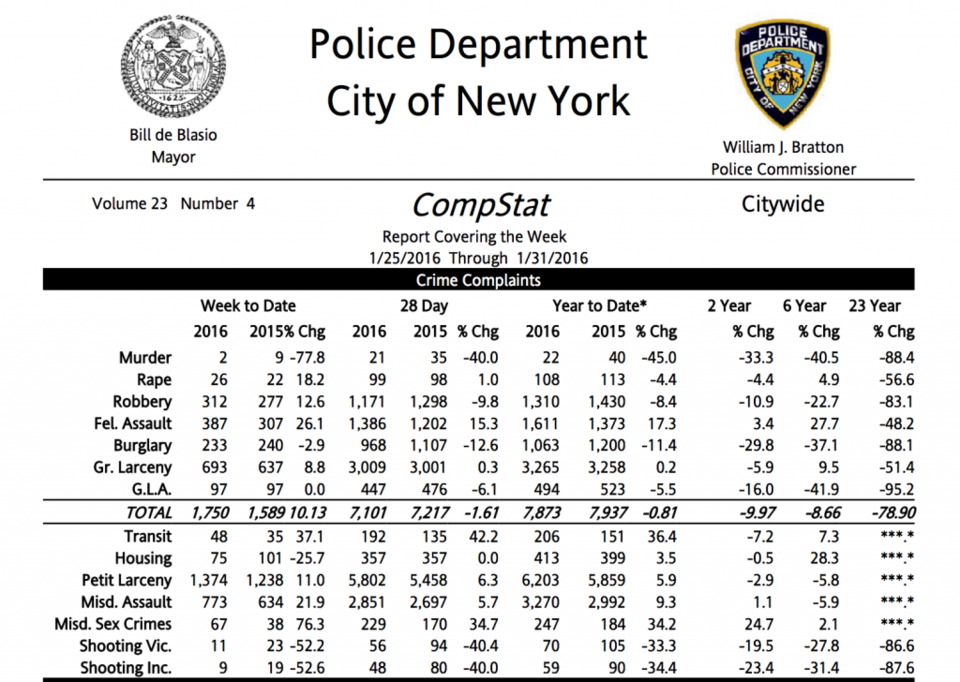 On Wednesday, Police Commissioner William Bratton, along with NYC Mayor Bill de Blasio announced the latest statistics on crime in New York City, leading with good news for January 2016:
"This month of January is absolutely astounding what the NYPD achieved. The safest January in our modern history!" Mayor Bill de Blasio said.
For example, in January 2016, there were 22 homicides citywide, versus 40 homicides in January 2015-- a 34 percent drop.
The release of new figures comes on the heels of last week's controversy in which former police commissioner Ray Kelly claimed the NYPD is misreporting crime statistics to make the city appear safer.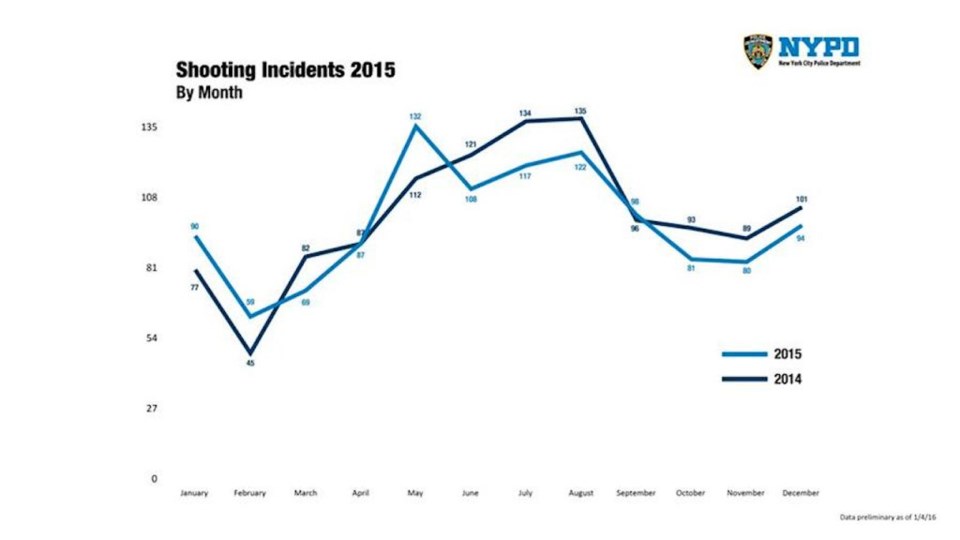 Well, assuming the figures released on Wednesday are accurate, early crime stats for January show promising news for New Yorkers.
But what about the past year? How did crime in 2015 fare overall, compared to the previous year in 2014?
According to the report, overall crime in New York City last year was down 1.7 percent, compared to last year, and since January 2014, crime is down 5.8 percent overall. Also, gun arrests have increased nearly 10 percent, compared to the year before, said the mayor. Still though, last year saw a few increases: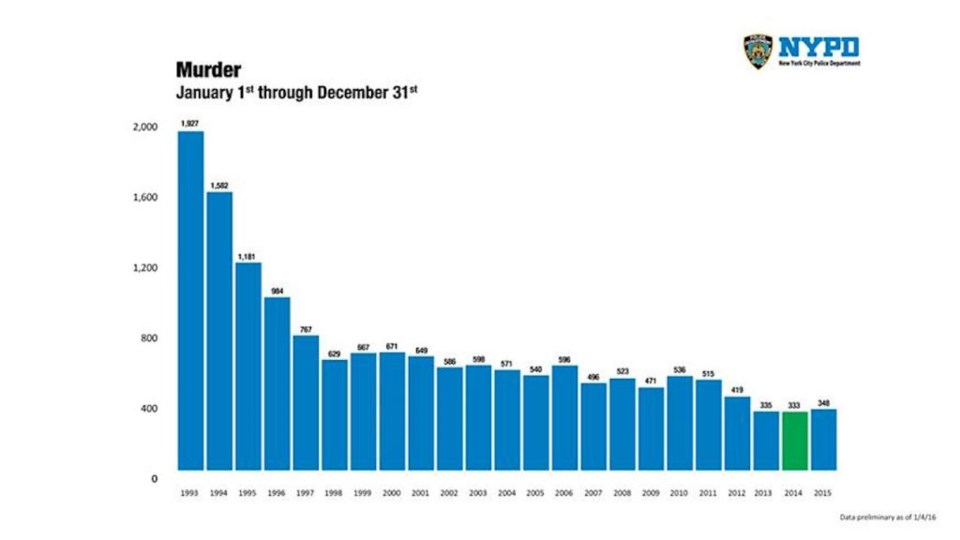 In 2015, the murder rate increased 4.5 perent, compared to 2014. Robbery increased 2.5 percent, and rape was up nearly 6 percent.
Both Bratton and the mayor pointed out that, compared to other major cities such as Los Angeles, Philadelphia or Chicago, robbery and burglary rates in New York City per capita continues to fare the best. For example, in a city with nearly 20 million residents, New York City experienced 196 robberies for every 1,000 residents in 2014 (not all stats in other major cities available yet for 2015), compared to Chicago, which had 360-- nearly double the rate. New York City experienced 188 burglaries for every 1,000 residents in 2014, compared to Houston which, at 975 per 1,000 residents, had a rate five times that of New York.
However, with subway slashings making the news almost every other week in December and January, the 6 million New Yorkers who take public transportation every day are still worried. Last year, there were 4.8 crimes per day on the subway. This year, it's gone up to 6.65 crimes a day.
Bratton acknowledged the uptick in slashings, robberies and assaults and pointed out that many of these crimes are targeted at sleeping commuters. He said to expect big changes in his department's policing of subways-- one being a larger presence of patrolling officers and that officers will be interrupting passengers from their slumber:
"Subways are not for sleeping. A lot of people are tired, they work very hard, but our officers are going to be instructed to start waking people up," Police Commissioner Bill Bratton said.
Still, the mayor pointed out, even with the recent uptick in subway slashings, overall, underground assaults accounted for only one out of six million riders a day:
"The fact is, there's an almost one in a million chance of being a victim of any kind of crime in the subway," de Blasio said.