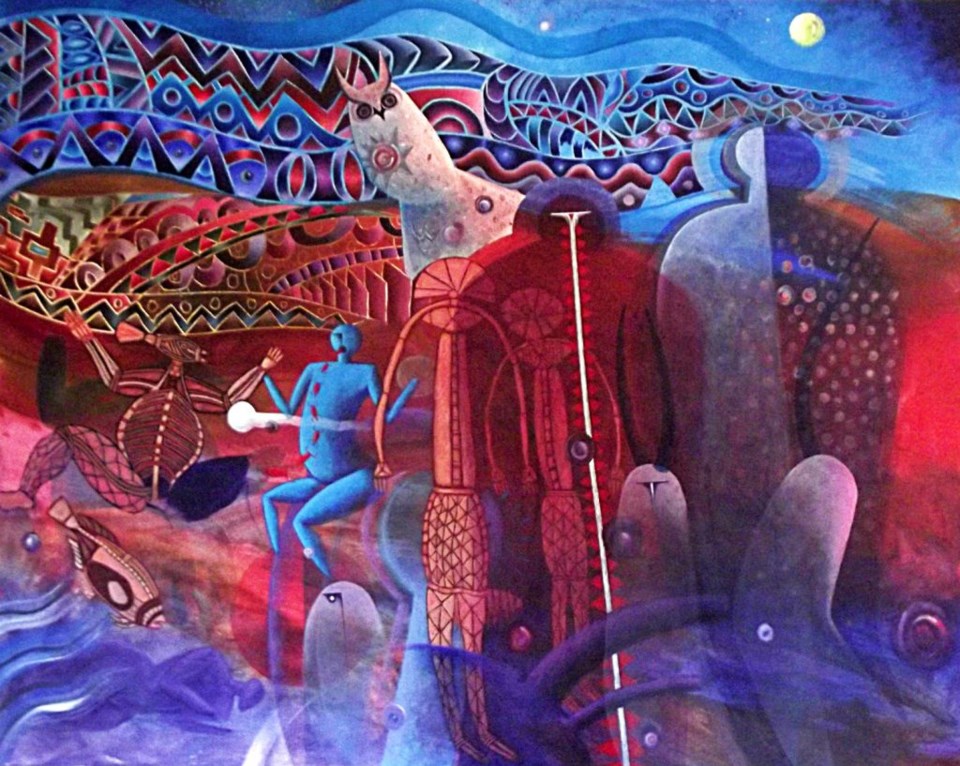 Bedford Stuyvesant Restoration Corporation's Center for Arts and Culture Presents Che? Baraka's "Poems for the Breaking of Spells," an exhibition curated by Danny Simmons.
The solo exhibition opened Saturday, March 7, at the Skylight Gallery with a reception featuring acclaimed Brooklyn-based vocalist Maritri Garrett of the Soulfolk Experience.
Opening Reception
Saturday, March 7, 2015 at 6:00 pm — 9:00 pm The Skylight Gallery
In the USA, the 1960s and 1970s were turbulent times of great tragedy and great promise. Senators Robert F. Kennedy and Jacob Javits enacted legislation (Special Impact Funding) that promised hope and redress for large, urban, Black communities. Bedford Stuyvesant Restoration Corporation (BSRC), would lead the first of 600 community development corporations across the nation, now under the leadership of Colvin Grannum, President and CEO. Young, brilliant, artist/activist/educator, Che? Baraka joined Theodore (Teddy) Gunn, founding executive director of the Skylight Gallery. Exhibiting and working with world class artists like Romare Bearden, Jean-Michel Basquiat, Frank Bowling, Chakia Booker, and countless others, to help change the perception of Black art and culture in Brooklyn and New York City.
"Poems for the Breaking of Spells," solo exhibition by artist Che? Baraka
Employing cultural and social tropes found in African American culture, Baraka's uniquely stylized forms, and powerful compositions are often compared to Cuban painter, Wilfredo Lam; Mexican painter, Rufino Tamayo; and Ethiopian master, Skunder Boghossian.
The Opening Reception, The exhibit will remain on display through May 23, 2015.
Baraka acknowledges the presence of strong spiritual influences in his work: "
sought to make my art a process of spiritual research. My goals are to find, create, and share in visual
realities. It is an honor and truly humbling to present this body of work at the Skylight Gallery. The
forms, those connective patterns, structures, and principles that underpin the nature of our personal
gallery, as a component of BSRC's Center for Arts and Culture, has not only been a source of personal
and professional growth for me, but it has also served to profoundly connect myself and countless other
artists to a dynamic community and, by extension, its' spiritual life."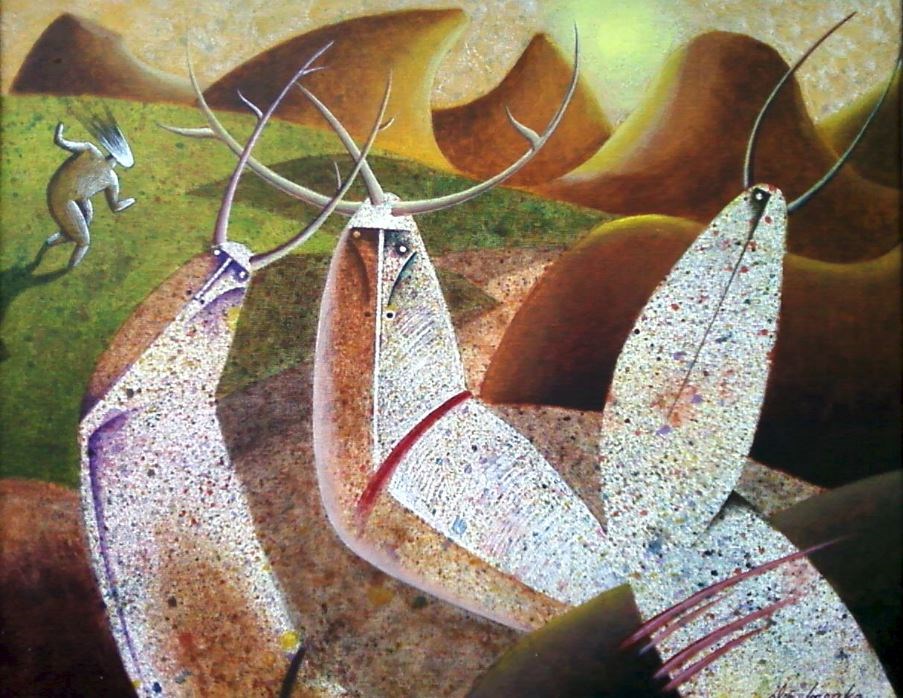 The internationally recognized artist, poet and arts advocate, as well as President of Rush Arts Gallery and co-founder of Rush Philanthropic Arts Foundation, Danny Simmons serves as Curator. He explains,
Che? Baraka was born in Chicago Illinois. At the age of six, his family returned to the parent's birthplace, Jackson, Mississippi. It was his growing up in rural Mississippi that would spark his social consciousness. Baraka attended New York's School of Visual Arts, where he graduated with honors and a BFA. Later he would attend New York University and acquire an MFA in Arts Administration.
He spent his university days in New York's Harlem and Greenwich Village. There he would meet and learn from artists such as Leroy Clarke, Ed Spriggs, Romare Bearden, Jacob Lawrence, Faith Rheingold, Benny Andrews, Ernie Critchlow, and Tom Feelings.
Baraka begin working at BSRC's Center for Art and Culture as an art instructor, but soon began to develop uniquely creative arts programming and community outreach approaches that quickly increased the Center's prominence and funding. During this time he produced an astounding body of work and was curator of countless exhibitions that were critically appraised and continued as a revered art instructor, continuously invited to conduct classes at major educational institutions throughout New York.
"Che? Baraka has put together a show with a purpose. As a man who has been deeply
committed to community, this exhibition was painted with the calling on of the spirits of healing in
mind. "Poems for the Breaking of Spells" is an apt title for paintings lovingly created to mend what's
broken, as only art can."
Dr. Indira Etwaroo, Executive Director for the Center for Arts and Culture, stated: "The Skylight
Gallery continues to be a unique and sacred space for artistic trailblazers like Che? Baraka and audiences
alike who care deeply about the preservation and celebration of the rich cultural legacy of the African
Diaspora. The Gallery under the keen and spirited leadership of Jacqui Woods [Director of the
Skylight Gallery] continues to challenge all the right boundaries." Woods, stated: "We believe deeply in
the healing and humanistic qualities of art and culture and that they are critical to community
development. With their narratives, values and affirmations, they are required to make a people whole
and hence the importance of cultural justice. Yet, the longer I work in the arts, the more I believe that
each artistic discipline possesses in its process, its own language. For me, Mr. Baraka's language
speaks to divination, prayers, solemnity and joy,"