After the past year of social isolation, loss and major upheaval, mental health services are more crucial than ever.
And one Brooklyn woman is doing what she can to keep those services running.
Ariel Davis has organized a charity walk at Prospect Park this Saturday to fundraise for The National Alliance on Mental Illness-NYC (NAMI-NYC), to support the organization's critical free mental health programming and support services.
"After a year of social isolation, economic upheaval, and significant uncertainty, we've all experienced some toll on our mental health," Davis told BK Reader.
She said statistics backed up the increase in need for services, whereby NAMI-NYC's crisis line had doubled in volume since March 2020 and demand for programming had dramatically increased.
"If there is such a thing, the silver lining of this past year is that it's forced us to realize the importance of community and connection in our lives and even clarify the specific relationships that carry the most significance," Davis said.
Davis said the work she did for NAMI-NYC was deeply personal, after struggling with depression and attempting suicide.
"I'm grateful to be alive and to have gotten the world class treatment I received to get better. At the same time, I'm motivated to call attention to the significant barriers that many face in accessing mental health care, from stigma to lack of adequate and affordable services," she said.
She said hearing others' experiences had given her insights into her own struggles and brought a lot of comfort and self-compassion. "I'm not a religious or especially spiritual person, but sharing my story makes me feel like there was greater purpose behind what I went through and the pain I caused to those close to me."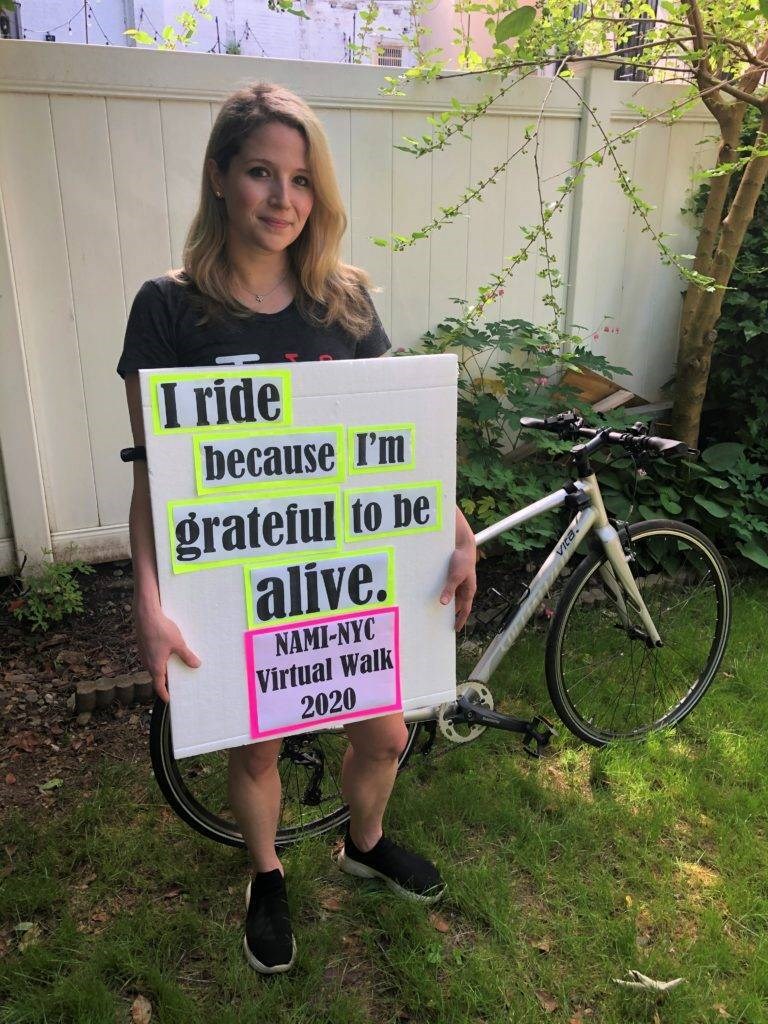 Due to the pandemic, NAMI-NYC is holding its annual fundraiser online for the second year in a row. Davis' unofficial charity walk is to supplement that fundraising and is done with the blessing of the organization.
The event is starting at 11:00am in Prospect Park, and will be followed by a tea party-style picnic on the lawn, with food and flowers sponsored by several local vendors. Davis said there had been such an enthusiastic response, that she was not recruiting more participants due to COVID-19 social distancing concerns. However, NAMI-NYC will be streaming a virtual walk that day from 11:00am-12:30pm and anyone could register or donate here.
Davis is also using the walk to raise awareness of her mission-based grip sock brand GripCity Socks, which she founded to "help you find your footing--during tough workouts and tough times." GripCity Socks donates one pair of grip socks for every two sold to someone facing mental health challenges.
Davis said one of the most important parts of her work with GripCity and NAMI-NYC was raising awareness and speaking up.
"I believe that silence plays a huge role in keeping mental illness stigmatized. It's what prevents people from getting the help they need and treating what are often quite manageable problems," she said.
"By bringing mental health into the spotlight, more people can see that they are not alone and can feel supported and empowered to address their needs."