It will soon be possible to dine al fresco at some Brooklyn restaurants without traffic whizzing by, Mayor Bill de Blasio announced last week.
The Department of Transportation will block off twenty to forty streets across the city this month to create space for expanded restaurant seating, with the first group of streets opening July 4.
With the return of indoor dining stalled indefinitely, many of Brooklyn's business leaders are pushing for one of the open-air restaurant corridors in their districts.
"We need to really bend over backwards for our restaurants, because they are suffering," said Bill Wilkins, manager of the East Brooklyn BID, which is not currently seeking an expanded dining corridor. "The bottom line is, God's not making any more land, so how can we creatively use the space that we have?"
The selected areas will be closed to traffic on weekends, beginning this Saturday and continuing through at least Labor Day. Aside from a 15-foot emergency lane up the center, each street will be repurposed as outdoor café seating during its hours of operation — allowing more space than the current Open Restaurants program, which only extends seating eight feet from the curb.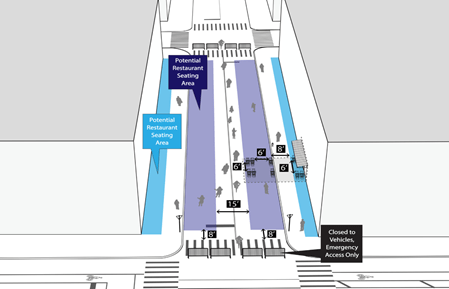 The city is asking Business Improvement Districts and community groups to apply collectively.
The DOT has given preliminary approval to blocking off Park Slope's Fifth Avenue between Park Place and Dean Street, according to Mark Caserta, executive director of the area's BID, who added that his group plans to block off other sections of Fifth Avenue when it gets the chance.
Caserta filed an application within a few days of the mayor's announcement after merchants in his district had been calling for a café corridor for weeks.
"It will literally fall into place by Friday and then we do it Saturday, it seems," Caserta said.
Neighborhood restaurants, including Momo ramen, Artichoke Pizza, and brunch spot Alchemy, can set up tables along Fifth Avenue starting Saturday.
Kate Chura, executive director of the Atlantic Avenue BID, is applying to close off a section of the avenue for restaurants, but hasn't confirmed where exactly. Her group would like to apply for a section of three or four blocks that could be moved each week, "so you would get a rotating flavor," she said.
It all depends on which businesses are interested, and where the busy thoroughfare's configuration of crosswalks, hydrants, and bus lanes allows for an Open Street, she said.
"You can imagine how tricky this is, putting tables in the middle of the street on streets that have bus lanes," said Chura.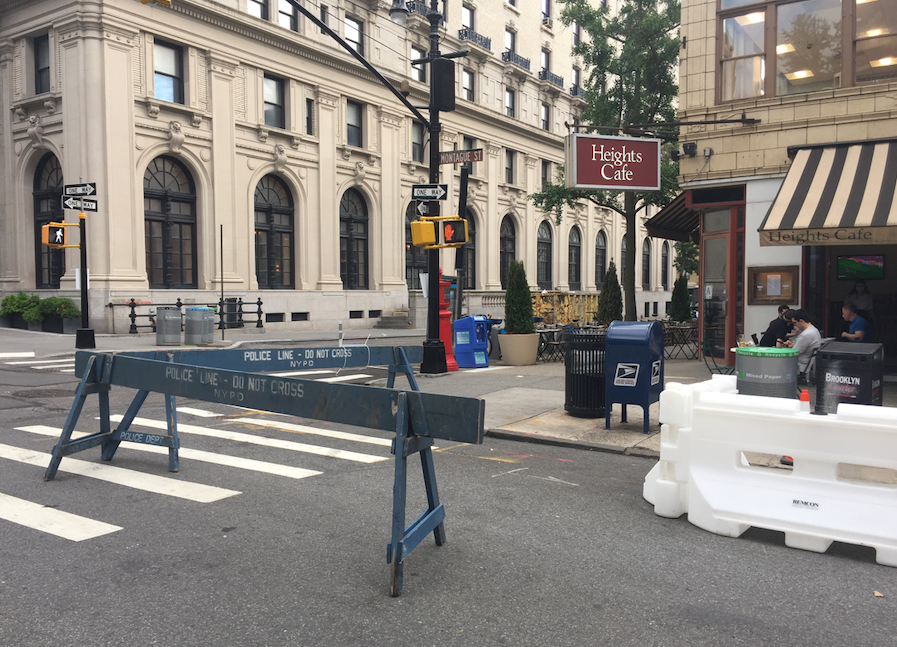 Restaurants on Montague Street in Brooklyn Heights are also rallying DOT to extend the area's existing Open Street, which currently spans from Hicks Street to the Promenade and east to Clinton Street, and to permit expanded dining.
This would allow restaurants like Lantern Thai, Grand Canyon, and Heights Café to set up tables on Montague for weekend customers.
Greg Markman, owner of the Heights Café, hopes closing the street could give his business a boost.
"Usually at this time of the year we'd have tons and tons of tourists that would be visiting, walking around Brooklyn Heights. But due to what's going on we don't' have that influx of people," said Markman. "If we're able to close Montague, it can only help."
*Update 3:00pm:
The Mayor's Office announced the first Open Streets for outdoor dining. The image below shows the streets that will be opened in Brooklyn on Saturday.