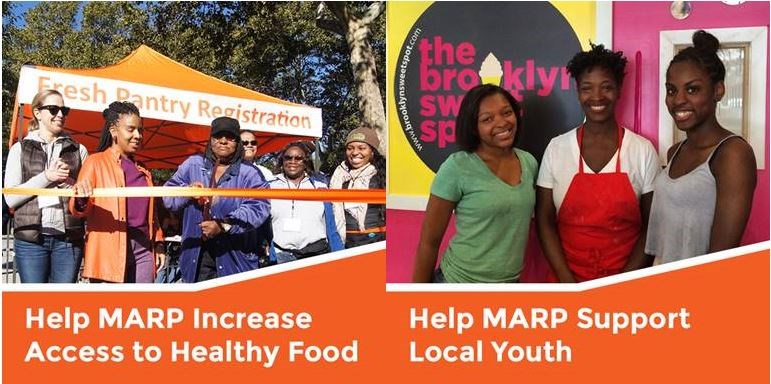 Since 2006, the Myrtle Avenue Brooklyn Partnership (MARP) has served more than 100 neighborhood teens through its Young Entrepreneur Mentorship Program (YEMP) by connecting local teens with independently owned businesses for paid summer employment and mentorship experiences.
MARP also has created access to over 400 years of local history through its FREE neighborhood tours - Wallabout Historic Walks and the Black Artstory Podcast Tour.
This past fall, trough a partnership with City Harvest, MARP launched the Fort Greene & Farragut Fresh Pantry, where nearly 10,000 pounds of fresh food is distributed every month to residents living in Farragut, Ingersoll, and Whitman Houses.
And in 2015, MARP made history in the area by turning Myrtle Avenue into an "Age-Friendly" district, helping the Avenue's businesses better engage the nearly 6,000 seniors who call Fort Greene and Clinton Hill home!
Creating job opportunities for local youth, making the neighborhood more inclusive for older adults, expanding access to healthy food, and offering free local tour programs for residents, MARP in a very short period has done and continues to do a lot to strengthen the Fort Greene/Clinton Hill community.
Now, MARP needs the community's help:
Would you like to see MARP continue its great work in helping to develop the neighborhood in a positive way? If your answer is "yes," then visit their crowdfunding page here to donate to their campaign. The organization's fundraising goal is $10,000, and they have just one week-- until Friday, January 15-- to meet that goal! Whether it's $10, $20 or $200, every little bit helps!
Currently, MARP has raised $4,300 from 37 contributions. Now, as it quickly approaches its deadline, the organization is seeking matching donors. Today, MARP received one matching donor that said if MARP can raise $1,000 by end of day Monday, January 11th, the donor will match it!
Remember: supporting the Myrtle Avenue Brooklyn Partnership means supporting initiatives that benefit the entire community! Go here to make your donation.