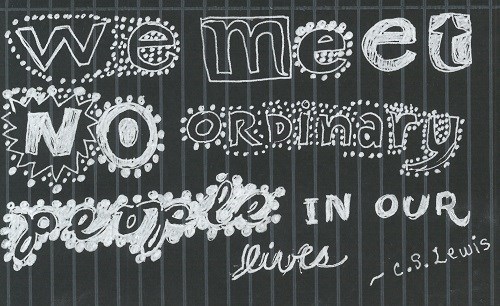 We meet no ordinary people in our lives.
Why is this quote so wonderful? Because it really speaks the truth about all of us. Each one of us is pretty extraordinary.
No matter how "ordinary" those people we pass on the street may seem, every single one has a unique story and a special gift. Being human includes all sorts of experiences, but it doesn't take highly dramatic ones to make for a fascinating life.
People just living their daily life have stories that would surprise us if we only had the chance to listen.
Everyday, people face a myriad of life experiences, in complex arrangements and different levels of intensity... There are people fighting soul-crushing battles; others dealing with emergencies, large and small. And yet others are wondering about what to make for dinner for their kids... All of it is extremely beautiful; all of it is part of an amazing journey we are all on together.
We meet no ordinary people in our lives, because, by virtue of simply being alive in this life, navigating it without much instruction-- we, each of us, are truly extraordinary.
Have yourself a beauty-filled week!
Harriet