The Teen Innovators initiative fuels the entrepreneurial mindset of high schoolers with an in-depth job-readiness training at the Brooklyn Navy Yard, providing access to the yard's 330 tenant businesses and culminating in a paid internship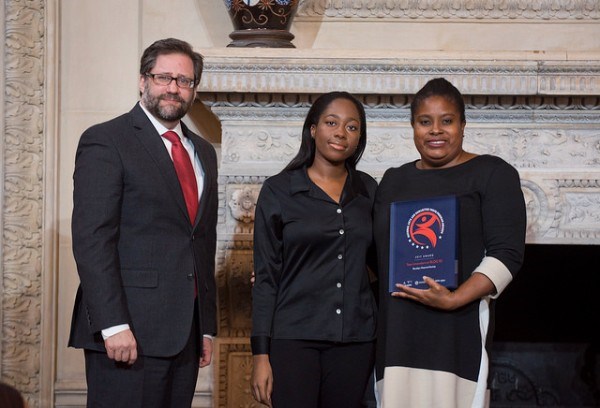 Teen innovators, a job-readiness initiative launched by the Brooklyn Historical Society (BHS) and the Brooklyn Navy Yard (BNY), received the 2017 National Arts and Humanities Youth Program Award, the nation's highest honor for youth programs, on Thursday in Washington D.C.. The after-school program was recognized for its effective approach to job preparedness: High schoolers gain access to BNY's rich history, as well as to 300 tenant companies and their resources. Combined with training that develops students' academic and career skills, the program aims to fuel an entrepreneurial mindset.
Teen Innovators was established in 2012 and offers a school-year long afterschool and internship program on the topics of work, urban development and equity for enthusiastic, hard-working and creative teens. At Brooklyn Navy Yard's BLDG 92, students can explore careers by studying the history of work and workers at the yard over the past century until today.
The participants receive in-depth job-readiness training which includes workplace etiquette, creating a resume, learning interview techniques, dressing for success and completing human resource forms. The program culminates with a paid internship at one of the 330 businesses residing in the Brooklyn Navy Yard today. Since its inception, Teen Innovators has served 130 students, all from Title I schools in the Brooklyn Navy Yard's surrounding communities.
The 2017 National Arts and Humanities Youth Program (NAHYP) Awards were presented through a partnership between the National Endowment for the Arts (NEA), the National Endowment for the Humanities (NEH), and the Institute of Museum and Library Services (IMLS), in cooperation with the National Assembly of State Arts Agencies (NASAA). The award recognizes the country's best youth development programs, singling out for recognition those that most effectively use engagement in the arts and the humanities to generate a wide range of positive outcomes, such as increases in academic achievement, graduation rates and college enrollment.
Programs like Teen Innovators offer high-quality and intensive instruction to supplement in-school curricula with exposure to a wide variety of artistic and academic pursuits by teaching new skills, nurturing creativity and building self-confidence. Emma Bannister, a program participant, and Shirley Brown Alleyne, BHS manager of Teaching and Learning, were thrilled to accept the National Arts and Humanities Youth Program Award on behalf of the Teen Innovators.
Meet the 2017 NAHYP Award-winning Teen Innovators, future Brooklyn leaders, in this video by Brooklyn Historical Society!