Congresswoman Nydia Velazquez, Assemblymember Rodneyse Bichotte and Councilmembers Jumaane Williams and Mathieu Eugene joined Haitian community leaders and immigration activists today at the Federal Courthouse in Brooklyn in support of a lawsuit against the Trump administration's decision to end the Temporary Protected Status for Haitians.
"This is a policy that is rooted in close-minded views," said Rep. Velazquez. "This is not just a legal issue, but a moral one."
The lawsuit, Saget et al v. Trump, was filed by a group of Brooklyn Haitian residents in March 2018 who allege that the program's termination is in violation of U.S. laws and rooted in racist, xenophobic sentiments.
"Trump administration officials are seeking to operationalize the president's racial animus toward Haitians, in spite of mandatory statutory criteria and procedures required to evaluate TPS designations," the National Immigration Project of the National Lawyers Guild said in a statement.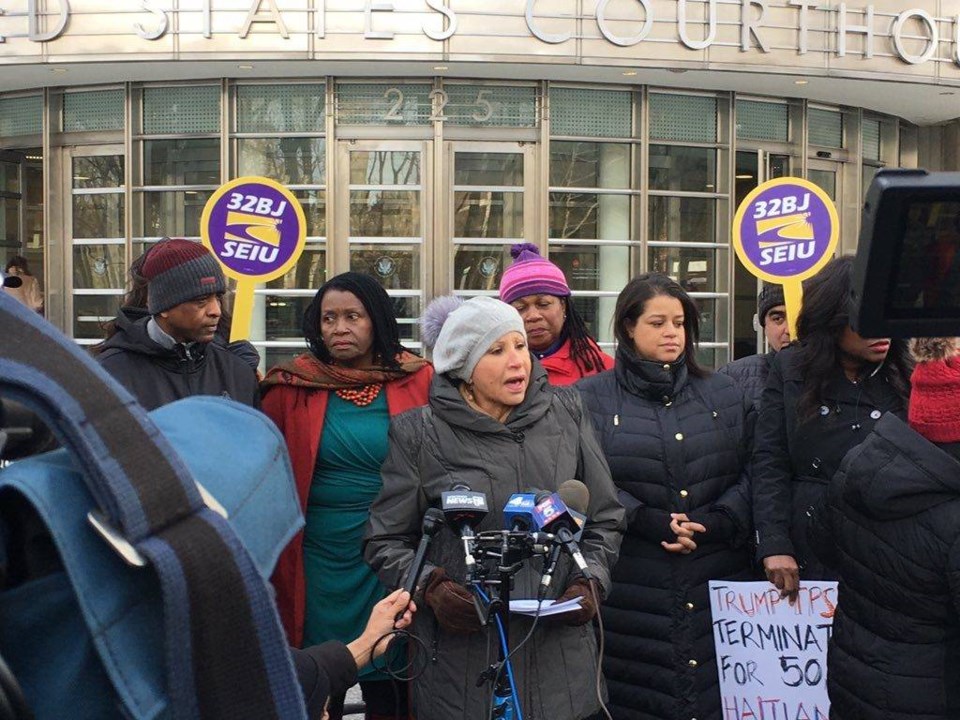 The TPS designation for Haiti was awarded after the devastating 2010 earthquake, which left over 200,000 people dead and some 895,000 Haitians homeless. TPS allows immigrants to work and live in the United States because of natural disasters or ongoing armed conflict taking place in their home country.
In November 2017, the Department of Homeland Security announced the program's termination, which is set to take effect on July 22, 2019.
"Haiti is a textbook case for TPS on the facts, as editorial boards and political and civic leaders have recognized," said Steven Forester, immigration policy coordinator for the Institute for Justice and Democracy in Haiti. "Getting to 'no' required DHS to ignore the reality on the ground and move the goalposts on the applicable criteria."
The end of TPS is expected to affect 50,000 Haitians across the country, according to the New York Immigration Coalition, including approximately 5,200 individuals in New York; Brooklyn is home to the largest Haitian population outside of Florida.
"As a first generation American of Caribbean descent who represents the largest population of Haitian Americans outside of Florida, I believe we must use every tool available to fight against the contempt that Donald Trump exhibits toward immigrants," said Councilmember Williams. "In ending TPS for so many, he is disregarding the safety of human beings in order to advance his racist and nationalist agenda."
The trial, which opened today, is expected to last four days.