The Brooklyn Community Bail Fund has changed the realities for many incarcerated individuals by raising money to help them post bail.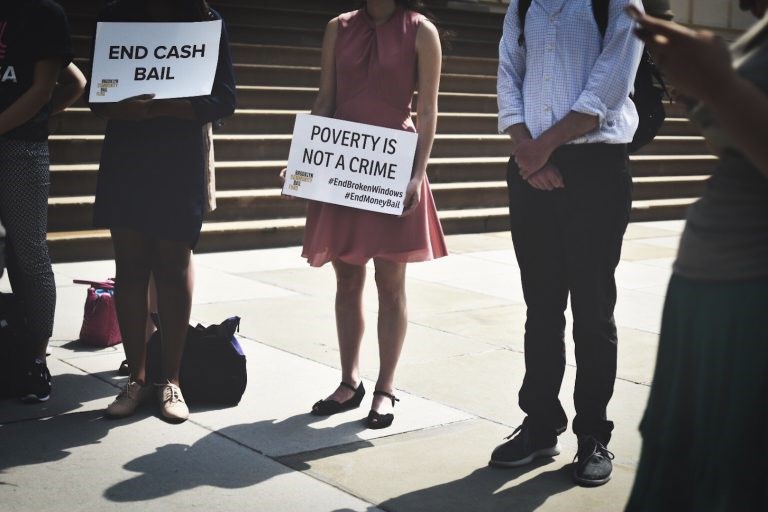 In 1976, the Bail Act was enacted in the U.S. and has since become an accepted and routine mechanism to release suspects from imprisonment pre-trial, while ensuring their return for trial.
But a recent address by Governor Cuomo published in The New York Times has cast a new light on the practice, questioning the efficacy and social equity of the court-ordered penalty-- a position that the Brooklyn Community Bail Fund has championed since its founding in 2015.
The Brooklyn Community Bail Fund's goal is to change the realities for many incarcerated individuals by raising money and investing to help them post bail.
"We see the stark inequities bail causes every day in New York City," writes Brooklyn Community Bail Fund Executive Director Peter Goldberg on the organization's website. "Rikers Island is filled with presumptively innocent individuals locked up solely because they can't afford bail. Bail is a primary driver of mass incarceration, wastes public funds and intensifies racial and economic inequalities here in New York and across the nation."
In 2015, Goldberg was the only employee of the Brooklyn Community Bail Fund. He ran around the courts, fundraised, connected with clients, and went to policy talks on his own.
"Now we're a big team, and we do it better," Goldberg said. "We host the national bail fund network. We are thoughtful and intentional about the way we do things now. The work is being done always to get us to this point. And now we just need to make sure it's being done right."
According to the website, the organization has kept more than 2600 New Yorkers out of jail, with an average bail of $910. It operates under the New York Charitable Bail Act, which limits the organization's work to paying bail in amounts of $2,000 or less for people charged with misdemeanors.
As Gov. Cuomo stated in his recent editorial, the bail system in New York and elsewhere is full of inadequacies that perpetuate a system of racial disparity and socioeconomic prejudice. Moreover, 75 percent of inmates in New York City jails have not been convicted of a crime and the majority are black or Hispanic. Thus, they are incarcerated awaiting trial—America's version of "innocent until proven guilty."
Following Gov. Cuomo's statement was NYC Comptroller Scott Stringer's call to ban bail bonds in New York City.
Although Goldberg is optimistic about Gov. Cuomo's legislative direction in regards to the current bail system, he said, "A better proposal would have been something more in line with the Comptroller's report, which would be the complete elimination of the commercial bail industry."
"We are at an amazing moment with the bail bond system where you have NYC Comptroller publicly stating that the industry should be eliminated, the governor proposing significant reform that would drastically decrease the number of people sitting in jail in NYC," said Goldberg.
"And across the state, there is pressure on District Attorney offices to fundamentally change their practices, and then you have groups that hold the District Attorneys accountable."
"The dream," he said, "is to be put out of business."