The end of TPS affects 50,000 Haitians in the U.S., including approximately 5,200 individuals in New York, who will be forced to return to a country that is still recovering from natural disasters and an outbreak of cholera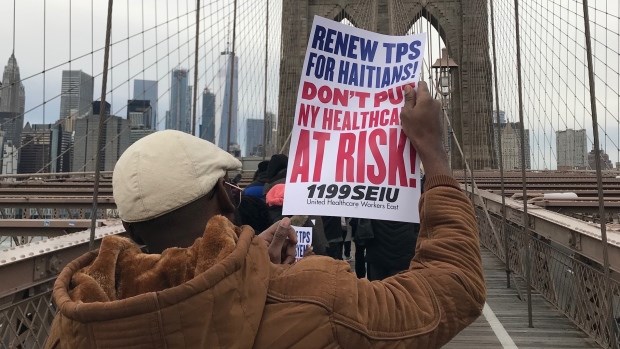 On Monday, the Department of Homeland Security announced the termination of the Temporary Protected Status (TPS) designation for Haiti. The designation was awarded after the devastating 2010 earthquake which left over 200,000 people dead and some 895,000 Haitians homeless. The program's termination affects 50,000 people across the country, according to the New York Immigration Coalition (NYIC), including approximately 5,200 individuals in New York.
The decision was met with strong condemnation by local elected officials in Brooklyn, which is home to the largest Haitian population outside of Florida.
"I'm deeply dismayed in Donald Trump's poor decision to end TPS for almost 60,000 Haitians who have peacefully lived and worked in our country since the devastating earthquake of 2010," said Brooklyn President Eric L. Adams. "While many of us feared this, we're no less heartbroken over the impact to Brooklyn."
TPS is a program that allows people from countries experiencing humanitarian crisis such as natural disasters, violent conflicts or epidemics to live in and work legally in the United States. Acting Secretary of Homeland Security Elaine Duke's decision to terminate TPS for Haiti follows then-Secretary Kelly's announcement in May 2017 that Haiti had made considerable progress.
"Those extraordinary but temporary conditions caused by the 2010 earthquake no longer exist," stated DHS in its official announcement.
Supporters of the program strongly opposed the statement, stressing that Haiti is not only still recovering from the damage of the earthquake, but has since suffered additional devastation from four tropical storms, an outbreak of cholera, and, most recently, from the destruction of Hurricane Matthew.
"Trump's own State Department has a travel advisory in place which cites the dangers of travel to Haiti for Americans, yet he has no problem forcing Haitians who came here in the wake of a devastating earthquake and outbreak of disease, to return to a country once again crippled by a natural disaster, Hurricane Matthew," said Councilmember Jumaane Williams of the 45th District.
District Leader Josue Pierre called for measures beyond TPS, stressed the importance of a comprehensive immigration reform.
"This is another step in the Trump administration's anti-immigrant agenda, especially against those of color," said Pierre. "Does it makes sense to fight for six- and 18-month TPS increments? We must start to consider a path to citizenship for all undocumented communities under TPS and DACA. These 50,000 Haitians must be part of a general amnesty and a comprehensive immigration plan."
NYIC is encouraging supporters of TPS to call their congressional representatives and to demand a permanent legislative solution, an action also Williams supports and calls on his fellow legislators.
"Rather than simply expressing our outrage, those of us with the power to do so, need to formulate and enact plans of action," said Williams. "We need to challenge this decision, and put pressure on Congress to address this issue legislatively and humanely."
The TPS designation will officially end after an 18-month grace period. Current work permits continue to be valid until the date on them, and DHS will be publishing more information about how Haitians can reapply for TPS and work permission until the program officially expires in July 2019.