The Brooklyn Nets will host the Third Annual Pride Night on Wednesday, January 23, with prominent members and allies of the New York LGBTQ community, as well as surprise guests.
"Brooklyn is the epitome of a melting pot, and Nets Pride Night is a great opportunity to celebrate the diversity in our community," said Mandy Gutmann, VP of communications for BSE Global said. "This year's Pride Night is focused on raising awareness for the 50th Anniversary of the Stonewall Inn uprising and helping to further educate our audience on the crucial role it played in the gay rights movement."
The Stonewall Riots were a series of spontaneous, violent demonstrations by members of the gay community against a police raid that took place at the Stonewall Inn in the Greenwich Village in the early morning hours of June 28, 1969. It was arguably one of the most important events leading to the gay rights movement, an impassionate call for the establishment of places that gays and lesbians could go and be open about their sexual orientation without the fear of being arrested.
Brooklyn Nets Pride Night will kick off at 6:00pm with a pre-game party, featuring music provided by the Stonewall Inn's resident DJ Kim Dazy in the Barclays Center's Billboard Lounge. The celebration continues throughout the evening with a special dance routine from the Brooklynettes, the national anthem performed by former The Voice contestants OneUp and a halftime performance show from The Lesbian and Gay Big Apple Corps marching band.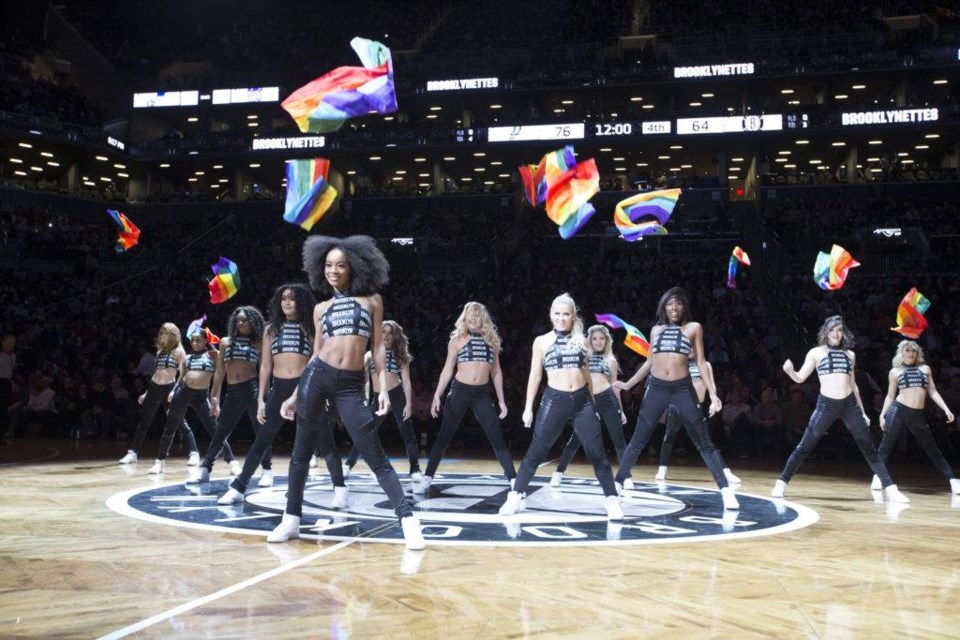 Former Brooklyn Net Jason Collins, the NBA's first active openly gay player, will present the Stonewall Inn owners Stacy Lentz and Kurt Kelly with the Jason Collins Award for Courage and Leadership during the game. Tuesday's "Hero of the Game," honored during the half-time break on-court, will be a distinguished LGBTQ member of the armed forces.
"I am extremely excited to attend the Brooklyn Nets Pride Night game," said Jason Collins. "The Nets supported me when I made my announcement a few years ago, and they continue to support and encourage all to live an authentic life."
In solidarity with the NYC LGBTQ community, the Nets player will be wearing custom Pride pre-game shooting shirts, which will be auctioned off to benefit the Stonewall Inn Gives Back Initiative.
Fans interested in attending this special night can purchase tickets online at www.netsgroups.com/stonewallinn or by visiting the American Express Box Office at Barclays Center. A portion of the ticket sales will be donated to the Stonewall Inn Gives Back Initiative.