The United University Professions union held a rally outside of SUNY Downstate Medical Center in Flatbush on Friday, calling on New York Gov. Kathy Hochul and state leaders to fund the hospital and medical school.
The SUNY Downstate Medical Center, which became New York City's only designated COVID Hospital during the initial outbreak in 2020, is Brooklyn's only academic medical center.
The group, which is the largest higher education union in the nation, is calling for an investment of $133 million into the hospital for this year's state budget. Budget negotiations are ongoing, with a deadline set for April 1. Downstate's hospital treats nearly 400,000 patients a year and employs 4,000 people and has a student body of nearly 2,000.
Around 150 people attended Friday's rally outside of the Center. The crowd appeared to be mostly hospital workers, union members and students of the medical school.
"Our heroic efforts were celebrated during the pandemic, now there's silence," said Redetha Abrahams-Nichols, SUNY Downstate nurse and president of the Downstate chapter of UUP. "The state of New York has yet to award our dedication and our resilience. We need funding now."
Members of other unions including the Civil Service Employees Association and Public Employees Federation were also present, in addition to elected officials including NY State Sen. Zellnor Myrie, Assembly Member Monique Chandler-Waterman and Assembly Member Latrice Walker.
Faith leaders Bishop Orlando Findlayter of the New Hope Christian Fellowship and Rabbi Eli Cohen of the Crown Heights Jewish Community Council also spoke.
"This institution isn't just a hospital. It isn't just a university. This is our social infrastructure in Brooklyn. We cannot operate as a community without Downstate," Myrie said.
In addition to the $133 million, the UUP is asking the state to reinstate the coverage of capital debt service for SUNY hospitals, as well as enact a multi-year capital program at SUNY Downstate with an initial investment of $100 million to modernize and upgrade the emergency department and create a maternity and child care center.
"After years of intense pressure on our healthcare professionals, now is the time to double down on building out the career pipelines that can address staffing shortages and ease the strain on our doctors, nurses and medical professionals who have worked day and night caring for our people," Brooklyn Borough President Antonio Reynoso said in a press release.
"SUNY Downstate is an essential partner in this mission for health equity for patients and worker justice for health professionals."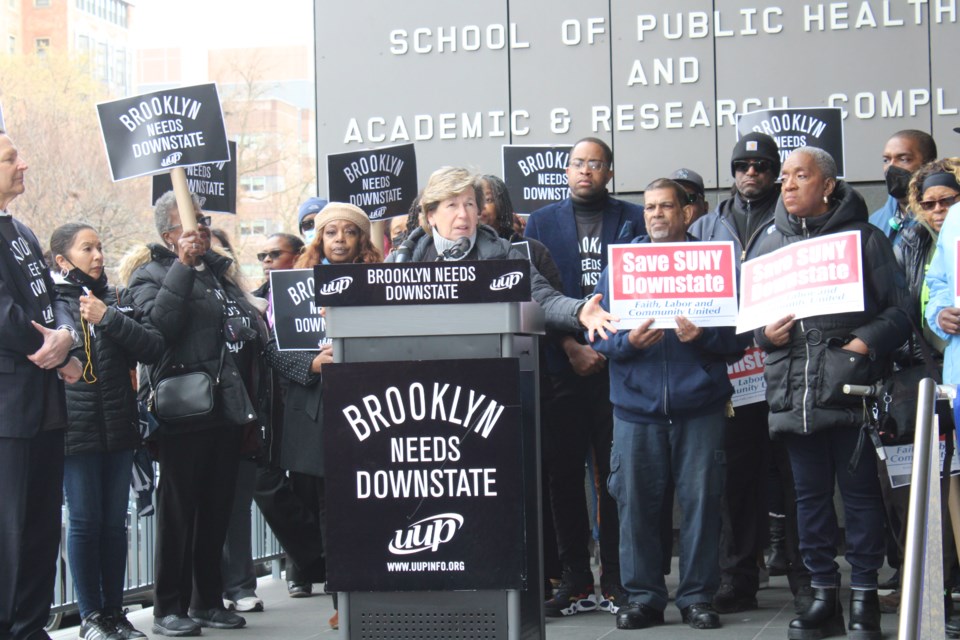 This is not the first time the Brooklyn healthcare community has come together to support Downstate. Many of the rally's speakers recalled the successful efforts made 10 years ago to keep downstate open.
Randi Weingarten, president of the American Federation of Teachers, also spoke at the rally.
"We shouldn't be begging. We shouldn't be here a decade later, asking for this place to stay alive. This place keeps people alive. We should not be asking the state to keep it alive," Weingarten said.
"This is where we answer the question: Do we care about the healthcare needs of communities like central Brooklyn? We'll know the answer to that question depending upon whether or not Downstate gets funded by Albany."