The four-part "dinner and a show" experience is a culinary exploration into the cities that played an impactful role in Bowie's music career.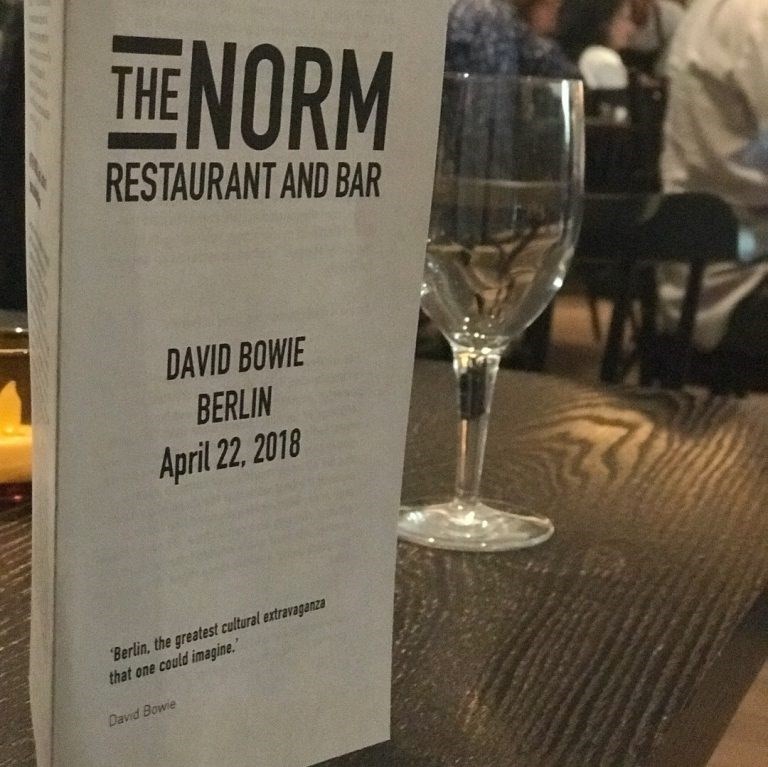 Music icon David Bowie once called Berlin, Germany "the greatest cultural extravaganza one could imagine."
Bowie moved to Berlin from Los Angeles in 1976. It was there where he eventually ended his downward spiral due to substance abuse. It was there where his life began to normalize. And it was in Berlin where a new Bowie ultimately emerged, preparing him for even greater musical success.
On Saturday, the Brooklyn Museum, as a part of its David Bowie Is exhibit, celebrated Bowie's time in Berlin through food and drink at The Norm, a restaurant and hidden gem nestled inside of the museum. Saturday's event was the first in a series of four, one-of-a-kind "dinner and a show" programs at The Norm, a culinary exploration into four cities-- London, Tokyo, Philadelphia and Berlin-- all of which played an impactful role in Bowie's music career.
During his time in Berlin, Bowie wrote three albums widely considered a cornerstone of his work, the "Berlin Trilogy:" Low, Lodger and Heroes.
"For whatever reason, for whatever confluence of circumstances, Tony, Brian and I created a powerful, anguished, sometimes euphoric language of sounds," Bowie once said of his three-year stint in Berlin. "...It is some of the best work that the three of us have ever done. Nothing else sounded like those albums. Nothing else came close. If I never made another album, it really wouldn't matter now. My complete being is within those three. They are my DNA."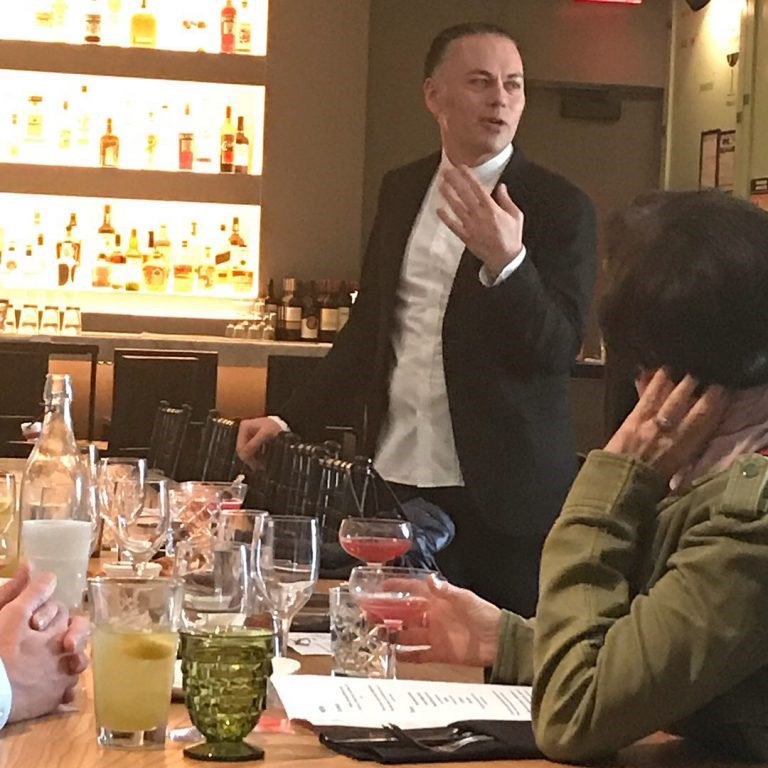 The menu was a nod to Berlin street food and included a choice of one cocktail and a glass of red or white wine. Dinner opened with a warm Bavarian Pretzel and mustard, followed by a Turkish chopped salad, roasted Brussels sprouts in a mustard sauce; and a dish called "Spaetzle," traditional soft egg noodles with mushrooms, topped with fried onions and scallions. The main dish, of course, was a "Curry Wurst," a curry Bratwurst with french fries and curried catsup. For dessert, there was the "Rote Gruetze," a spring cherry compote topped with organic cream and chocolate shavings.
Saul Bolton, executive chef at The Norm (and also owner of Saul Restaurant in Boerum Hill), opened the evening with a welcome to the participants. Then, Matthew Yokobosky, senior curator of fashion and material for David Bowie is, gave diners a brief history of Berlin's impact on Bowie's music and cultural development.
Dinner lasted one hour, followed by a 2-hour guided tour of the exhibit, led by Yokobosky.
Between the creative cocktails, colorful food presentation, well-prepared dishes and excellent wait-service, the dinner became a journey that started with the palate, moved to the music and apexed with a historical sojourn into Bowie's life through visual art.
The second David Bowie Is dinner, dubbed TokyoPop!, will take place on May 20. The Philadelphia dinner will follow on June 10, while London's event will be July 1. For more information and to purchase tickets — $95 including David Bowie Is exhibition and $75 for dinner only — visit: https://www.thenormbkm.com/experiences/.