Brooklynites who are members of the Brooklyn Public Libary members can now explore their musical side and borrow an instrument for up to eight weeks!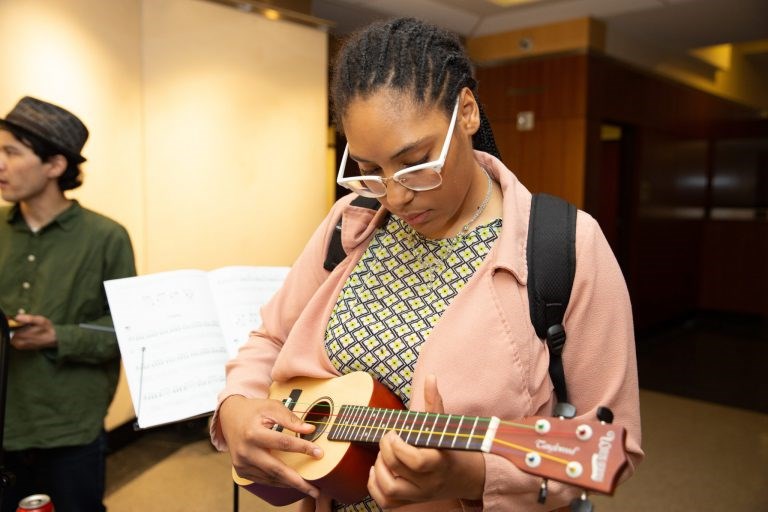 Have you always thought about picking up an instrument, but weren't sure where to start? Now, all it takes is a library card. On Wednesday, Brooklyn Public Library (BPL) launched in partnership with the Brooklyn Conservatory of Music (BCM) the city's first musical instrument lending library at the Grand Army Plaza central branch.
"As a diverse, creative and musical borough, Brooklyn is home to aspiring musicians of all ages," stated Brooklyn Public Library. "We know from our partner, BCM, that many people, both amateur and advanced musicians, cannot always afford to purchase the musical instruments they need to either begin or advance their musical education."
The program is currently geared to adult members only who will be allowed to check out musical instruments for up to eight weeks. With their BPL library card members can borrow brand new acoustic guitars, violins, ukuleles, keyboards, individual drum pads and a four-piece drum pad set. Other accessories such as music stands and cases will also be available, as well as sheet music and musical instruction books.
Brooklynites who are interested in borrowing an instrument can email musicloan@bklynlibrary.org to check on the availability of an instrument or, if temporarily unavailable, to get on the waiting list. The desk to check out and return instruments is located at the central library's art and music division on the third floor.
And for younger, aspiring musicians also some good news: BPL eventually wants to expand the program to children six years and up.