The electric sounds of Nigerian musician Fela Kuti's songs of resistance echoed off the walls of Brooklyn Borough Hall's courtroom, welcoming hundreds of guests to the opening of the new art exhibit "Brooklyn Is Africa: Survival + Persistence = Resistance."
The week-long exhibition, which kicked off on Feb. 23, is a partnership between Brooklyn Borough President Antonio Reynoso and Brooklyn-based private art collector Eric Edwards, founder and executive director of the Cultural Museum of African Art. The exhibition's bronze works, cultural artifacts and art reflect the African social value system and this year's theme.
"The purpose of this is to give knowledge and insight, particularly our young people of African history and the contributions to civilization," Edwards said about the collection.
"It was a lot of fun and a huge hit last year; we're really excited and want to make sure all of Brooklyn comes to see it," Reynoso said.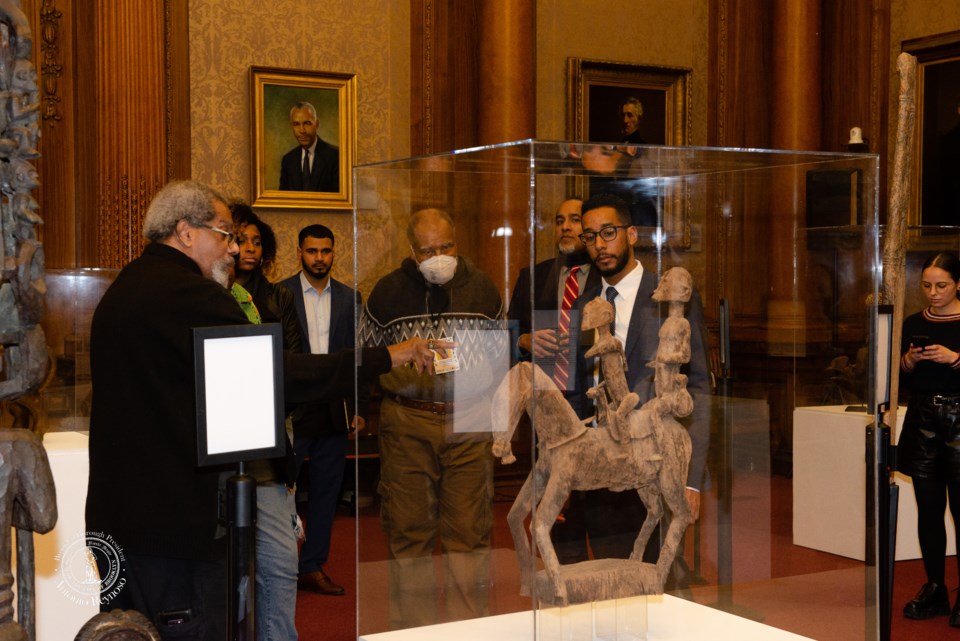 More than 250 guests showed up to launch the event's second installment and embark on a journey through the sights, sounds and tastes of the African diaspora.
The jazz trio Patsy Grant and Friends kicked off the program with smooth jazz and renditions of famous tunes, while the Jamel Gaines Creative Outlet served up hand-clapping, foot-stomping dance routines from Congo to Chicago rooted in Black joy and pain.
Dressed in all white, dancers commemorated the 60th anniversary of the March on Washington and the Birmingham Church bombing in a piece titled "Thank You."
The scent of collard greens drew the crowd to a closing dinner reception of hearty soul food dishes from the Brownsville Community Culinary Center. Red Hook Winery and Brooklyn Brewery were among the beverage pairings.
During the event, Edwards and local community leaders were given official kudos for their service to Black communities. Reynoso presented LaRay Brown, CEO of One Brooklyn Health System, a citation for her contributions to excellence and healthcare, particularly in Black maternal health.
"It was such a pleasure to meet Eric Edwards, the man behind this magic. I loved each piece from the collection," said Farzana Katub, the 2023 Vice Miss Immigrant USA representing Kuwait.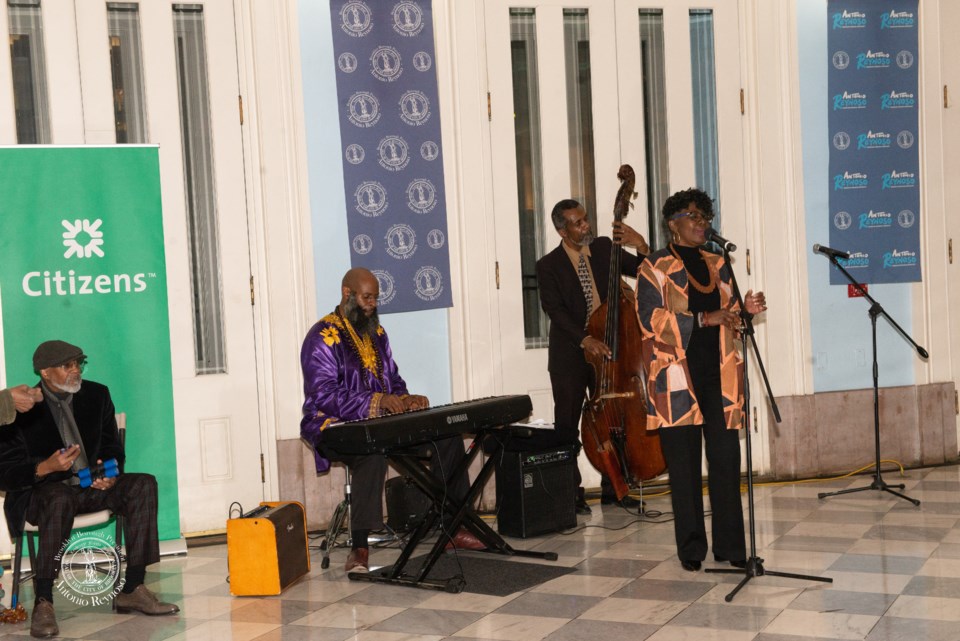 "Brooklyn Is Africa" features 35 selections from over 3,000 pieces of Edwards' private collection. The selection includes one-of-a-kind artifacts, typically only accessible in major institutions and museums which date as far back as 16th century Chad. The exhibit's standouts include a 19th-century Yoruba palace door carved by renowned sculptor Olowe of Ise, a pair of bronze leopards representing royal power and a rare Dogon Horseman sculpture, which symbolizes family union, according to Edwards.
The featured artifacts are part of a larger collection housed at Bedford Stuyvesant Restoration Plaza. CMAA was recently awarded a New York State Assembly Grant of $1 million to relocate the museum within Brooklyn and develop a global learning curriculum.
"This is a visual depiction of those people who were brought over 400 years ago in bondage," Edwards said. "They didn't come as ignorant slaves but as people with incredible skills that were utilized to build the United States into the powerhouse it is today — we can't separate the two."
"Brooklyn is Africa: Survival + Persistence = Resistance" is free and open to the public until March 3, at Borough Hall in Downtown Brooklyn.