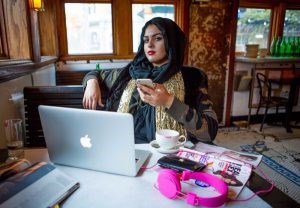 On Tuesday, July 12, the Brooklyn Historical Society will host an introduction to a panel of pioneering and dynamic women entitled American, Female, and Muslim. From an author to a school teacher to the founder of a media and tech company, these women challenge outdated cultural identities with each stride they make.
Debbie Almontaser leads a panel of pioneering Muslim American women who look at their multilayered and complex personaliteis through comedy, literature, fashion, and Twitter. Among a long list of cultural and educational accomplishments, Almontaser was the founding principal of the Khalil Gibran International Academy, a New York Arab-themed public school, named after the Christian Arab poet, Khalil Gibran.
The discussion will help enlighten listeners as they explore the realities of a culture that is often heavily scrutinized in the media. Panelists include Kaye M., creator of #YesAllWomen and #NotYourStockMuslim, Negin Farsad, author of How to Make White People Laugh, Amani Al-Khatahtbeh, founder of muslimgirl.com, and Laila Alawa, founder of thetempest.co.
6:30 pm
$10/$5 for BHS and G-W Members
Reserve Tickets>>
This event will take place at the Brooklyn Historical Society: 128 Pierrepont St, Brooklyn, NY 11201