The Queen Geniuses Empowerment Conference provided a full day of motivational speakers, performances and workshops to foster confidence and leadership within young women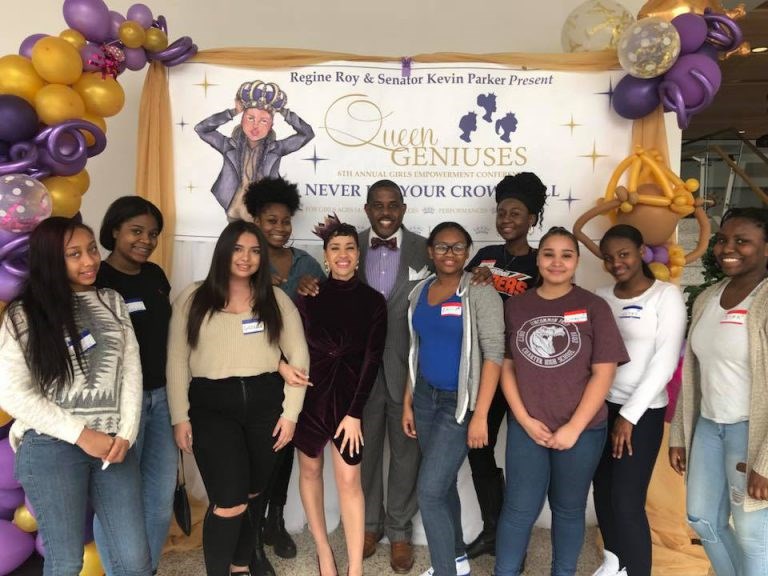 On Saturday, March 10, over 200 young women between the ages of 14 -18 years joined State Senator Kevin Parker and Queen Geniuses Founder and President, Regine Roy, for the sixth annual "Never Let Your Crown Fall" Queen Geniuses Empowerment Conference at Medgar Evers College.
"For the past 6 years, this conference has been and continues to be a huge resource for the young women in our community," stated Senator Parker. "Working with Ms. Roy and our sponsor's to empower and strengthen the bonds between young women is a humbling effort, and I am honored to be a part of this vital undertaking during Women's History Month."
The event catered to young women from across the five boroughs and featured a full day of motivational speakers, performances and workshops provided by local community organizations to foster confidence and self-agency within young women. Councilmember Laurie Cumbo served as the keynote speaker for the daylong event.
The empowerment conference was launched in 2012 by Regine Roy, an educational consultant, and speaker. Roy is also the president and founder of Queen Geniuses, an educational consulting firm that has developed the "Reclaiming Your Throne" leadership development curriculum to engage young women in critical discussions on identity, family, obstacles, goals, love and sex, and the media.
The Queen Geniuses Girls Empowerment Conference is an intergenerational experience aimed to connect girls from diverse backgrounds to influential professionals. The purpose of these conferences is to ignite, inspire and support the next generation of female leaders by encouraging them to think critically, communicate powerfully and seek opportunities that empower them to take actions in pursuit of their passions.
"It is so important that we provide a safe space where young girls can gather as a community to share in their accomplishments, their challenges, and the strategies they use to achieve their desired goals," said Roy. "Every year, attendees walk away reinvigorate and confident to take control of their destiny, and for me, there is nothing more gratifying than that."