On Tuesday, Brooklyn Borough President Eric L. Adams, Congresswomen Carolyn B. Maloney and Yvette D. Clarke joined representatives from local and national women's organizations to oppose Brett Kavanaugh, President Trump's Supreme Court (SCOTUS) nominee to replace retiring Justice Anthony Kennedy.
Since Kennedy's decision to retire, liberals and progressives have been worried that whoever President Trump nominates would shift the Supreme Court further to the right, endangering affordable health care, labor unions, LGBTQ rights and civil rights, as well as landmark rulings such as Roe v. Wade.
"Donald Trump and Senate Republicans want to destroy a generation of progress for civil rights, women's rights, LGBTQ rights, workers' rights and health care," said Clarke. "Judge Kavanaugh's nomination would bring them ever closer to achieving these goals. The Senate must reject this nomination."
Laura McQuade, president and CEO of Planned Parenthood of New York City, called on Senators Schumer and Gillibrand to block Kavanaugh, emphasizing that his confirmation will cement the conservative majority on the court for at least a generation.
"Our reproductive freedom could soon be shattered," said McQuade. "Brett Kavanaugh's record shows an alarming hostility to abortion access. We demand that Senators Schumer and Gillibrand do everything in their power to block Trump's anti-abortion nominee."
Kavanaugh, currently a federal appeals court judge, has previously faced criticisms for being too partisan and has stated views that a sitting president should be exempt from criminal prosecution and investigation. A view that is particularly concerning considering the ongoing Russia investigation, BP Adams stressed.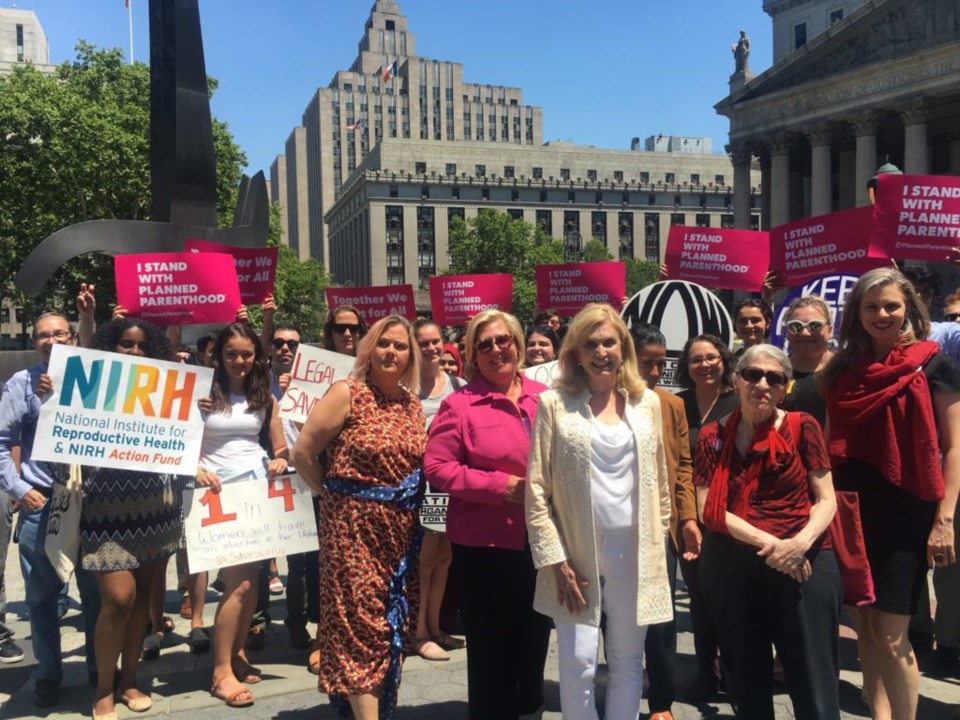 "The thought that anyone, in any office in this country, believes they are above the law is in contrast to what we believe as Americans," said Adams. "Just to think that we are going to appoint someone to the highest court in our land who states disregard for the courts in our land — that is the wrong decision, that is a terrible decision, and the person who is making that decision is currently under investigation. Something just doesn't sound right, it stinks at the highest level."
On Monday night, Brooklyn Councilmember and Lieutenant Governor candidate Jumaane Williams expressed his opposition at a rally in front of Trump Tower. His message was directed at his fellow Democrats "who think resistance is just a hashtag."
"We have fought for protections for so many, fought hard for black, brown, LGBT, for women," said Williams. "All of that is now at risk, not because of bigoted Republicans, but because of Democrats who refused to step up because they were afraid. I am begging all Democrats-- all those that claim leadership-- to take a risk, show courage. If you are in your comfort zone, you are not doing enough."