If you had told Tim Hayden a few years ago that by 2023, he'd have 22 million likes on TikTok and live in Brooklyn in a bid to grow his watch company, he probably would have thought you were being a bit ridiculous.
But here we are.
Hayden, an unassuming father of two from England, sold his house in 2018 to put the money into his new wristwatch company, Hagley West. It was a gamble, but it's paying off, he said.
Now it's time to take Hagley West to the next level, Hayden said. Hayden will be based in Brooklyn for the next three months, hoping to grow his watch business by creating more awareness stateside via his TikTok page, on which he frequently holds "Find Tim" challenges, in which the first person to spot Hayden can win a free watch.
Accompanying him is his 19-year-old eldest son, who's serving as his cameraman.
"Last year, I thought, well, I want to grow a global brand. I can't build a global brand if I don't penetrate the U.S. market. You guys, you've got the biggest market. You can't call yourself a global brand unless you conquer the U.S."
The company specializes in affordable luxury watches — priced between the relatively cheap watches one might see at a discount store and the multi-thousand dollar ultra-luxury watches.
"I positioned myself between $100 to $200 to make good quality watches at affordable prices," Hayden said.
Hagley West started in July 2020, which was made possible by crowdfunding after he started posting to TikTok, something Hayden was first introduced to a few years ago by his then-8-year-old son.
"He said to me, 'Dad, can you do this dance for me?' He showed me, and I did this ridiculous dance. He signed me up. He showed me how to build an account, showed me how to make a film, how to edit it and put it up."
Hayden said he's continued to grow in popularity on TikTok ever since.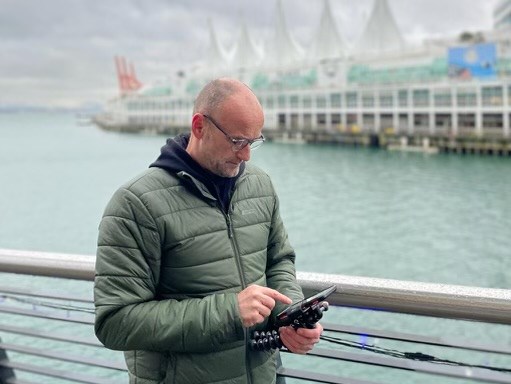 "Since then, I've kept my foot down and just kept talking to my audience. I keep communicating and keep offering value. Bit by bit, it just started growing and growing and growing. Then I came up with concepts for challenges to make more content."
While here, he plans to hang around New York City during the week and visit a new U.S. city every weekend, spreading the word about his business by encouraging people to participate in challenges on his TikTok page.
"What I'm doing is I'm taking my challenge to each city and meeting my customers or followers," Hayden said.
The U.S. does require some minor cultural adjustments, though — other than the obvious differences like accents and the word for a car's storage compartment. Hayden also notes, while sitting in a coffee shop in Bay Ridge, that British people don't generally leave the lids on to-go cups while drinking coffee and American light switches are upside down.
"I think the biggest thing I think I've noticed is your food portions are huge … And I'm putting on a lot of weight coming out here because I was introduced to chicken and waffles," he joked.
Hayden said he's been to enough places by now that he knows, though he may have grown up on the opposite side of an ocean, that people in the U.S. are not so different.
"I've been around the world. I've been to Copenhagen, Paris, Barcelona, Rome, Oslo, all over the U.K., South Africa," Hayden said.
"The one thing I'd say is all around the world, there's more similarities than there are differences. And that's one what I'm trying to show. Because everybody comes, they're all warm, they're all kind. They all want to love their journey. They all resonate with that they want to be inspired by different things in the world."