Brooklyn-affiliated visual artists can now apply to BRICworkspace to receive rent-free studio space and a stipend for materials.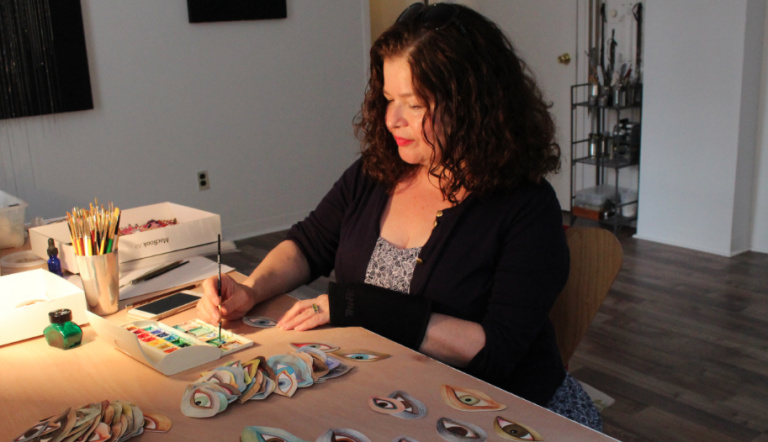 BRIC is now accepting applications for its BRICworkspace residency program which provides emerging and mid-career artists the resources, support and exposure of their work. The residency for Brooklyn-affiliated visual artists offers studio space at BRIC House as well as a nearby satellite space in the diverse cultural hub of Downtown Brooklyn.
"The BRICworkspace visual artist residency program allowed me the time and space necessary to complete new work; explore new directions; and make new, lasting connections," said Esperanza Cortés, BRICworkspace Alumna '17.
BRIC's residency program is now offered year-round and divided into an eight-week summer session and four- to-five- month fall and spring sessions. The residency is open to Brooklyn-affiliated artists who live, work or were born in the borough. Artists who are accepted into the program must commit to using their studio at least 20 hours each week.
Candidates who are selected for the program will receive rent-free studio space provided either at BRIC House or at two other satellite locations, and a stipend for materials. Artists can also expect support from curatorial BRIC staff during studio visits. The residency program will culminate with an open studio event.
A panel consisting of BRIC's curatorial staff and past residency artists will select BRICworkspace recipients. Selection criteria include the relevancy of the work to a diverse Brooklyn audience and feasibility, given the artists' record of achievement, goals for their residency, and how well they align with BRIC's facilities and technical resources.
The application process is open now through April 1. The summer residency will take place from June to August; the fall program begins in September and will conclude in January 2019.
To learn more or apply to the BRICworkspace Residency Program, go here.