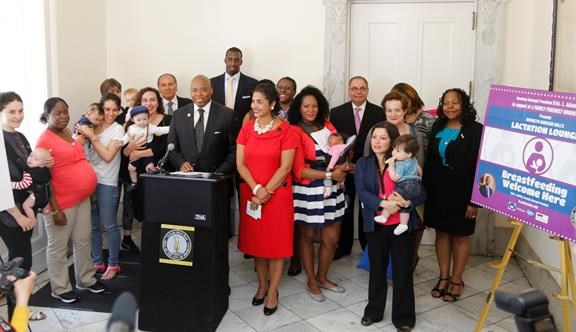 On Friday, Brooklyn Borough President Eric L. Adams hosted a ribbon-cutting ceremony at Brooklyn Borough Hall to open a brand-new lactation lounge in New York City's largest Breastfeeding Empowerment Zone.
"Our new Lactation Lounge is suited to encourage greater breastfeeding amongst mothers that live in, work in, and visit the Downtown Brooklyn area, a hub of public life for our city," said Adams. "We know that breastfeeding is a crucial component of a healthy young life, a natural act that strengthens both mother and child. My office is committed to advancing this public health imperative, and the Lactation Lounge is a permanent space to further that commitment."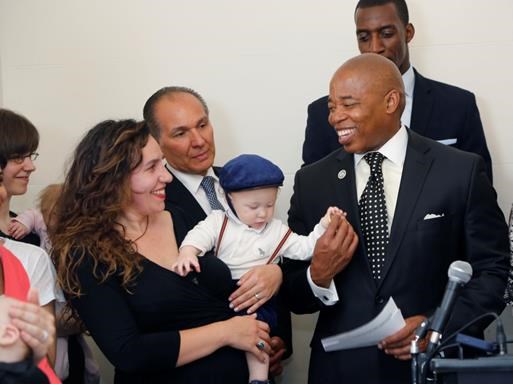 Studies show that breastfeeding has significant health benefits for both mother and child, protecting infants from bacteria and viruses as well as resulting in fewer ear, respiratory and urinary tract infections. Mothers who breastfeed have a reduced risk of pre-menopausal breast cancer and osteoporosis. Despite the known advantages, breastfeeding rates in New York City remain below the recommended levels. Additionally, there are significant differences across lines of race, poverty, education, and neighborhood.
"Breastfeeding has many benefits for babies and mothers," said Sharon Marshall-Taylor, program manager of the Brooklyn Breastfeeding Empowerment Zone, a NYC Department of Health and Mental Hygiene initiative funded by the W.K. Kellogg Foundation that aims to make breastfeeding the norm in Bedford Stuyvesant and Brownsville.
"However, many Brooklynites face structural, social and cultural barriers to breastfeeding success. A neighborhood environment that supports breastfeeding mothers, including the opportunity to breastfeed in public, is essential to mothers' decision to initiate and continue breastfeeding."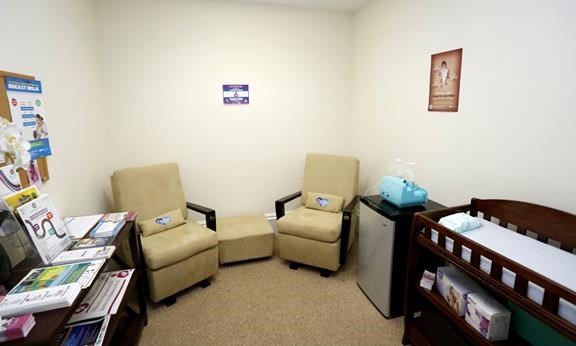 Donations for the Lactation Lounge included gilders and a changing table from Delta Children, new furniture from WellCare, and a hospital-grade breast pump from Worksites for Wellness.
"Having a lactation room is not about hiding away breastfeeding," said City Councilmember Robert Cornegy. "Rather, today's launch, and even the signs that will direct visitors to the lactation room, raise public awareness that nursing and pumping are healthy, supported choices for families that are welcome and lawful everywhere. This is more than a trend."