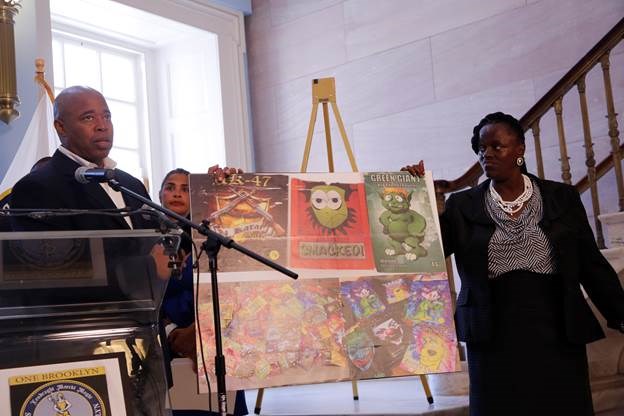 On August 25, Brooklyn Borough President Eric L. Adams joined Della Ellis, a resident of Downtown Brooklyn recovering from an addiction to K2, a common street name for synthetic marijuana, to highlight the human impact of its usage in Brooklyn and also across the five boroughs.
In 2014, New York City saw a 220 percent increase in emergency room visits related to synthetic drug use.Woodhull Medical and Mental Health Center in Bedford-Stuyvesant has recently seen a spike of three to six related emergency room visits a day. Males account for 90% of citywide visits to emergency rooms, with the median age of patients being 37 years old.
While it is known as "synthetic marijuana," it is not made from the marijuana plant and is not natural; K2 is comprised of dried, shredded plant material that has been sprayed with mind-altering chemical compounds.
The drug is sold in bodegas, smoke shops and online for less than ten dollars a packet, wrapped in colorful packaging that may refer to it by one of its other many street names, including but are not limited to AK-47, Bliss, Crazy Monkey, Fake Weed, Green Giant, Mr. Nice Guy, Scooby Snax, Spice, Wet Lucy and Zohai.
Effects of K2 usage include, but are not limited to, anxiety, hallucinations, high blood pressure, increased heart rate, loss of consciousness, paranoia, sedation, seizures and vomiting. Cravings and withdrawal are additional risks for regular users.
"This is not a plant; this is not marijuana; this is a dangerous chemical that is being used to distort the behavior of everyday Brooklynites, and it's something that we want to see off our streets immediately," said Adams, who was joined by representatives from the New York City Department of Consumer Affairs, New York City Department of Health and Mental Hygiene, and New York City Police Department, as well as local hospital leadership and community-based organizations fighting against the damaging effects of K2.
"We need the help from government and everyday Brooklynites to move this conversation forward."
Currently, the New York City Council plans to introduce legislation to increase penalties against store owners selling K2 by increasing fines, potentially jailing dealers, and taking away privileges like selling cigarettes. Adams also advocated for his former colleagues in the New York State Legislature to pass legislation sponsored by State Senator Jeffrey Klein and Assembly Member Mark Gjonaj that would make selling more than 25 grams of the drug a felony punishable by up to five years in jail. Businesses that sell the drug would also face increased fines and could be stripped of their alcohol, cigarette and lottery licenses.
Adams strongly advised residents to call 311 and report any stores selling or possessing K2.