So, a 50-year-old rapper drops a book, his biography, during the 50th Anniversary of hip hop.
Groundbreaking? Meh, not so much– particularly if you don't know the rapper nor his work!
Yet still, when Tarik "Black Thought" Trotter, the founder and lead MC of the Philadelphia-based hip hop group The Roots, attempts to explain why he decided to finally publish a book and says, "There's just a certain amount of respect you get once you become an author," you still think, okay, another hip hop artist towards the end of his career finally checking off that last box. I get it.
But it is what he says immediately after– "Besides, sometimes you have to put the things you're trying to say on paper for certain people to get it, especially if they don't listen to the lyrics, because, you know, my lyrics are on a doctorate's level" – when you realize that this rapper is far more quick-witted, extemporaneous and self-aware than you thought.
… and that, if you hadn't yet, maybe you should have been listening to his lyrics.
In fact, the whole and entire truth about Tarik "Black Thought" Trotter is that he's one of the greatest hip hop MC's of all time, particularly his freestyle. Don't believe me? Just ask any other respected MC in the business, and they will tell you the same thing.
On Tuesday, Trotter joined comedian, political commentator and tv personality, Jon Stewart, at BAM Harvey in Fort Greene, Brooklyn, for a one-on-one conversation about his new book, The Upcycled Self: A Memoir of the Art of Becoming Who We Are.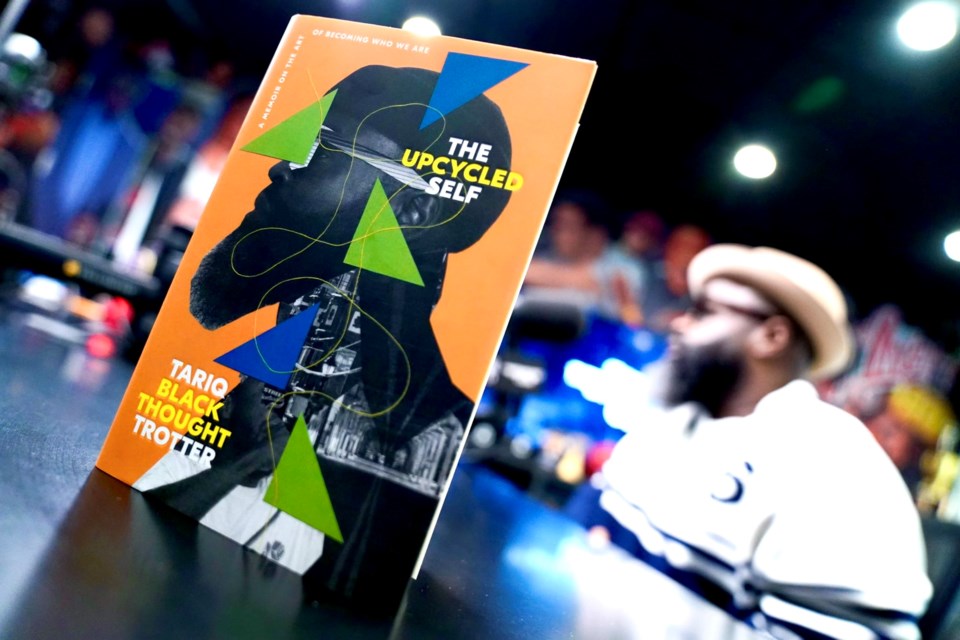 Seated on stage next to Stewart, Trotter is laid back and lucent– also his signature performance style– which inevitably makes you want to lean in to listen.
The 75-minute discussion was a preview into a life he lays bare in his book, where he shares his adventurous, tumultuous and ultimately triumphant upbringing in Philadelphia, PA, as a competitive street kid with a vengeance streak and an obvious gift for visual art.
In the book, he share his early tragedies, like the murder of his father when he was only 1 years old; how he accidentally burned down his family's home at the age of 6; and how he was hit by a car a few years later while riding his bike.
But Stewart's line of questioning focused less on Trotter's early tragedies and more on the men in his life who shaped him– for better or for worse– and the women who nurtured his creativity.
"I feel like my drive, my hustle is something that has always been in me, in my DNA," Trotter said of his father's influence. "From his sartorial sense, to his seriousness, to his introversion, to him being a man of few words. But when he did speak, people would listen on the edge of their seats."
"But art has always been in my life from the jump," Trotter continued. "My mother had the foresight to get me into as many programs related to music, to visual arts, as possible … as much as she could afford or she could finagle our way into ...
"That early exposure gave me a different perspective on the world, so I could experience [it] through the eyes and ears and sense of an artist. It kept me busy enough to get some downtime from what was happening in the 'hood."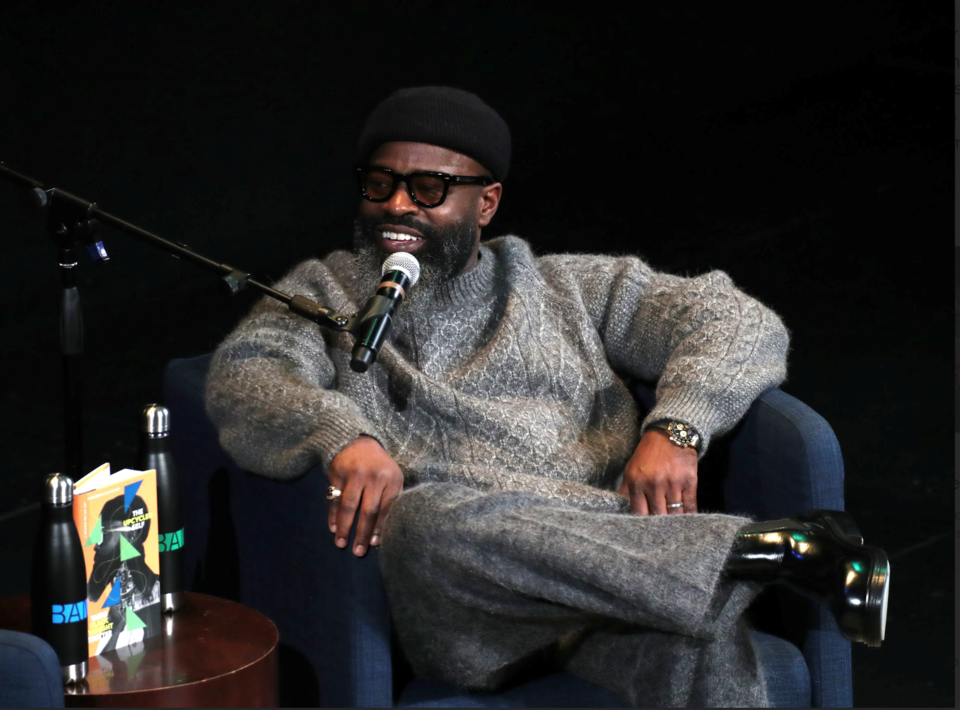 Trotter attended the Philadelphia High School for the Creative and Performing Arts in the late 80s, along with other standout artists, including Boys II Men and Amel Larriuex. The music talent at the school was so great at that time, his focus began to shift from visual to performing arts.
At age 14, in high school was also where he met Ahmir "Questlove" Thompson and formed a musical group that would later become The Roots. Outwardly, Trotter and Thompson couldn't have been two more different people, Stewart pointed out from the book, with Thompson's more structured and sheltered life, versus Trotter's life navigating the violence of the streets.
But what the two had in common were passion, talent, creativity and a desire to work hard– more than enough to forge a familiar bond.
"The foundation was something that was going to be built up to be bigger than the both of us," Trotter said.
And although Trotter's competitiveness and drive ultimately would outsize the barriers of the 'hood, there was no way he could have predicted the massive success that was on its way. With the gradual addition of another MC, Malik B., bass player, Leonard "Hub" Hubbard, beatboxer Rahzel and keyboardists Scott Storch and Kamal Gray, the band would go on to reach Top-40 Billboard success by the mid-90s!
More than thirty years and three Grammy Awards later, The Roots's current core band of Trotter, Thompson, Gray, keyboardists Ray Angry and James Poyser; Tuba Gooding, Jr.; and guitarist Captain Kirk Douglas, continues to wow its loyal fans across the globe with regular tour performances while serving as the house band on Late Night With Jimmy Fallon for the past 14 years, since 2009.
"You guys have been in my life my whole life," effused one very excited 31-year-old fan during the audience Q&A.
Trotter's legacy in hip hop spans five decades and three entire generations. He's come a long, long way. Yet his roots remain the same.

His book is a riveting memoir of a man still becoming-- one who is cut from the very same cloth he donned as a child.
The only difference is now, he's upcycled.