Sports and media executive Latesha Williams shares some insights about the inspiration and success of her hilarious card game Black Card Revoked, which is all about the shared experiences that African Americans hold dear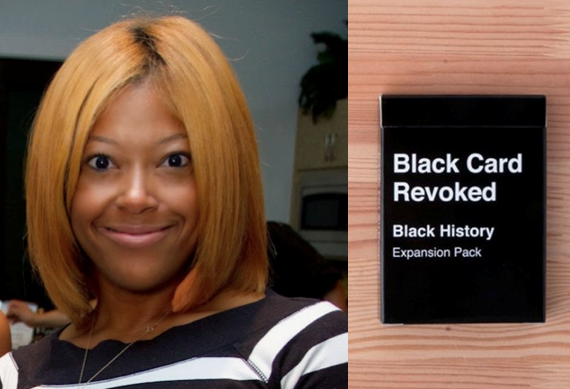 Latesha Williams, sports and media entrepreneur and co-founder of Cards For All People, is joining Richard Beavers Gallery and BK Reader for the fourth installment of Conversations in the Gallery, on Thursday, March 15. In this lively conversation, which revolves around art, literature, fashion, lifestyle and culture, Williams will share with us what is behind the idea of Black Card Revoked - and what inspired her to enter the card game business to begin with. For a first taste, read on!
Founded in 2015, Cards For All People is a cultural casual gaming company that humorously celebrates the diverse subcultures of America. The company's first game, Black Card Revoked has become a huge success and was soon expanded with additional Black Card Revoked editions such as Girls Night Out, The Petty Edition, Black History, Jollof and Fufu and Our First Family.
But what inspired Williams, an accomplished sports and entertainment executive who has worked with LeBron James / LRMR Marketing, MTV, Nickelodeon and Rocawear, to create a card game? Cultural shared experiences have always been a common theme in her life, she explained.
"Creating something that comedically celebrates shared experiences was something my business partner and I thought would be fun," said Williams. "We had been looking for a market and industry to develop a product while at the same time keeping an eye on the amazingness of Twitter - especially Black Twitter. Around the time that the Rachel Dolezal controversy was in the news, it dawned on us that black folks had been playing the same family game forever - spades."
And, growing up with card games and board games in her own family, there was also a personal motivation for her.
"In my own family game night allowed us to connect away from work and school. It uniquely taught me about strategy and character. Bringing back the nostalgia of game night from my own family experiences has been helpful in creating Black Card Revoked," said Williams. "Black Card Revoked is all about the shared experiences that African Americans hold dear."
The game's success story continued in January 2018, when Black Card Revoked debuted as America's first black culture trivia game show on BET. And that is still not the end of it, as Williams shared.
"We are gearing up our Petty Edition 2 game, which is in partnership with gossip site The Shade Room," said Williams. "We are also looking to expand the Black Card Revoked brand into other avenues that celebrate culture. Hopefully, that includes a season two of our BET game show."
And can Brooklynites dream of a Brooklyn Edition?
"Localized versions are something we are figuring out," said Williams. "Stay tuned."
Oh, we will!
Conversations in the Gallery with Latesha Williams
When: Thursday, March 15, 6:30 pm. To RSVP, go here.
Where: Richard Beavers Gallery, 408 Marcus Garvey Blvd, Brooklyn, NY 11216, USA