A Brooklyn property owner facing foreclosure after a years-long battle with her bank, who she accuses of engaging in "predatory" lending practices, has received a welcome reprieve — for now.
Victoria Stennett's 16-unit apartment building in Flatbush was supposed to be foreclosed on by Emigrant Bank on March 1.
However, Stennett said the bank agreed through her lawyer to give an extension through April 5, and she is planning to use the extra time she has to try to spread more awareness about her situation and put more pressure on the bank to stop the foreclosure.
"We want to turn up the heat," Stennett said. "I hired a new attorney, and they gave us (a little over) 30 days."
Stennett's fight with Emigrant dates back a decade and a half. In 2006, she went to Emigrant to apply for a mortgage to buy a 16-unit apartment building on Clarendon Road, intending to make a 30% down payment on the $950,000 purchase price.
Emigrant Bank, Stennett said, suggested that she instead pay off her home on Amersfort Place to use it as collateral for the apartment building mortgage, which is what she ultimately ended up doing.
Two years later, in 2008, there was a fire at the Amersfort home, and Stennett filed a claim with her homeowner's insurance company. It was then that Stennett said she discovered her insurance company had made a clerical error that resulted in her failing to be notified that her homeowner's insurance policy had been canceled months earlier, and that Emigrant Bank had taken out an insurance policy on her home without her knowledge.
But Stennett said the bank refused to allow the approximately $190,000 insurance payout to be released to pay for the damages to her home or to apply it to the mortgage for the apartment building, even while she continued to pay them every month for two years.
After years in court, Stennett said the bank had still never paid her anything, even after a judge said she should have received the insurance payout. Emigrant Bank has also appointed a receiver for her apartment building and collects $170,000 in rent for her building, while applying a 24% default rate and other fees to her mortgage, demanding millions from her, she said.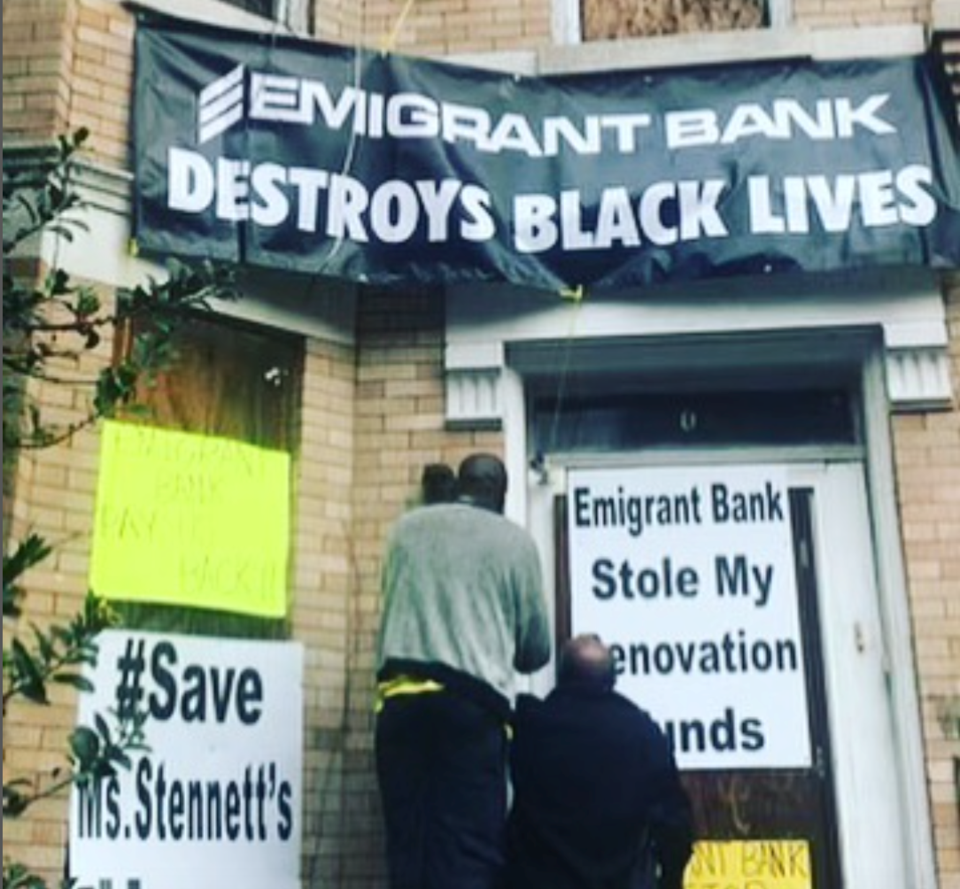 With the one-month extension, Stennett is now hoping to possibly convince the board of Emigrant Partners, which controls Emigrant Bank, to rectify her situation. Stennett sent an open letter to the board last month, but did not receive a response.
"We're trying to see if we can get somebody like the board to intervene as a go between, because that's what we've been trying for the longest while," Stennett said.
She's also seeking to otherwise put public pressure on the bank. Equality for Flatbush held a rally in support of Stennett back in January and continues to advocate on her behalf.
Stennett is not the first person to make accusations of predatory lending against Emigrant Bank, which did not return a request for comment by publication. In 2016, a federal grand jury found the bank guilty of discriminating against minorities through its marketing of subprime mortgages.
While success seems like a long shot, Stennett is hopeful the bank's decision to foreclose on her property can be reversed.
"They must withdraw this foreclosure motion for not only myself and my family, but for the sake of putting a fast halt to these unconscionable practices," Stennett said in her open letter to Emigrant's board.