This Saturday, Brooklyn will celebrate Christopher Wallace, known as Biggie Smalls or Notorious B.I.G., on what would've been his 50th birthday.
Wallace was born on May 21, 1972. He grew up in the neighborhood of Clinton Hill (what he then referred to as Bedford-Stuyvesant). He was only 24 when he died on March 9, 1997. And his murder remains unsolved.
Local organizations and people in Brooklyn and around the city will be hosting events paying tribute to Wallace on Saturday, May 21, and also in the month of June.
Check out this list of events, and be a part of the legendary celebration:
NOTORIOUS B.I.G. TRIBUTE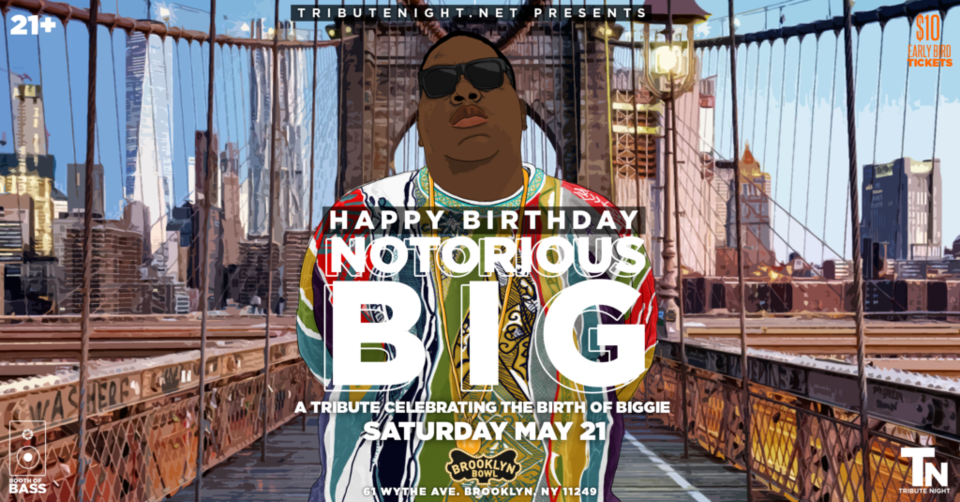 When: May 21, 8:00 pm
Where: Brooklyn Bowl, 61 Wythe Ave, Brooklyn, NY 11211
In honor of Wallace's 50th Birthday, Tribute Night will celebrate Wallace by hosting a dance party at the Brooklyn Bowl. Doors will open at 6:00 pm, and the party starts at 8:00 pm. To attend, Brooklyn residents must be at least 21 years old and have a valid photo ID. Tickets are $10 in advance, and they can be purchased here.
THE NOTORIOUS B.I.G 50TH BDAY CELEBRATION!!!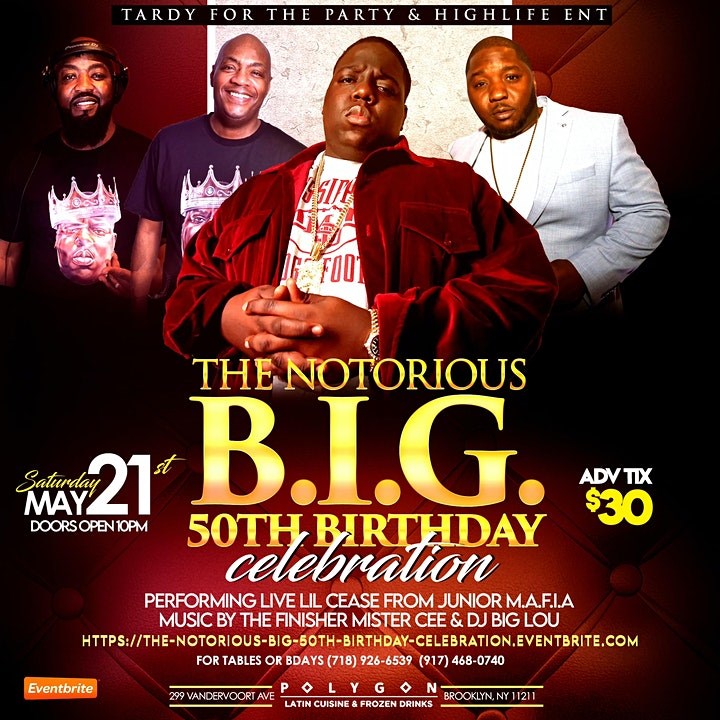 When: May 21, 10:00 pm - May 22, 4:00 am
Where: 299 Vandervoort Avenue, Brooklyn, NY 11211
Also, at this celebration, there will be music by The Finisher Mister Cee and DJ Big Lou. There will also be special guests invited. Doors open at 10:00 pm. Tickets are available in advance for $30. Residents can purchase tickets here.
An Orchestral Tribute to The Notorious B.I.G.
When: June 10, 7:30 pm
Where: Lincoln Center for the Performing Arts, Lincoln Center Plaza, New York, NY 10023
Additionally, composer Miguel Atwood-Ferguson will be leading this tribute, with the NYC DJ collective The Originals. It will include performances of his well-known songs from his albums. There will also be special guests and an extensive live set from regular B.I.G. collaborators.
For this event, general admission is available on a first-come first-served basis. Advance reservation will also be available for this event, opening the Monday before the event date, on June 6. Attendees must wear a creative black tie for the event in Wallace's honor.
EMPIRE STATE BUILDING HONORS THE NOTORIOUS B.I.G.'S 50TH BIRTHDAY
When: May 21, 4:00 - 9:00 pm
Where: The Empire State Building, 20 W 34th St, New York, NY 10001
The Empire State Building will host a pop-up cart to feature exclusive Notorious B.I.G. merch sold only at the Observatory. It will offer limited-edition hats, t-shirts, and sweatshirts.
The cart will also allow an exclusive pre-order opportunity for the Notorious B.I.G. 8-LP Box Set – slated for release on June 10 – and Biggie's 11x platinum album Life After Death cassette for purchase.
NOTORIOUS B.I.G Birthday Tribute Night on Manhattan Waters!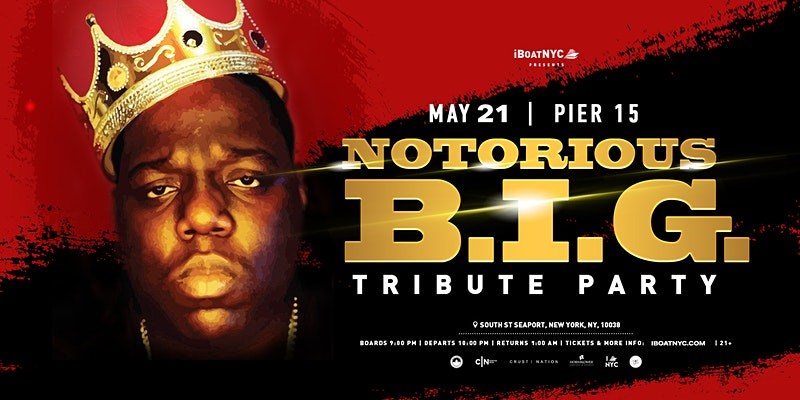 When: May 21, 10:00 pm - May 22, 2:00 am
Where: Pier 15 - Hornblower Cruises & Events, 78 South Street (South Street Seaport), New York, NY 10038
Get ready to drop it down and bring it up while we sing along to the legend's songs on the Open-Air dance floors! The cruise experience includes a scenic 3-hour cruise of the NYC harbor; captivating views of the Manhattan skyline including the Statue of Liberty, Brooklyn Bridge, Ellis Island, the Freedom Tower and more; an open-air deck and a climate-controlled cabins; Two dance floors and state of the art production. Food is also available for purchase.
General admission tickets for this event are $70, while VIP tickets are $100. Tickets can be purchased here. Attendees must be at least 21 years of age and have proper ID (no photos of ID will be accepted).
Brooklyn Pop-up Pizza Party Birthday Celebration for Notorious B.I.G., hosted by T'yanna Wallace
When: May 21, 6:00 pm - 9:00 pm
Where: Lilly's Pizza Bar, 737 Fulton Street, Brooklyn NY 11217
No big deal, but Biggie Smalls' daughter T'yanna Wallace ,@tyanna810, is celebrating her dad's 50th birthday tomorrow with a pizza party at Lilly's. No reservations but come through for music, drinks and PIZZA! We'll be hosting a pop up of Juicy Pizza, T'yanna and her co-worker's pizza place in LA and we'll serving their delicious pies!