Since 1967, the inventive Bedford Stuyesant Restoration organization has been improving the quality of life for Brooklynites young and old. Recognized as the nation's first community development corporation, the organization has recently set their sights on getting Brooklyn healthy and active. On April 26, they announced a plan to organize a bi-weekly series of free group bike rides in an effort to encourage residents to embrace cycling as a healthy, affordable transportation option.
The rides are planned to run on Wednesdays and Saturdays from May through October. Locals who want to join in on the activity can meet at the Restoration Plaza or a host of other convenient Brooklyn locations, where the rides will start each day. The organization has mapped out carefully calculated routes for the participants that include farmers markets, parks, and various points of interest throughout the greater Bedstuy area.
"With the warmer weather upon us, Restoration is excited to have community partners join us in leading rides as a means of fostering a culture of biking in our community. We hope to encourage people who might be reluctant to give cycling a try and experience first-hand the health, financial and environmental benefits they can reap. This is especially important for Bedford Stuyvesant, a community where residents often have to utilize a combination of train, bus and walking to get from one part of the neighborhood to another", stated Tracey Capers, Executive Vice President for Programs at Bedford Stuyvesant Restoration Corporation.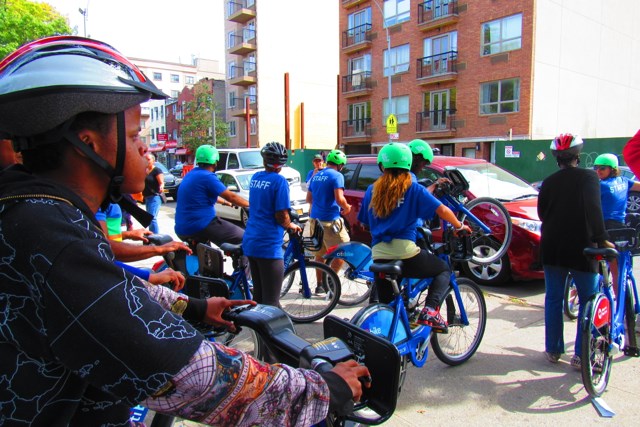 While the entire program works to promote bike riding as a lifestyle addition, riders can still participate if they don't currently own their own bicycle. All participants over the age of 16 have the option to use a free Citi Bike instead of investing in their own bike. For the unfamilair, Citi Bike is New York's bike share system with 7,500 bikes at 470 stations in Manhattan below 86th Street and in the Brooklyn neighborhoods. It's important to note that there are a limited number of Citi Bikes available for rental and that they will be given out on a first come, first served basis.
The bike rides take place on a rotation schedule starting at 11 am on certain dates and at 6pm on others. The dynamic schedule allows people of all ages, with various schedules to find time to participate. While the bike rides create a strong sense of community, they also inspire individuals to exercise in a manner that allows them to set their own pace.
"We're excited to partner with Restoration and their community partners to get more Brooklynites of all walks of life on bikes," said Dani Simons, Director of External Affairs for Motivate, the operators of the Citi Bike program. "These rides are a great way to show people just how fun and easy it can be to get around on this safe and affordable form of transportation."
The rides will be led by a host of active community members, partners, and even by some of the leaders of the Restoration organization. For the ride schedules and for more information, interested Brooklynites should check the Restoration website.