This weekend, Bedford Stuyvesant has its go-to spot for artisenal suds!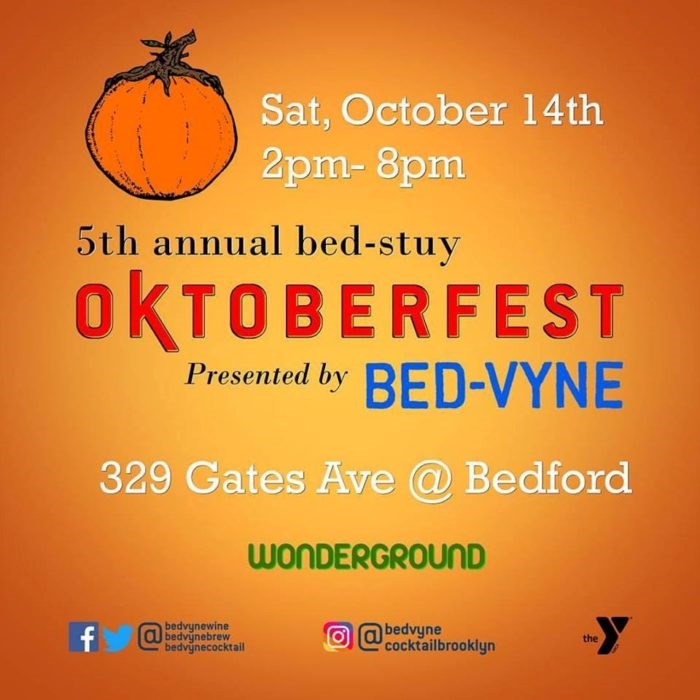 Five years ago, around about the first year of President Obama's second term in the Oval Office, getting a great craft beer in Bed-Stuy often posed a tougher challenge than getting weed delivery.
Not to say that the "do or die" neighborhood was a craft beer desert, mainly because I've quasi banned my usage of the word "desert", as a descriptor; but for real for real, the hood wasn't exactly overflowing with that good good on tap. Sure, you could get a Schneider Weisse or a Sam Adams seasonal, but that ain't craft.
Then, enter Bed Vyne Brew, which is hosting its fifth annual Oktoberfest this Saturday, October 14th, from 2pm-8pm, at 329 Gates Avenue; and suddenly Bedford Stuyvesant had its go-to spot for artisenal suds.
Fast forward to 2017, and it's a fine amount of quality craft beer outposts in Bed-Stuy, including newer spots like The Wilky and Tilly's, along with sports friendly, volume bars like Black Swan, Fulton Ale House and Brooklyn Tap House, in nearby Clinton Hill; which is a #win for craft beer lovers! Yet, in my esteemed, barley soaked opinion, the recipe that makes Bed Vyne Brew a standout is the combination of its rotating and tightly curated selection of small batch craft beers and refreshing selection of vino (including their house label), along with both its support and platforming of DJ culture, and the management team's dedication to the surrounding community.
Community engagement is a core tenant of the relationship between businesses and community. An outward-facing charitable spirit of a community establishment has a positive reflection, and when combined with a legit embracement of beneficent causes, it is laudable. The management team at Bed Vyne has consistently supported the arts, education and platforming city youth for success, best exemplified by the work they do with the Bedford Stuyvesant YMCA.
The 5th Annual Oktoberfest will feature craft beer from Brooklyn Brewery, Two Roads Brewery, Ballast Point Brewery, New Belgium Brewery, 21st Amendment Brewery and Peak Brewery. Featured wine will be from the much acclaimed Bed-Vyne private label: Prosecco, Lambrusco, Sparkling Rose, Cote de Provence Rose, Red, White, Rose (Portugal) and Vinho Verde. Featured food vendors will include local favorites, Khem's Jerk Shop, Miss Holly's Smokehouse and La Bella Torte Dessert Truck. The festivities will be turned up with music by the amazing DJs of the Wonderground Danceparty.
And thank the stars for global warming, because the weather is looking super mild for this time of year in Brooklyn, for Oktoberfest! This is the second year that Bed Vyne Brew will hold its annual Oktoberfest event in a private lot, and the move has worked wonders.
Not only does the event feel like a super fun, day festival, when it's contained within the large lot, but it also shows that Bed Vyne listened to the community's concerns about block closures during block parties
"After years of bringing the community together with this wonderful event, Bed-Stuy Oktoberfest has become a Brooklyn staple," says Michael Brooks, a partner at Bed-Vyne.
"We look forward to hosting a fun, festive event, celebrating the beginning of autumn with all our neighbors," adds Rotimi Akinnuoye, partner at Bed-Vyne.
It's billed as a family affair, so don't "hide the wife, hide the kids." Bring 'em all over to the lot on Gates and Bedford. Well, that is if you want to enjoy delicious craft beer, artisanal wine and bubbly, along with delectable food all set to the sounds of the Wonderground Dance Party.
If you don't like any of that, you may be a communist and perhaps you should think about retaining legal counsel... cause I hear they're starting to hand down subpoenas in the Senate Russia Investigation. (IJS!) If I didn't have to DJ that afternoon, you would see me there with jerk sauce on my shirt and beer suds on my beard!
Hell, if my Uber Karma is tuned up, I might make it in time anyway!