There's nothing quite like a block party in Brooklyn on a warm summer day. And if you've ever been to one in Bed-Stuy, Crown Heights or Bushwick, there's a good chance that the BedStuy Works Alliance of Block and Tenant Associations helped organize it.
The organization works with more than 70 block associations and 10 tenant associations in Central Brooklyn. Now, it is seeking to expand this roster by fostering new associations across these neighborhoods.
The Alliance was founded in 2010 by the Bridge Street Development Corporation and YES Bed Stuy. Through strengthening block associations, it aims to help revitalize Bed-Stuy, to identify and address common concerns of local residents, and to improve civic-community relations, according to its website.
What do block and tenant associations do?
Block associations are often best known for throwing block parties, said Nicole Greaves, community engagement specialist with Bridge Street, adding that they can be quite elaborate in nature. She recalls a Bed-Stuy block party this past summer that included pony rides, two ice cream trucks, a DJ, a band, and a giveaway.
"It's also like a homecoming, so to speak, because for people that have moved off of the block, this is their one day to come back because they know everyone will be outside," Greaves said.
However, she added that block associations can offer much more: "A lot of times when people think of block associations, they simply think of block parties, and we're trying to expand the view of it," Greaves said.
Greaves' own block association, initially founded in 1942, puts on quarterly block cleanups, spring flower planting, holiday parties, and events aimed at older adults and children. She encourages those building block associations to "think outside the box" when crafting events.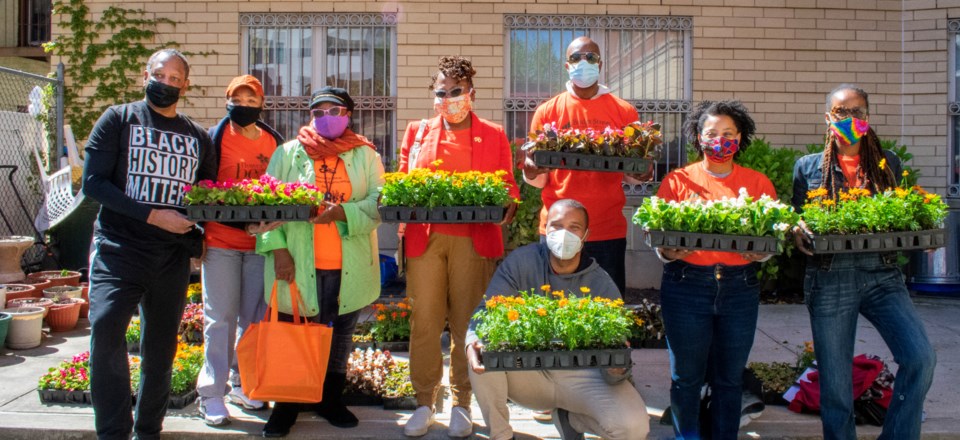 She added that block and tenant associations also create a platform on which neighbors can discuss issues such as safety concerns.
"It's always great to interface with your neighbors and also to deal with issues while they're small before they become something huge," she said.
Tenant associations serve as great resources for residents facing the effects of gentrification, as tenants can use them to learn about their rights and organize against their landlords.
Greaves launched her tenant organization when new ownership raised rent in her building, pushing out many longtime residents. Her work eventually led her to The Alliance.
Room to Grow
On Oct. 26, The Alliance held a virtual workshop on how to create a block or tenant association.
"There's not, like, a legal document that you might need to have an association," said Alliance co-chair Taryn Allbrooks to the 20 attendees. "You need very simple things, in a nutshell: a group of people with a common cause, the same mission, some values, some goals and a purpose."
Fledgling block and tenant associations should first establish a purpose and mission statement, Allbrooks said.
"Without a mission statement your organization will have no direction," she said.
Leaders should also develop relationships with city government agencies, including the Department of Housing Preservation and Development, and with local elected officials and community boards, Greaves said.
Further steps outlined included electing officers, creating bylaws, registering as a nonprofit and applying for grants.
"It's a lot of work, but it's a labor of love, because I get to see the results of it when I walk out of the house," said Greaves.
"We're creating a cleaner, safer environment for ourselves, our families, and our neighborhood residents."